Experiential learning—in the form of clinics, externships, and advocacy programs—has been a part of the law school experience for some time, but traditionally it has been kept mostly separate from the classroom. Recently adopted ABA standards have attempted to put minimum requirements on the amount of real-world training a student gets during three years of law school, which has led to schools rethinking the opportunities they offer.
At BC Law, where the focus is on a holistic approach to learning, bridging the gap between podium and practicum is essential. Valuable experiential learning can happen inside the classroom itself–and BC Law has been a leader in this space for years.
Brian Quinn, the dean of experiential learning, agrees that BC Law professors have been bringing experiential learning into the classroom for decades. But many are now looking more broadly at what "experiential" really means.
"We have to provide our students with different options on how they can meet that ABA requirement in different ways and in different subject areas that we can't always do in a clinic or externship," Quinn says. "Doing it in a classroom gives us an opportunity to really tailor the learning experience."
Kent Greenfield's Supreme Court Seminar is one example. In the seminar–which is itself an iteration of a course taught by BC Law professors Judy McMorrow and Sharon Beckman in the 1990s–two students simulate real Supreme Court cases, making arguments before the court, and the rest of the students sit as the justices, listening to the arguments, asking questions, and eventually drafting and handing down a decision. Then the students swap places for the next case.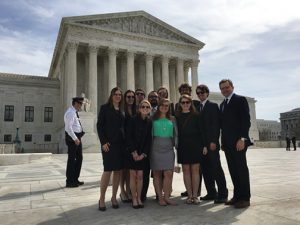 Students hear eleven cases over the course of the semester. Marnee Rand, a 2L, says that this class not only offers enriching experiential learning, it also deepens her understanding of substantive law. "My favorite part about the course is learning eleven new areas of constitutional law," she says. "I learn these areas so much more closely than I ever could have in a regular class."
Elizabeth Blass, a 3L also taking the course, lauds the opportunity the class provides for her to hone her advocacy skills, both through presenting arguments herself and by watching her classmates. "It's an opportunity to work on drafting opinions, and for anyone who wants to clerk after law school, that's pretty invaluable experience to have," she says.
Bringing experiential learning into the classroom allows for a level of control that students and professors might not otherwise have in a clinic or externship. "It's more predictable," Quinn says. "Sometimes as an educator you can predict what the clients are going to ask of your students, but there's a lot of variability because it's real life. If we're able to generate simulations, we're able to know that students who take these classes are going to have a certain set of experiences."
James Bor, a 2L in Michael Cassidy's Trial Objections course, appreciates the controlled environment of a classroom. "One benefit of this blended learning is the ability to learn but also to fail gracefully," he says. "Unlike many law school classes, you can't be passive and you can also expect in-the-moment feedback from Professor Cassidy."
Cassidy calls Trial Objections a "capstone class," filled with students who know they want to be litigators. The class begins with a lecture, which Cassidy likens to "stretching before you run." Then they go through hypotheticals before starting simulations. Students are split into five panels—three of whom are "on call" in each class. With Cassidy playing judge, the students are charged with arguing either to get evidence in or to keep it out. After the simulation has ended, Cassidy provides each student with feedback on his or her performance.
"With constructive criticism and a supportive atmosphere from friends, learning by doing is more effective than reading alone," says 2L Kristen Friedman.
Cassidy says blending a lecture format with an experiential learning environment also allows for flexibility to do things like develop extensive hypotheticals and problems. He believes that smaller experiential learning classes enable group learning in a way that might not be possible in larger lecture classes.
And there's a real camaraderie that students build from that environment. "I tell them on the first day that we're all in it together, and that they shouldn't be self conscious about failing in front of the group," he says. "There's a sense of trust and humility that builds among the group over the semester—they're not worried about failure."
Cassidy also emphasizes that these classes are not designed to replace the experience students get in more traditional clinics or externships, and that students should have a mix of these experiences to learn the skills it takes to be a lawyer.
Quinn agrees. "It's another arrow in the quiver," he says, pointing out that these experiential learning classes are designed to blend theory and practice in a particular way and to offer students a well-rounded learning experience at BC Law. "It's all part of helping students be the best lawyers they can be."
Student feedback from Cassidy's class reinforces the message. "There is really no other place where these skills can be learned at BC Law," one wrote. "This course was critical to my eventual path in prosecution and I learned concepts that even working prosecutors struggle with."