It seems right to start with the green beans. One summer long ago, Debra Wong Yang and her family left their home in Los Angeles to visit relatives in Oregon. She was thirteen, and wanted to earn some spending money. Bean fields beckoned nearby. "I was not a fantastic picker," she admits, with a laugh, "I'm short and couldn't reach the top rows. The farm paid by the weight and, after ten hours of hard labor, I'd made very little money." She complained to her father, David Wong, a CPA who later became a venture capitalist. "I can't believe this is all I got!" Yang wailed, showing him a check for $1.76. He was a man of few words. But when he did speak, it made an impact. "I never forgot what he told me that day," Yang recalls. "He said: 'You can use your head or your hands—the choice is yours.'" Flash forward a dozen years. It's Yang's graduation day from Boston College Law School, class of 1985. Her parents are full of pride. David hands something to Debra. It's this very same check. Cancelled, a bit worn, but intact. He'd saved it all this time, for this moment. Clearly, she'd made a choice—to use her head.
And that's how it's played out: Yang's profound intelligence and work ethic have been her hallmarks, as well as her heritage. This cuts across all phases of her career, from her stellar private practice, to California state judge, to being named the first female Asian American US Attorney in history. Since 2006, Yang, now fifty-six, has been a partner at the LA office of the prestigious firm of Gibson, Dunn & Crutcher. She co-chairs its Crisis Management Group and is a member of these other groups: White Collar Defense and Investigations; Privacy, Cybersecurity, and Consumer Protection; Media, Entertainment and Technology; and Intellectual Property Practice. As such, she currently advocates for many high-profile clients in the thick of complicated, controversial lawsuits that boil up a lot of headlines.
One of those clients is DraftKings. The Boston-based daily fantasy sports contest company is now fighting various injunctions and prohibitions, state by state, which claim it's a gambling concern. (In contrast, Draft-Kings and experts define it as a "skill-based gaming destination.") Yang can't comment on specifics. But she will say it's probably one of the most interesting cases she's ever worked on, because of its massive scope (there are now some ninety civil law suits) and its interplay between law and policy.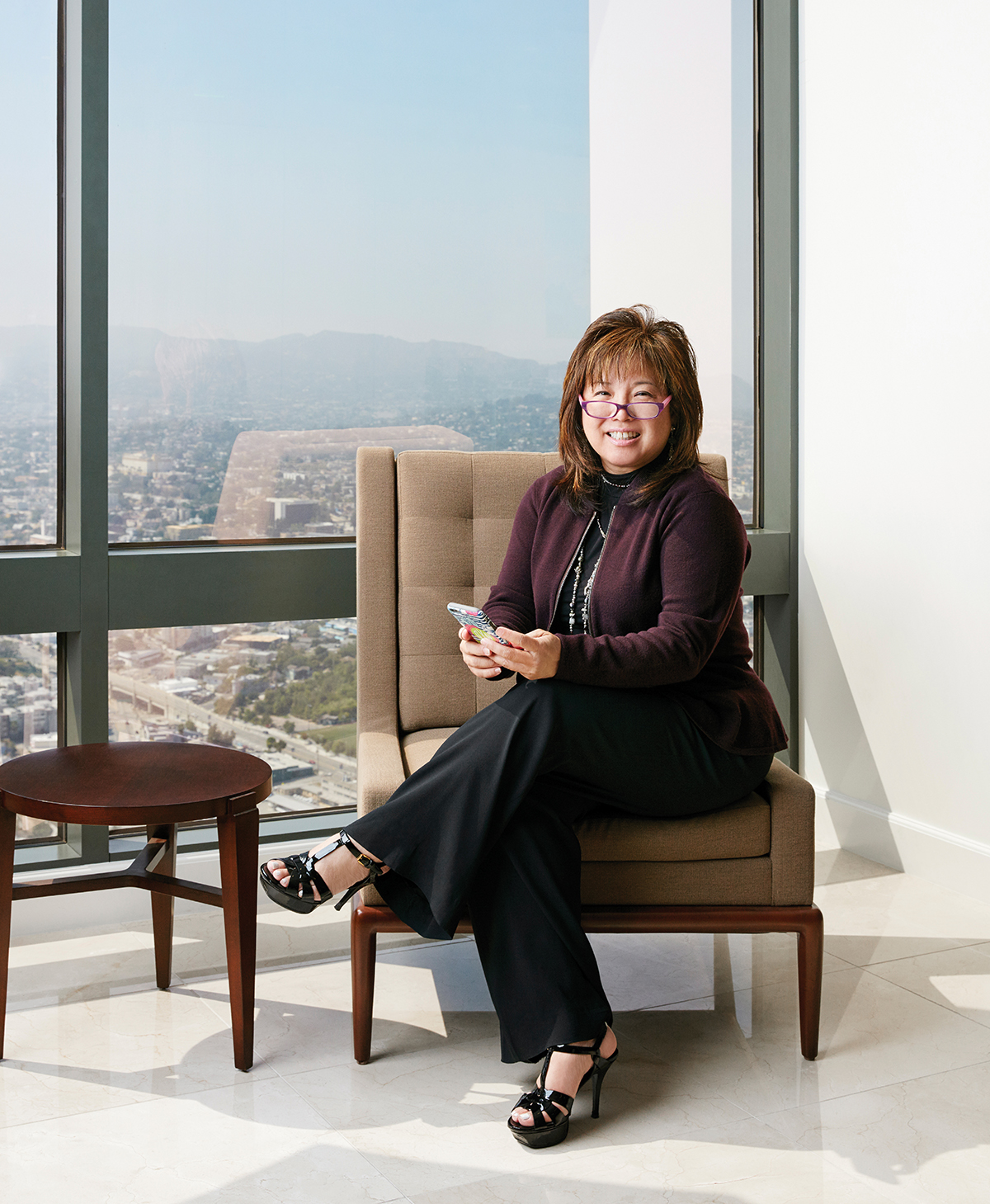 She is also currently on the legal team providing counsel for Uber, the San Francisco on-demand technology company that has recently grappled with a class action suit from drivers who claim they've been misclassified as independent contractors rather than employees: In April, Uber and the plaintiffs reached a proposed $100 million settlement to drivers in Massachusetts and California, who will stay independent contractors. Yang has been on the trial team from Day 1; if the courts don't approve the settlement, she'll be one of the attorneys arguing their case in court.
The DraftKings and Uber cases have gotten plenty of media play, but they pale in comparison to another of her recent clients, New Jersey Governor Chris Christie. Yang helped conduct an internal review regarding his staff's alleged role in "Bridgegate," wherein lane closures on the George Washington Bridge may have been done in retribution against the mayor of Fort Lee, NJ, for failing to endorse Christie for the 2013 gubernatorial election.
"Chris Christie has enormous regard for Debra's ability and her judgment," says Ted Olson. A partner himself at Gibson Dunn, Olson is most famous for two successes: representing President George W. Bush in Bush v. Gore and challenging Proposition 8, California's state constitutional amendment banning same-sex marriage. Olson sings Yang's praises as well. "She has such a reputation for integrity that, when she represents a client, the integrity carries over to them too." This superstar quality resulted in Yang being named one of the Top 100 Lawyers in California by the Los Angeles Daily Journal and one of the top female attorneys in the state, year after year. She was just recognized as the Top White Collar Lawyer in the Nation (individual category) by Chambers USA for 2016.
"Debra is able to understand all the dimensions of a problem," Olson continues. "We deal with major problems where a client is facing serious incidents with criminal or civil exposure. She figures it out, dispenses advice, all without seeming to be ruffled at all. She is extremely effective and extremely sought after. She's a tremendous addition to our office, a delightful person to know, and I'm very proud to be her partner."
"Some lawyers are great on their feet in court. Some are great writers. She's one of the very few who combines both great oral and written advocacy, along with superb judgment and instincts. For one person to have all these attributes is rare." —Steve Zipperstein, former supervisor
All this—the heavy hitter clients and partners, the flattering quotes—may make Yang sound a bit daunting. She is anything but. This native Californian and single mother of three has a hearty laugh. She's one of those people who touches your arm often to make a point. At a critical case meeting, she once deadpanned that a top French statesman owed $10 million dollars more in damages because he'd yelled at her. There was stunned silence, until everyone realized she was joking.
"Debra has this joy in life you rarely find in the law," says Steve Zipperstein, who supervised her for a time when Yang was an assistant US Attorney. (He's now general counsel for Blackberry Ltd.) "So many lawyers take themselves so seriously," he adds. "But she's able to find the humor in any situation—and also function as one of the best litigators in the US."
Humor comes in handy when you come from a big extended family; Yang is the oldest girl of thirty cousins. "Hey, when you're both Chinese and Catholic there's no reason not to have more children!" she jokes about her background. She's fourth generation Chinese-American. Her paternal grandfather, Lew Hing, has a five-page Wikipedia entry. He came to the Bay area from Kwan-tung (Canton) in 1870 at the age of twelve, and rose from a conscript laborer to owning the Pacific Coast Canning Company; like Yang, he seems to have chosen head over hands too. The company would go on to supply canned goods for Herbert Hoover's food rehabilitation program for Europe after WWI.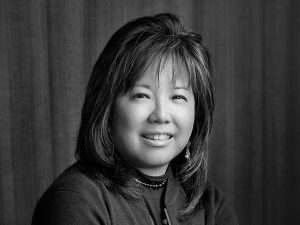 Her maternal grandfather, Geui Hong (Daniel Hall) Quan, arrived in the US from Guangdong province in 1913 and went on to run his own meat marketing business. "We always had the best cuts, growing up," Yang says. "I never ate meatloaf until I was thirty." Quan became a founding father in Los Angeles' Chinatown, buying real estate, and expanding his business ventures. He used to walk Debra to her elementary school in Chinatown in the mornings. "While we walked, he'd talk with me about my responsibilities to my family and my community," she says. After school, sometimes, Yang would do her homework at her grandfather's Chinatown office: "As I wrote, he'd do his accounting with an abacus. I remember the click, click, click."
In those years, her extended family met for a big lunch every Sunday at her grandfather's house, right after mass at St. Bridget's in Chinatown. As the oldest female child, she was expected to help afterward in the kitchen, tackling the dishes. "The only way to get them done was to learn how to commandeer other cousins to help me," says Yang. Now, as a manager at Gibson Dunn, "this has stood me in good stead," she adds, with a smile. "And I'm a really good dishwasher!"
Later, she added business management to kitchen management. After picking green beans that summer, she spent subsequent school breaks tagging along with her dad, as he checked on various small businesses in his venture capital portfolio. She got behind the scenes, listened to him go over concerns with the managers, and pitched in doing inventory; at a bowling supply company, she counted the bowling balls and shoes, and at a Mexican restaurant company, she tallied burrito packages. "I was exposed to many aspects of running a business," says Yang. "I found it fascinating at the time and still do. In my practice now, I like diving into my clients' businesses and seeing what drives them and makes them successful." At Gibson Dunn, her thoroughness and stamina are legendary. "She is extraordinarily energetic," marvels Olson. "She manages to do more things in one day than any normal human being should be able to do," he jokes.
Yang's mother, Doré Hall Wong, got her master's and PhD in education when Debra and her sister were growing up, and served as an elementary school principal in Chinatown and elsewhere in the LA area. Education was paramount in the Wong family, and after high school, Yang attended Pitzer College in Claremont, CA, where she majored in political studies. (In 2004, she was given the college's inaugural Distinguished Alumni Award). After graduation, she toyed with the idea of various occupations, including graphic artist. Yang is a person of faith, and around this time she headed to Taiwan for a job with a Catholic missionary camp in Kaoshiung, Taiwan. Here, foreign students, nuns, and priests did language immersion before setting off on missionary work throughout Asia.
While in Taiwan, she pondered whether graduate school was her next move. "My father and uncle used to have a joking debate about whether I'd go into law or business," says Yang. "But law school felt like the right choice for me. The camp's priests gave me long lectures about how I should go to a Jesuit school, and Boston College came up a lot. I'd never ventured beyond the west coast, and thought the east coast would be a big adventure."
Boston College was an eye-opening experience for Yang. "Everyone in the northeast was so intellectual!" she says. "There were all these thoughtful discussions about politics, the world, the environment. I really grew up at BC. It was such an instrumental place for me." This LA woman did feel some culture shock, though. Partly, it was the food: "At that time in Boston, it seemed like everything was baked, boiled, or broiled," she cracks. And partly, it was the weather: "I'd never seen snow before. My roommates laughed at me because I always volunteered to shovel the walk."
Several BC Law professors really stick out in her memory now, such as James Houghteling ("he was so fun, so beloved") and Cynthia Lichtenstein. "As a young woman, it was fantastic to see this very articulate, powerful female professor who had such tremendous command of her subject matter." BC Law also opened doors right after graduation; she got her first job at a Santa Monica law firm run by several alums. A few years later, her then-boyfriend took a post in Chicago, and she joined him in that city, signing on at Wildman Harrold Allen & Dixon. While at Wildman Harrold, Yang helped launch the National Asian Pacific American Bar Association (NAPABA), then just a dozen people, but now numbering almost 50,000 attorneys.
"She has such a reputation for integrity that, when she represents a client, the integrity carries over to them too." —Ted Olson, a partner and colleague at Gibson, Dunn & Crutcher
She left Chicago ("it was too cold") for a clerkship with California federal district court judge Ronald S. W. Lew, the first Chinese American to be appointed to the bench. "He was an incredible role model, and changed the trajectory of my life in many ways," says Yang. Lew was highly devoted to the Asian American community, and often took his clerks to local functions. "He put me on the course of being active in the minority community," she adds. Indeed, in 2002, the Asian Pacific Bar Association selected her as the recipient of their Public Service Award. And Yang was also pivotal in founding the Chinese American Museum, which opened in LA in 2003; she served for a time as its president. Yang herself is characteristically earthy about all this acclaim: "At the end of the day, if there's a plus over my grave instead of a minus, I'm good."
Yang never speaks about her family in public, a customary caution among those who've handed down sentencing in big criminal cases. She will add a little dark humor though: "I stopped sleeping after the third child," she jokes.
After clerking for Judge Lew, Yang became an assistant US Attorney in Los Angeles. "That was the best job ever," she says. "You get a lot of responsibility at a young age to go into court and stand on your own feet, working for a just cause." Indeed, she tried a number of high-profile cases, including a Glendale arson case in which a local firefighter was convicted of setting a number of blazes (over the decades, it may have been as many as 2,000); a kidnapping case in which the victim, a young female Realtor, succumbed to Stockholm syndrome. (To understand the phenomenon, Yang sought out the renowned UCLA psychology professor Louis Jolyon "Jolly" West, who'd examined Patty Hearst years ago.) Her most complicated cases, during this time, involved espionage. "You had to assess if someone was a spy, double spy, or more, and decide how that status changes how you look at the evidence," Yang explains. "It was very head-spinning."
In 1997, she went on the bench, serving on the Los Angeles Municipal Court, becoming a member of the Los Angeles Superior Court bench, and then Presiding Judge of the Hollywood Courthouse where, at age forty, she was the youngest judge. "It's a noble profession, and the stress and strain put on judges is underrated," Yang reflects. "You're all by yourself and you don't have a lot of support because of the financial system of the judiciary and the overwhelming volume of cases." The daily human toll just keeps mounting, too. "I had a real sense of sadness when I had to sentence somebody to a lengthy period of incarceration," says Yang. "Unless this person was completely off track, the system had failed them in some way."
In 2002, in the wake of the September 11 attacks, President George W. Bush appointed Yang the US Attorney for California's Central district, the largest US Attorney's office outside Washington, DC. As the Asian American website Goldsea.com put it, "when the Bush White House was casting for a Republican star with sterling credentials and diversity points, Debra Yang rose to the top of every list." The honor was eminently deserved, says Steve Zipperstein. "Some lawyers are great on their feet in court," he says. "Some are great writers. She's one of the very few who combines both great oral and written advocacy, along with superb judgment and instincts. For one person to have all these attributes is rare. But that's Deb."
Central had a lackluster reputation at the time, and many top prosecutors were fleeing. Yang boosted morale, in part, by marshalling the 260 lawyers under her supervision to litigate creatively, and aggressively, for widespread impact. Her office used RICO laws, for example, to bring down violent gangs enmeshed in drug-dealing, most notably launching "Operation Silent Night," a 1,300-police officer sweep, which resulted in thirty-six arrests, and effectively shut down the notorious gang, the Vineland Boyz.
She also assembled a team to go after Evergreen International, a shipping company illegally dumping waste oil into California's rivers and the Pacific. "I thought back to Zygmunt Plater for this case," she says, citing the BC Law professor still teaching today. "I audited one of his environmental law courses, and it was very cutting edge at the time, because he talked about how to expand litigation in this area. I thought, 'If you can do that in law school, why not as a lead prosecutor?' So we really broadened the scope of the case in order to make a deterrent effect." She teamed up DAs from five districts, and Evergreen pled guilty to twenty-four felony counts, paying a record $25 million fine. While investigating the case, staffers found a document on one of the ships that read "Be careful on the West Coast. They're really strict." This pleased her inordinately.
Yang's biggest impact as US Attorney, though, involved white-collar crime. During her first year in charge, her office filed 483 cases of business fraud, for the first time ever surpassing the New York US Attorney's office, which always leads the pack on such matters. Multiple companies came under investigation, including Boeing, which had to pay out $615 million, then the highest penalty paid by a defense contractor. Her office also pursued the securities law firm Milberg Weiss Berchad & Schulman, issuing a twenty-count indictment of obstructing justice, perjury, bribery, and fraud. "I'm in the legal profession, but when you're on the side of justice, you can't have biases at all," says Yang. "Was there evidence of sufficient harm by this law firm? Was there reckless intent? Yes—the indictment was completely mandated by what the facts necessitated."
The biggest fraud case of all involved Crédit Lyonnais. This historic French bank, founded in 1863, began lending money to Hollywood studios in the 1980s, and went on to set up false front companies to illegally acquire the assets of a dying California insurance company. The case was un football politique: French powerbrokers pressured Yang to ease up, as did Washington bureaucrats reluctant to alienate an allied nation. But Yang pushed forward with finesse—and muscle. One headline dubbed her "The 5-Foot-1-Inch Giant-Killer."
During her time as US Attorney, fears of terrorism were at a fever pitch. There were threats to Los Angeles Airport, and many more locations and structures. She flew to Washington every other week for briefings from Homeland Security and the other agencies bound to keep Americans safe. Yang recalls that time with great gravitas: "When I left [the job], a huge weight fell off my shoulders—because no one had died from terrorism, in my district, on my watch."
In 2006, when she exited the US Attorney post for Gibson Dunn, it gusted up a media microburst, from the New York Times to the Daily Kos. The timing seemed fishy. Her office had kicked off an investigation of a Republican congressman representing the San Diego area, and some guessed that the Bush administration, allegedly removing other US Attorneys who'd been pursuing political investigations, had told Yang she was on the chopping block too. Yang completely dismisses this theory. "Leaving was a completely personal decision," she says. "When you're starting to borrow money from your mother to pay the mortgage, it's time to leave the government."
Yang has been pleasantly surprised by how much she's loved this last decade, litigating at Gibson Dunn. "I did not expect private practice to be as invigorating and fascinating as it has been," she exclaims. "I've thoroughly enjoyed every minute." For a woman who chose to use her head, this comes from the heart.
---
Katharine Whittemore writes a book review column and parenting column for the Boston Globe. She lives with her family in Northampton, Massachusetts.