After failing a urine analysis for drugs in a Maine state prison in 2003, Joseph Jackson spent a year in solitary confinement. The small concrete cell had a stainless steel sink and toilet, a tiny, scratched up stainless steel mirror, a thin mattress, and a light that glared, undimmed, twenty-four hours a day. The ventilation system roared constantly, sounding like an airplane engine taking off. There was no night, no day, nothing to mark the time.
Without meaningful stimulation, Jackson's mind went to dark places. "One of the things that stands out for me the most is how loud your thoughts get. Your thoughts get so loud sometimes you feel like somebody's in the room with you, and you just find yourself wallowing in anger, grief, and regret. You play the what-if game over and over again in your mind," he recalls now, three years out of prison. "It felt like I was being tortured, mental and physical torture. Constantly. It was never-ending."
Today, Jackson works for prison reform as the coordinator of the Maine Prison Advocacy Coalition. "I don't think any human being should be treated in that fashion," he says.
Zachary Heiden '02, legal director of the ACLU of Maine, agrees. He's taken on the cause of ending solitary confinement in Maine.
Solitary confinement, widely used as a way to maintain control in prisons, involves locking a prisoner inside a cell the size of a parking space for up to twenty-three hours a day, for days to weeks to years, without outlets or distractions. Solitary is assumed to be reserved for the "worst of the worst," but, in fact, it is frequently applied for rules infractions, like talking back or trafficking cigarettes, or against prisoners with poor impulse control and other behavioral problems.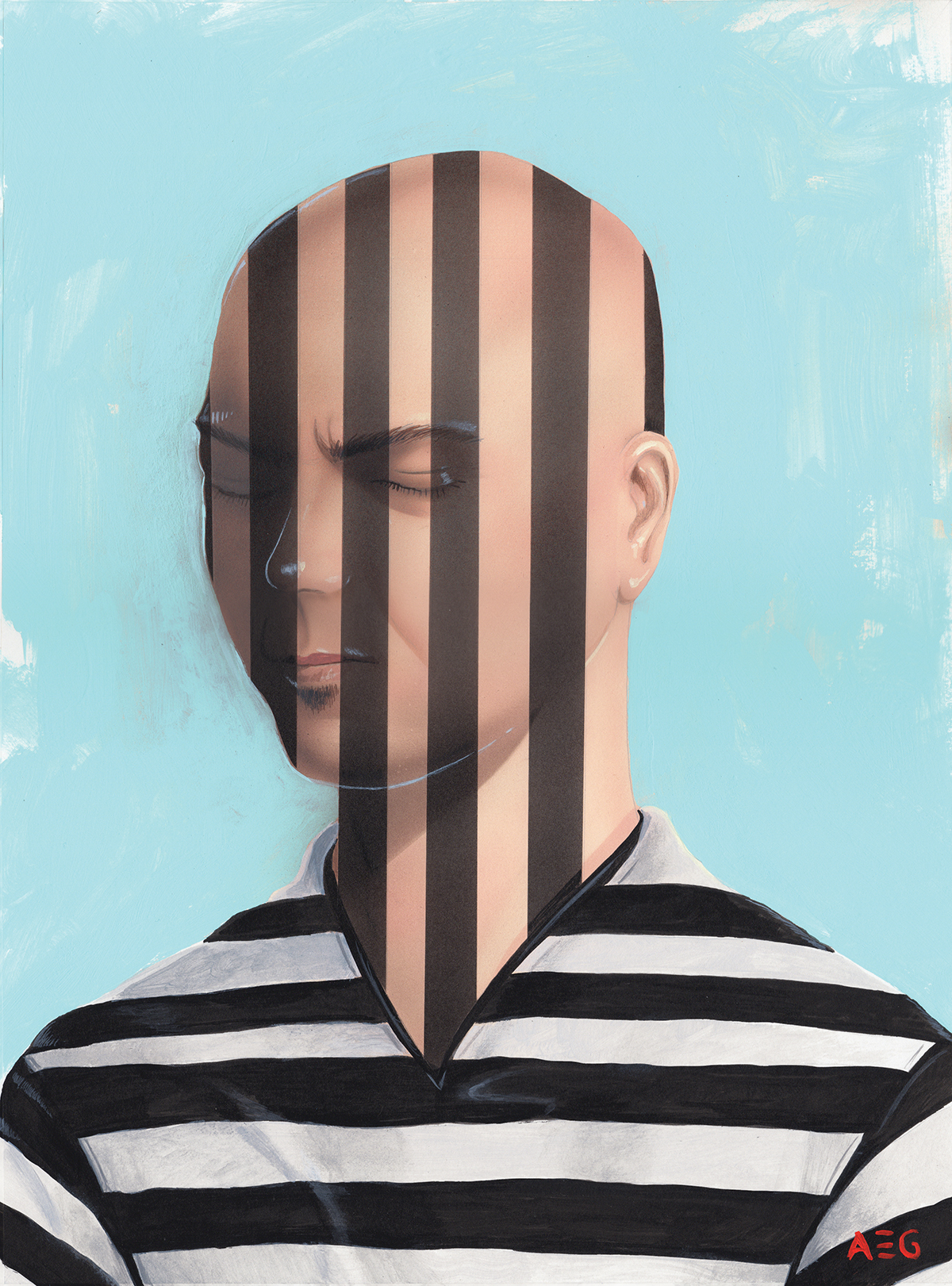 Since the 1980s, the growth in the solitary prison population has outpaced the growth of the prison population generally, a remarkable statistic given that, from 1980 to 2008, America's prison population quadrupled (from 500,000 to 2.3 million). Today, 80,000 to 100,000 prisoners spend their days in solitary. Critics of solitary confinement say that it is inhumane, damages prisoners psychologically, and is exorbitantly costly without leading to safety benefits inside prisons or to the public once prisoners are released.
Heiden was ahead of the prison reform curve on this issue. A year after he became the first staff attorney of the ACLU of Maine in 2004, he teamed up with the ACLU's National Prison Project and started advocating on behalf of mentally ill prisoners held in solitary. Courts across the country were ruling that placing mentally ill prisoners in long-term solitary confinement violated the Eighth Amendment's prohibition on cruel and unusual punishment, but it would be years before the call for reform on solitary policy for all prisoners started gaining momentum across the country. That momentum got an extra push from a report that Heiden generated about the successes he and his colleagues have seen through in Maine.
Solitary is assumed to be reserved for the "worst of the worst," but, in fact, it is frequently applied for rules infractions, like talking back or trafficking cigarettes, or against prisoners with poor impulse control and other behavioral problems.
Threatening litigation, Heiden persuaded the state's Department of Corrections to create new policies and a "secure mental health unit" where prisoners with mental illness would receive extra monitoring and treatment. However, Maine's ACLU and Amnesty International found that, despite the new policies and placement, nothing was really changing for these prisoners. In 2009, Heiden, who had been promoted to legal director two years before, and his colleagues started planning a class action lawsuit. Four years later—years that were marked by sometimes adversarial, sometimes cooperative work among Maine's ACLU, a coalition of reformers, and prison officials—Heiden completed his report.
In that report, the forty-three page "Change is Possible: A Case Study of Solitary Confinement Reform in Maine," Heiden captured how Maine, one of the first states in the country to address solitary confinement, became a leader in prison reform, reducing its solitary population by half by 2013, and not just for prisoners with mental illness.
David Fathi, the Washington, DC-based director of the ACLU's National Prison Project, credits the hard work of advocates and a 2011 change in leadership in Maine's Department of Corrections for these reforms. The advocacy, he says, "wouldn't have happened without Zach Heiden" and he calls Heiden's report "a groundbreaking and seminal document in the movement to reform solitary confinement."
Reforming solitary "is something meaningful that people can do, and they may, in fact, achieve significant results in improving human rights," Heiden says. He wrote "Change Is Possible" because, he explains, "It felt significant to me to have an accounting written down somewhere with as much detail as possible. And I wanted it to be something that would be useful, so I tried to draw some lessons from what we did here in Maine." Solitary reform requires a complex, multi-tiered strategy and prolonged commitment from hundreds of people, and inevitably involves setbacks and disappointments. And so Heiden started his report with a pep talk:
"There are times when every advocate for prison reform feels that change is not possible—that the legal and cultural barriers are too firmly rooted, or that the public's antipathy to prisoners and their families is too powerful. This despondency might lead reformers to settle for superficial measures or, worse yet, to give up the fight in favor of easier targets. It is my great hope that the message of this report—that reform of the use of solitary confinement is both necessary and possible—will provide some measure of encouragement in those difficult moments that every worthwhile campaign experiences."
Heiden's work in Maine reveals the power of community organizing to effect change. As he and his colleagues were crafting their class action lawsuit in 2009, other advocates in Maine were seeking reform through legislation. They were spurred in part by Atul Gawande's 2009 New Yorker piece, "Hell Hole," which noted that Maine had one of the highest rates in the country of prisoners in solitary compared to its overall prison population. Legislators drafted a bill, and a coalition that included Maine's ACLU, the NAACP, Maine Council of Churches, Disability Rights Center of Maine, prisoner volunteers, a former prisoner, and a journalist pushed for it. Maine's Department of Corrections, however, opposed it, citing serious risk of injury or death to staff and inmates if the legislation was enacted. In the end, the bill failed overwhelmingly. But the legislature "resolved" to have the DOC appoint a committee to study the due process rights of prisoners with mental illness.
Reformers worried that this DOC-appointed committee would simply defend the DOC. But that's not what happened. Rather than stick to a narrow focus as charged by the Legislature, the committee "decided to take a serious and objective look at the entire operation of Maine's [higher-than-maximum-security special management unit]—the policies, the actual practices, and the shortcomings in each. Their research reinforced many of the claims and concerns made by advocates, and because the group included both mental health and corrections personnel, their conclusions could not easily be dismissed," Heiden wrote in his report. He continued, "The Maine report ended up being one of the most important components fueling the state's reform efforts—and it had the impact it did because of who the authors were (insiders) and where they were from (Maine)."
Meanwhile, in 2011, Maine got a new DOC commissioner. Joseph Ponte was a breath of fresh air, dispersing bitterness and antagonism that had built up between campaigners on both sides of the issue. Heiden reported, "the final stages of the Maine campaign were characterized by a great deal of cooperation between advocates and corrections professionals. In large part, this was due to the arrival of a new corrections commissioner, who felt no ownership over the prior policies, who had an interest in working with advocates, and who had not been scarred by previous years of contentiousness."
Ponte took the committee's recommendations to heart. He convened a second working group to turn recommendations into reform, and, in a first for the DOC, appointed two prison rights advocates to serve among the group's members. (To this day, advocates receive briefings and data on prison policies from the DOC. Heiden himself visits prisoners and communicates their feedback to prison officials.)
"It is my great hope that the message of this report—that reform of the use of solitary confinement is both necessary and possible—will provide some measure of encouragement in those difficult moments that every worthwhile campaign experiences." —Zachary Heiden
By 2011, Maine's DOC had made significant changes. Fewer prisoners were sent to solitary, they spent less time there, and the conditions of their confinement had improved. Prisoners in solitary had access to more care and services to prevent the deterioration of their mental health, and they had more control over their destinies because they were given a clear path for earning their way out of solitary. By 2013, Maine's solitary population fell from ninety-one to forty-six, an entire prison block was closed to solitary confinement use, and new disciplinary approaches were instituted. Corrections staff received training in how to manage difficult prisoners and de-escalate challenging situa tions. In Maine, solitary confinement is now a disciplinary tool of last, rather than first, resort.
Ponte left Maine in 2014 to serve as New York's commissioner of corrections. His replacement, Joseph Fitzpatrick, is continuing reform efforts. As of this writing, Maine's solitary population was down to thirty, the lowest in Maine's history. What Maine is doing differently, Fitzpatrick says, is providing inmates with treatment, rehabilitation, and therapeutic programming to keep them out of solitary, to get them out of solitary, and—because 85 percent of all prisoners are eventually released—to lower the chances that they will recidivate.
Fitzpatrick wants to continue reducing Maine's solitary population, and sees Heiden as a partner in getting this work done. "Getting insight from Zach on approaches to take to move the system in a positive direction has always been helpful, and I think that will be his role going forward," Fitzpatrick says.
Both men are well aware that a lawsuit by the ACLU is always an option. But Fitzpatrick appreciates that Heiden's preference is to work collaboratively. "We both understand that we have a role in this play, and we have to play that role out," Fitzpatrick says. "There are going to be certain things that I probably can't change that Zach might want me to. There are going to be certain things that he can't let go of even though I can't change them." But, Fitzpatrick says, "because he comes to the table collaboratively and not as an adversary, we end up coming to some very creative solutions and moving the system in a positive direction."
Maine's experience is its own and, of course, will not be precisely duplicated elsewhere, but it is nevertheless a compelling case study. ACLU of Maine Executive Director Alison Beyea says that other ACLU affiliates and prison reform advocates are "calling Zach, relying on his report, using his expertise, using his lessons learned to push this issue forward all over the country."
Heiden's report is "a groundbreaking and seminal document in the movement to reform solitary confinement." —David Fathi, director of the ACLU's National Prison Project
The report is impactful not only in its detail and analysis, but also in its readability. That's no accident. Heiden graduated in 1995 from Bowdoin College with an AB in English, and earned a master's degree in Modern Irish and British Literature from the University of Florida in 1998. Eventually, however, he swerved off of this path. "It felt too much like a one-way conversation that I was having with these dead authors, and I was interested in looking for a way to interact with living people and help them have more engagement with human beings," he says. He worked for a year at a Boston-area computer company doing software localization—that is, making user interfaces culturally and linguistically accessible to broad audiences—and started law school in 1999.
After graduation, Heiden clerked at the Maine Supreme Judicial Court, worked briefly for the now-defunct Boston firm Testa, Hurwitz & Thibeault, and then set his sights on the ACLU of Maine.
His timing was perfect. The national ACLU was requiring all its state affiliates to hire staff attorneys. His resume didn't scream "ACLU!" but, he says he used that to his advantage. "My pitch to the executive director at the time was that I didn't have a whole lot of bad habits and she was a more experienced manager and lawyer and would be able to shape my development as a lawyer. What I did have was a lot of knowledge of constitutional law because I had a great grounding in that at Boston College Law School and also just an incredible commitment to civil rights and human rights."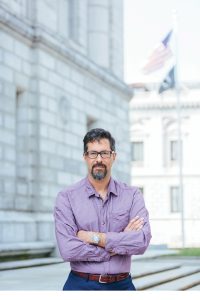 "Zach's impact has been extraordinary," says Shenna Bellows, the ACLU of Maine's former executive director who worked with Heiden from 2005 to 2013. "He has developed a cutting-edge legal program in Maine that has helped develop really important civil liberties policies for our state." When she and Heiden started working together, Bellows recalls, they were the ones putting in the phone calls to policy makers. Now, they call him. "That is a tremendous shift," Bellows says. "That is a testament to his hard work and thoughtful approach and trust that he has been able to build in the state."
"He is viewed within [the ACLU] as a rising superstar, the next wave of great lawyers and civil liberties advocates," says Witold ("Vic") Walczak '86, legal director of the ACLU of Pennsylvania. "He's working in what is not an easy area, up in Maine. While it is part of the Northeast, it has got a very idiosyncratic political and cultural makeup and it makes it tough to do the work we do."
If working hard, being smart, knowing when to seek advice and assistance, and skillfully building coalitions all explain why Heiden is so effective, Heiden's law school mentor and friend, Professor Kent Greenfield, cites additional reasons. "He's so self-effacing and so unassuming, I think he sweeps people into his orbit without them even knowing it," Greenfield says. Greenfield recalls that, in law school, Heiden "wasn't star-struck by anybody. I think that served him well. I'm sure he can go into the governor's office and be as natural and as persuasive in that setting as he is around the coffee machine at work."
Heiden has represented protestors whose free speech rights were being trampled, a pregnant woman held beyond her prison sentence for what the judge said were medical reasons, the rights of panhandlers to stand on median strips, and more. But he says that solitary reform is "one of the most important things I have done and continue to do."
"Solitary reform is going to be," he says, "something that I work on for the rest of my career."
---
Jeri Zeder is a Boston-area freelance writer. She can be reached at jzblcaw@rede.zpato.net.