Boston College Law School second-year student Benjamin Ruano has been awarded a 2017 Ropes & Gray Roscoe Trimmier Jr. Diversity Scholarship, the firm announced today. The scholarship honors the memory of Roscoe Trimmier Jr., Ropes & Gray's first African-American partner who helped lead the firm's diversity efforts. Ruano is one of five law students from around the country to receive the scholarship.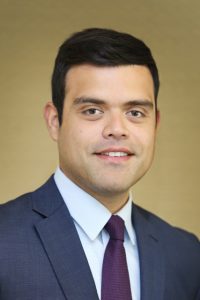 Ruano will receive a $25,000 award to assist with his law school tuition, and will join Ropes & Gray's Boston office as a summer associate in 2017.
"These outstanding students exemplify the accomplishment, leadership, and dedication that defined Roscoe Trimmier's life and career," said Josh Levy, partner and co-chair of the firm's diversity committee. "Roscoe's dedication to promoting inclusion and diversity at Ropes & Gray, and within the legal profession at large, was unparalleled. He challenged us all to be thoughtful and innovative in how we cultivate diversity in order to create a culture where attorneys of all backgrounds can grow and thrive professionally. We are excited to help guide and support these young lawyers, as well as to benefit from their considerable talents and diverse perspectives."
"Everyone with whom I've spoken about Mr. Trimmier has reflected on his humor, resilience, intelligence, and goodwill," said Ruano. "I am both excited and humbled to be an honoree, and will strive to live up to what this award represents to everyone who knew him."
According to a Ropes & Gray press release, the Roscoe Trimmier Jr. Diversity Scholarship was established in 2015 to commemorate Trimmier's legacy and to support students from backgrounds that are historically underrepresented in the legal profession. Ropes & Gray is consistently recognized as one of the nation's leading law firms for diversity overall, as well as with respect to minorities, LGBTQ individuals, and women. This year, Ropes & Gray was named the top firm for overall diversity in the United States in the annual Vault rankings, marking the second time in three years the firm has been ranked number one and the eighth consecutive year the firm has ranked among the top five US law firms.
Roscoe Trimmier Jr. practiced at Ropes & Gray for 35 years, serving as chair of the litigation department and head of the environmental practice group. His professional distinctions include induction as a Fellow of the American College of Trial Lawyers and recognition on lists of the Best Lawyers in America and Massachusetts Super Lawyers.