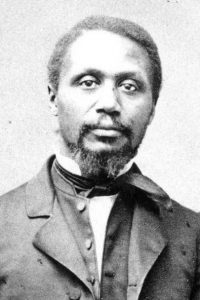 The Daniel R. Coquillette Rare Book Room at Boston College Law School has opened its spring exhibit, "Robert Morris: Lawyer & Activist," featuring the contents of the personal library of the second African American lawyer in the United States. (The first was Macon Bolling Allen, who was admitted first in Maine and then Massachusetts, a couple of years before Morris.)
A mover and shaker in Boston anti-slavery circles and a full-throated civil rights activist in many other areas, Morris (1823-1882) also had a fascinating relationship with Boston's Irish community and a very young Boston College.
The John J. Burns Library at Boston College, which has Morris's library in its collection, loaned BC Law all of the books in the exhibit. Along with a sampling of his papers from the Boston Athenaeum, these volumes reveal the many dimensions of Robert Morris—his ardent abolitionism, his leadership in the fight against segregated schools and militias, his devotion to his wife, his struggles with his faith, and his relationship with Boston College.
Curated by BC Law's Laurel Davis, curator of rare books, and Mary Bilder, Founders Professor of Law, the exhibit will remain on view into July 2017.
Read more on the exhibit webpage, and to learn about the AALL prize awarded to the Morris website creative team, click here.