BC Law Professor Sharon Beckman was a featured guest on a panel about The Role of Clinics in Pursuing Systemic Change in the Criminal Justice System at the 40th annual Association of American Law Schools (AALS) conference on Clinical Legal Education. The event was held May 6-9 in Denver, Colorado. BC Law's associate director of externship programs Kate Devlin Joyce and Hon (ret.) Judge John Cratsley (Harvard law lecturer and BC Law adjunct professor) also presented a poster titled "Going Beyond Observation: Advocacy Exercises for Judicial Internship Clinics."
Also in attendance at the conference were BC Law professors Mary Holper, Lynnise Pantin, Alan Minuskin, and Paul Tremblay.
Beckman appeared with professors Neelum Arya (UCLA Law), Valena Beety (West Virginia Law), Samantha Buckingham (Loyola Law), Joy Radice (University of Tennessee Law), and Lara Zarowski (University of Washington Law). Presenters discussed the teaching and supervision of law students engaged in systemic reforms and brainstormed about best practices for integrating this type of work into law school clinics. Beckman's presentation, "Integrating Law and Policy Reform Projects into an Innocence Clinic," referenced her work at the BC Innocence Clinic (where she co-teaches with Professor Charlotte Whitmore). The clinic provides students with opportunities to participate in law and policy reform research and projects aimed at remedying and preventing wrongful convictions, as well as to represent prisoners asserting their factual innocence.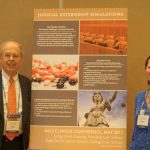 Devlin Joyce and Cratsley presented their poster on three simulations they developed, each of which challenges students with advocacy exercises reflecting moments in court they will likely encounter in practice. Each simulation was illustrated in the poster, and the accompanying handouts contained learning outcomes and performance measurements, a teaching guide, and the role-play scripts. The overall goal of the poster and the handouts is to provide teachers of judicial externship clinics with options for more active and engaging classroom activities.
This year's AALS conference theme, "Serving the Client in Tumultuous Times: Fostering Responsibility to Individuals, Communities, and Society in Clinical Legal Education," was chosen based on the "tumult in the legal academy…developing over time," according to Carol Suzuki, the chair of the conference. Although the theme had been chosen prior to the presidential election, many of the ideas discussed at the conference revolved around clinical pedagogy and scholarship in light of the current political environment and policy changes.
The 2018 AALS conference is scheduled to take place in San Diego from January 3-6, with the theme "Access to Justice."