Two BC Law professors have been party to a collaboration on a new e-book, the Global Review of Constitutional Law, a first-of-its kind resource for learning about constitutions around the world.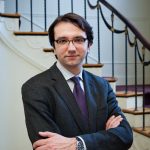 Professors Richard Albert (above), an editor at I-CONnect, the blog of the International Journal of Constitutional Law, and Vlad Perju (left), director of Boston College's Clough Center for the Study of Constitutional Law, established a partnership between their two organizations to recently publish the 2016 Global Review.
According to Albert's blog about the publication's launch, the Global Review assembles reports that provide an overview of constitutional developments and cases in individual jurisdictions during the previous calendar year. The first edition included 44 jurisdictions.
"By making this information available to the larger field of public law in an easily digestible format," Albert wrote, "we aim to increase the base of knowledge upon which scholars can draw."
Albert also thanked Perju and the Clough Center for their participation in the project. "Since becoming its director, Vlad Perju has transformed the Clough Center into a leading site in the English-speaking world for the study of constitutions and constitutionalism. We thank him for sharing our vision of the possibilities for this annual volume," said Albert. "Vlad and I will continue to publish this Global Review in the years ahead. We intend to expand the countries covered, hopefully one day reaching full global coverage."
There are two links where the report can be downloaded, through the Clough Center here or, for a compressed file, at SSRN here.