Bria Coleman '20, a Boston College Triple Eagle with a long track record in diversity advocacy, has been named one of five recipients of the 2019 Ropes & Gray Roscoe Trimmier Jr. Diversity Scholarship. The scholarship honors the memory of Roscoe Trimmier Jr., an accomplished trial lawyer, the firm's first African-American partner, and a pioneering leader of Ropes & Gray's diversity and inclusion efforts.
Coleman will receive a $25,000 award to offset the expenses of her legal education and will join the firm's Boston office as summer associate in 2019. Her fellow recipients, who hail from Boston University, Yale, Georgetown, and Northwestern law schools, will span out among Ropes & Gray's New York, Boston, and Washington, DC, offices."We are excited to welcome to the firm this outstanding group of young lawyers," said Joan McPhee, a partner and co-chair of Ropes & Gray's diversity committee. "These students have already demonstrated the kind of leadership skills, commitment to excellence, and high levels of achievement that were hallmarks of Roscoe's life and career."
Active throughout her undergraduate and master's degree years at Boston College, Coleman remains indefatigable in her involvement with diversity issues at the Law School. She is currently co-president of BLSA and a BC Law Ambassador; she also spoke at the National Black Pre Law Conference, and participates in meetings of the Black Alumni Network, student groups, and the administration to promote diversity at the Law School and the legal profession.
The scholarship is significant to Coleman because it means she can continue to break diversity barriers. "It reaffirms that others are noticing and value all the things I've been involved in and that it has meaning for those who come after me. It is encouragement that I'm going in the right direction," she says.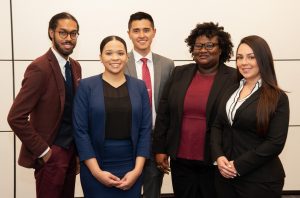 The Roscoe Trimmier Jr. Diversity Scholarship was established in 2015 to commemorate Mr. Trimmier's legacy and advance diversity at the firm by attracting exceptional talent from backgrounds that are historically underrepresented in the legal profession. In four years, the firm has awarded twenty scholarships.
"Roscoe was one of the firm's most accomplished and celebrated lawyers, and he was always looking for opportunities to advance the careers of others," said Leslie Spencer, a partner and co-chair of Ropes & Gray's diversity committee. "He was particularly dedicated to mentoring young lawyers who came from diverse backgrounds. His leadership and commitment to fostering a diverse and inclusive workplace had a profound and lasting impact on the firm. We continue to work hard every day to make diversity and inclusion top priorities at the firm."
Ropes & Gray is consistently recognized as one of the nation's leading law firms for diversity overall, as well as with respect to minorities, LGBTQ individuals and women. This year, Ropes & Gray was named a top ten firm for overall diversity in the annual Vault rankings, marking the tenth consecutive year the firm has ranked among the top ten US law firms.