BC Innocence Program (BCIP) client Christopher "Omar" Martinez (front row in gray sweatshirt) was released April 23 into the arms of his family members after serving almost 20 years in prison for a murder he did not commit.
BCIP students and Supervising Attorney Charlotte Whitmore participated in a unique partnership with Martinez's court appointed post-conviction attorney, Chauncey Wood, who has represented Martinez for 15 years, supported by the Committee for Public Counsel Services Innocence Program (CPCS).
"First and foremost we are are elated that our client Omar is free. We thank him for his trust and confidence in us over the past four years. This victory is a testament to the talent and dedication of Professor Charlotte Whitmore and the BC law students working under her expert supervision representing Omar," said BCIP Director Sharon Beckman.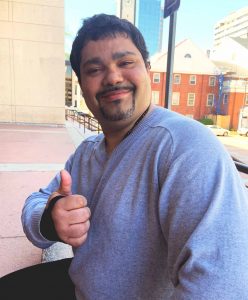 After five years of factual investigation and litigation, this team, which included many BCIP students, filed a lengthy new trial motion challenging Martinez's conviction. Wood and Whitmore then presented evidence over a four-day evidentiary hearing in the Hampden Superior Court in Springfield. After hearing all the evidence and argument from counsel, Judge John Ferrara granted the motion and vacated Martinez's conviction, citing a confluence of factors—including newly discovered evidence of innocence, the trial prosecutor's withholding of exculpatory evidence, and ineffective assistance of trial counsel.
Moreover, the judge immediately released Martinez based on the re-entry plan created for him by BC School of Social Work student Parker Lawrence, who is working in the BCIP under the supervision of Professor Claire Donohue.
"This case is a terrific example of the teamwork needed to achieve justice in a complex case that required extensive investigation and litigation," said Whitmore. "BCIP students were involved and invaluable throughout the entire process and it was a tremendous teaching and learning experience. I am thrilled that we were able to achieve justice and freedom for Omar."
Martinez was a 19-year-old Spanish-speaker when he signed a confession written in English, stating that he killed his friend, Eddy Reynoso. No other evidence presented at trial tied Martinez to this murder. Martinez's legal team presented numerous pieces of newly discovered evidence at the post-conviction hearing demonstrating Martinez's innocence.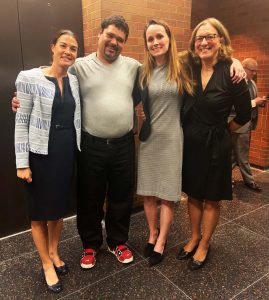 Notably, Martinez's defense team located and called a witness named Wilbert Diaz who testified for the first time that Martinez did not shoot Reynoso. Diaz lived next door to Reynoso and knew both Reynoso and Martinez. Diaz heard a brief conversation between Reynoso and his killer seconds before Reynoso was shot. It was clear from this conversation that the shooter and Reynoso were strangers, whereas Martinez and Reynoso were friends. Additionally, Diaz unequivocally testified that he would recognize Martinez's voice, and the shooter's voice was not Martinez's.
Evidence presented at the hearing revealed that Martinez's trial counsel had intended to call Diaz as a witness but was unable to locate him because Diaz had moved and the trial prosecutor failed to provide his updated address to the defense.
Martinez's defense team also obtained a comprehensive report critiquing the reliability of the police interrogation of Martinez from nationally recognized police practices and interrogation expert James Trainum. Trainum explained the situational and dispositional risk factors present in this case that made Martinez especially vulnerable to giving a false confession.
Additionally, the defense team located and called an alibi witness, Carlos Rodriguez, who testified for the first time that he was with Martinez the entire night of the crime, that Martinez did not shoot Reynoso, and that police coerced Rodriguez into giving a false statement implicating Martinez in the crime when Rodriguez was just 15 years old.
Lastly, an inmate named Ramon Santana testified that he shot Mr. Reynoso and that Martinez had nothing to do with the crime.
Many BC Innocence Clinic students played a role in this rare victory, including Lauren Rossman '19 (who has worked on Martinez's behalf her entire 2L and 3L years and the summer in between), Jeffrey Gilberg LLM '19, Bianca Young '19, J.P. Christian Milde '19, Jennifer Moore '18, Anna Stuart '18, Erinn Cawthon '17, and Eric Ruiz '16.
"Participating in a case like this—and collaborating with co-counsel Wood with the support of the CPCS Innocence Program—is a rare experience that BC students were fortunate to have while still in law school," said Beckman. "Omar's case demonstrates the need for the holistic, client-centered representation that the BC Innocence Program provides in partnership with the School of Social Work and the CPCS Innocence Program."