Jennifer Smith '99 said she came full circle in her return to BC Law as the Owen M. Kupferschmid Holocaust/Human Rights Project's 2019 Memorial Lecturer on April 1. Smith began her international career working for a legal aid group in Cambodia in 1996 on a placement funded by the HHRP stipend for law students pursuing work in the field of human rights.
"I cannot emphasize enough how the grant from HHRP affected my life," Smith told the gathering, which included members of the Kupferschmid family. The project honors the memory and public service commitment of Owen '86, who founded HHRP as a student. He passed away in 1991.
Smith's placement opened her eyes to what a difference a person could make in the world and inspired her to take a year off from law school to continue her efforts in Cambodia. The people filling up the detention centers were the poorest of the poor, she recalled. "That really motivated me."
After returning to BC Law and finishing her degree, Smith began her career as a public defender at the Committee at Public Counsel Services and then the Legal Aid Society in New York. During those years she built her expertise in criminal and juvenile defense, which later provided her with credibility in the global arena.
Subsequently, she went on to China International Bridges to Justice and the International Legal Foundation, where she currently serves as executive director. The international nongovernmental organization assists post-conflict and transitional countries to establish public defender systems that provide effective, quality criminal defense services for the poor. "In many countries coming out of conflict, the police and courts may exist in some fashion," she observed, "but there aren't any legal aid or defense institutions."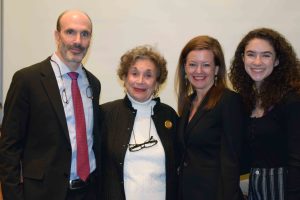 Smith's work has taken her to many countries, including to Afghanistan after the fall of the Taliban in 2003, where she helped to hire the nation's first two public defenders, one of whom was a woman. "We wanted to have that idea of equality and diversity at the very start," she explained. It wasn't an easy or simple process, "but now, 18 years later, people know they have a right to counsel."
Central to Smith's efforts there and elsewhere has been her advocacy for the universal right to counsel. "We are really trying to elevate [people's understanding that] if you do not have lawyers, you do not have a fair trial," she said. "Access to representation has to be meaningful representation. Having just any old lawyer is not meaningful. The challenge with the right to counsel is that it is perceived as dispensable, but it is critical to say this is a fundamental right."
The same holds true for America. "There is a crisis in access to legal aid in the United States," she said, "And if that is true in the United States, then it is also true around the world."
Smith also discussed the methods she feels are the most successful in encouraging countries to establish legal aid and defense institutions; primary among them are global leadership conferences. "Bringing governments together to pressure each other can really make a difference. The biggest issue is not political will," she explained. "The challenge really is a lack of capacity." No matter the country context, she has found, the techniques they learn work.