BC Law's Public Interest Law Foundation (PILF) began the 2019-2020 academic year by hosting a school-wide Day of Service on September 7 that drew more than 60 faculty and students to five service placements across Greater Boston.
Volunteers served at Stray Pets in Need, Women's Lunch Place, Y2Y Youth Homeless Shelter, Allston Brighton Food Pantry, and conducted a PILF-hosted Charles River Cleanup on the Esplanade. The wide variety of placements gave volunteers an opportunity to work with diverse communities-in-need across the city.
"We really wanted to start the year off with a focus on public interest through community service," said PILF's vice president of programming, Madeleine Gearan '20. "PILF was ecstatic with the interest and enthusiasm that BC Law displayed."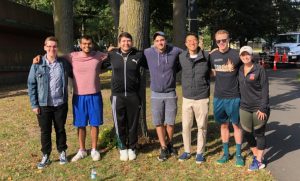 Historically, PILF has hosted a fall Day of Service in early November. Last year, after a record-breaking number of sign-ups, the organization hosted a Spring Day of Service as well. The success of the inaugural beginning-of-year day of service suggested that BC Law students are excited about getting involved with the community and are looking for more opportunities to do so.
As a result, PILF has already scheduled its Fall Day of Service for November 8 and 9. Sign-ups will likely be available by early October, and students and faculty can expect even more expansive opportunities for service.
"PILF Days of Service give BC Law an opportunity to engage in the community that we all call home. We are so excited by students' enthusiasm for service and public interest," said PILF President Hailey Jenkins '20.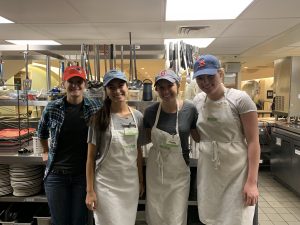 The Days of Service also continue to generate a network of students interested in public interest law. Many of the student volunteers from September 7 will be working in unpaid, public sector internships, and PILF seeks to make these internships financially achievable for students by providing stipends. If the impressive number of volunteers is any indication of the number of students interested in public interest, this could be one of PILF's biggest years yet.
In support of PILF's mission to enable BC Law students to pursue unpaid public interest work, donations can be made by visiting http://bc.edu/lawpilf and selecting "Law Public Interest Fund" from the dropdown of "I wish to make my gift to."
A donation of $2,000 funds one student for the summer, but all donation amounts are welcome and deeply appreciated.
Top photo: Dean Vincent Rougeau, center, surrounded by 1, 2, and 3Ls at the Y2Y Youth Homeless Shelter.