Boston College Law Public Service Scholars Liam Holland '17 and Brian Shaud '17 have been accepted into the US Department of Justice Attorney General's Honors Program after a highly competitive selection process.
Both were invited to join the DOJ's Federal Programs Branch in Washington, DC. They will be defending the Executive Branch in federal district courts against civil actions attacking the legality of government policies and decisions by litigating "cutting edge" issues of constitutional law.
Not only do Shaud and Holland's post-graduation paths mirror one another—completing Massachusetts Supreme Judicial Court clerkships and serving as federal district court clerks—they had many similar experiences at BC Law. Both were Academic Law Fellows with the Clough Center for the Study of Constitutional Democracy, LEAPS Public Service Scholars and members of the Boston College Law Review. They also share an enduring and genuine commitment to public service.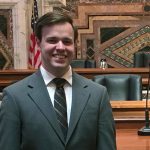 Before attending BC Law, Shaud taught eighth grade math in a public school and worked at Community Legal Services in Philadelphia. But his commitment to service goes even farther back. "I know firsthand the positive impact that government programs can have," Shaud, a first-generation college student, said. "As a child, I was covered by government health care programs. I am not sure if I could have completed college, much less law school, without significant federal assistance and private investment. Public service is how I say 'thank you,' give back, and try to expand opportunity."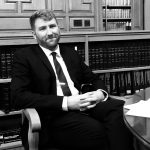 Holland, who worked in Massachusetts state government prior to law school, said he realized he wanted to become a public interest attorney while serving as research director for the Massachusetts House of Representatives Committee on Telecommunications, Utilities, and Energy. Wonderful experiences at BC Law like participating in Professor Thomas Barnico's Attorney General Clinic then cemented his desire to be involved in these areas of law. "Through those experiences I learned how government can impact the well-being of individuals, communities, and the planet," Holland said. "One needs to be an attorney to ensure that after the legislature passes a law, it is interpreted as intended and, hopefully, in a manner that advances the public interest."
Both men were drawn to DOJ Honors Program for their own reasons. For Shaud, it was a summer legal internship with DOJ's Federal Programs Branch and the exposure to the important work of the branch's attorneys that led him to apply. "I am excited to practice constitutional and administrative law and to defend crucial federal health care, housing, and education programs," he said. Holland, a self-professed "big nerd," viewed the DOJ Honors Program as one of those few positions where a young lawyer can "geek out" on case law—exploring the meaning of complex statues and the US constitution.
Holland grew up in Massapequa, New York, and earned his BA in Political Science and Environmental Studies from Northeastern University in 2011. He graduated from BC Law at the top of his class, and completed clerkships with Justice Kimberly S. Budd of the Massachusetts Supreme Judicial Court and with Judge Lawrence J. Vilardo of the US District Court for the Western District of New York. Holland is also an award-winning karaoke singer and a self-proclaimed Robert Caro fanatic.
Shaud grew up in Swarthmore, Pennsylvania, and received his BA in Government from Georgetown University in 2012. He graduated from BC Law magna cum laude, and completed a clerkship with Justice Frank Gaziano of the Massachusetts Supreme Judicial Court. Shaud is currently serving as a judicial law clerk at the US District Court for the District of Maine.
BC Law's Public Interest and Pro Bono Program Director Michelle Grossfield recalled Shaud and Holland as being dedicated, engaged, and zealous students who came to law school with a goal to help their community. "We are thrilled to celebrate their accomplishments in securing such competitive Honors positions at DOJ knowing that the training they received at BC Law has prepared them to be leaders in government and excellent advocates for our country," she said.