It's impossible to fully appreciate the Boston College Law School Library without knowing the contributions of Michael Mitsukawa, a vital presence there for 35 years and "a thoughtful giver of time, kindnesses, consideration, and gifts," as one friend put it. Right out of Boston College, he headed for what would become his professional home, starting at the circulation desk, later acting as the point person for the construction of the new library, and lastly becoming Associate Director of Administrative and Technology Resources (ATR).
Mitsukawa passed away from cancer on April 29 in Hawaii, surrounded by family, leaving behind a rich legacy of friendships and accomplishments. Among the latter was his role in the library's construction in the mid-1990s. As Professor Emerita of Law and former Associate Dean for Library and Computer Services Sharon O'Connor recalls, "He worked tirelessly with the architects, outside contractors, BC construction team, designers, and library staff to ensure that the plans for the library and its fitness for its purpose were fully executed. Truly, the building as it stands today is a testament to his work."
The same can be said for ATR. "When we decided that the Law Library could take on the responsibility for computing support for the Law School, Michael was ready to lead in that effort, one that is part technical, part fiscal, and part administrative, allowing his strengths to be used in all aspects of decision-making," O'Connor says. "From its small beginning equipping all faculty and staff with a computer on their desk, the department evolved to provide the support it offers today."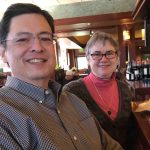 But if he gave of himself generously on the job, he gave even more abundantly to his colleagues and friends. Professor and Associate Dean for Library and Technology Services Filippa M. Anzalone notes that Mitsukawa "was a deeply spiritual man"—he earned a master's in theology from BC and at one time considered joining the Society of Jesus—and that close friends enjoyed his innate sense of pastoral counseling and his deep listening. "A session with Michael was far more useful than an hour in a therapist's office," she says.
Mitsukawa had a wonderful sense of humor, which broke through his quiet reserve when he was among friends. "Once he let you in, he had a heart of gold" and was unfailingly loyal, says Michèle Latimer, a former access services supervisor at the library whom Mitsukawa met for lunch regularly after she left BC Law. He also remembered everything about a person. One time, while in Hawaii, he sent Latimer a surprise package of coffee and macadamia nuts, which he knew she loved.
Gestures of that kind were legion in Mitsukawa's world and what Anzalone calls "Michael's moments."
When Mitsukawa wrote a farewell letter to the BC Law community in February, saying he was returning to Hawaii to be with his family "to live out the next chapter of my life," BC Law Dean Vincent Rougeau responded with these words: "He has been a crucial member of our BC Law team for so long and has always held himself to the highest standards or professionalism as he worked tirelessly to advance the goals and mission of this institution. We will miss him terribly."