Nathaniel Romano, SJ will be joining Boston College Law School as a Visiting Lecturer and Drinan Scholar. In addition to teaching at the Law School, Professor Romano will provide pastoral outreach to law students and undergraduates at Boston College through the Office of Mission and Ministry.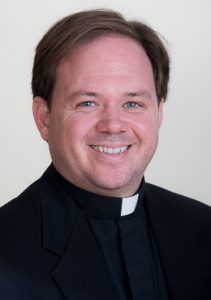 "We are fortunate to welcome Nathaniel to BC Law as our newest Drinan Scholar," said Associate Dean for Academic Affairs Renee Jones. "Nate will expand our offerings in areas of Constitutional Law, Jurisprudence and Law and Religion while also offering counseling and pastoral support to law students."
Romano will teach Law and Religion this fall. In the spring, he will teach Constitutional Law: Rights and Equality. His research interests include jurisprudence, legal theory, and legal philosophy, focusing on the intersection between law and religion stemming from both his legal training and philosophy and theology training. He is most concerned with the way religious, philosophical, moral, and ethical commitments translate in law and public policy.
Romano began his legal career at Romano, Lutz & Foss, LLC. He has also worked for the Catholic Charities Milwaukee, as a volunteer attorney for the Bronx Defenders in the Civil Action Project and Immigration Division, and as a Lecturer in Law & Staff Attorney at the Milton R. Abraham Legal Clinic at Creighton University Law School. In 2015, Romano was missioned to Jesuit School of Theology of Santa Clara University.
Romano also serves as Associate Pastor at the Church of the Gesu in Ohio, and previously served as Transitional Deacon at the Most Holy Redeemer Parish in California until 2018.
Originally from California, Romano earned his Bachelor of Arts with Honors at Marquette University where he majored in History and Political Science. He went on to earn his J.D from the University of Wisconsin School of Law, Master of Arts in Philosophical Resources from Fordham University, Master of Divinity from Jesuit School of Theology of Santa Clara University, and Master of Laws (LL.M) from Emory University School of Law.
As part of the Drinan Junior Scholars Program at BC Law, Romano will take part in faculty colloquia, workshops, and other community programs to introduce and integrate emerging scholars into the Boston College Law School community.