Ibrahim Haruna is lucky to be alive. Six years ago, just fourteen and newly orphaned, Haruna fled his abusive uncle in Ghana by getting himself smuggled onto a cargo ship to Colombia. There, threatened with imprisonment, he left for Panama, traveled across the treacherous Darien Gap, the jungles of Nicaragua, and then Mexico, where a kind stranger paid his airfare north. At the US point of entry, after enduring three miserable days in ICE detention, Haruna was placed in foster care.
The entire journey took a year. Haruna survived hunger, constant danger, and abject poverty. But without legal status in the US, his future remained precarious.
Fortunately, he had a lawyer.
Yliana Johansen-Mendez '11 runs the Children's Representation Project for the Immigration Defenders Law Center, a Los Angeles-based nonprofit committed to ensuring that no immigrant faces a courtroom alone. Legal representation matters. Without a lawyer, a child has an 80 percent chance of being deported. But with a lawyer, a child has a 75 percent chance of staying.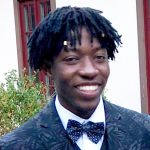 In early October, Johansen-Mendez and Haruna delivered a virtual talk hosted by the Boston College Center for Human Rights and International Law. Johansen-Mendez reported that the time in which a child can apply for residency has ballooned under the Trump administration from one year to six. Absurd technicalities—like a failure to enter a middle name on a form, even when the child does not have a middle name—can lead to a rejected application. Asylum, once swiftly granted to children fleeing dire circumstances, is now aggressively litigated in court.
The hardest hit are Black immigrants. Many are automatically treated with suspicion as a matter of US policy because they come from Muslim-majority countries. They are overrepresented in ICE detention centers and removal proceedings, and are six times more likely to end up in solitary confinement. Haitians are particularly impacted.
Ibrahim Haruna, now twenty, works as an EMT, attends community college, and aspires to be a firefighter. After a multi-year legal battle with the US government, he became a permanent legal resident in 2019, thanks to the fearless lawyering of Yliana Johansen-Mendez.