Massachusetts Lawyers Weekly's selection of Professor Mary Bilder, above, as one of 2016's Top Women of Law, caps an extraordinary year of achievement for the legal historian. Her book, Madison's Hand: Revising the Constitutional Convention, spawned numerous accolades, including the prestigious Bancroft Prize, finalist status for the Library of Virginia Literary Award and the George Washington Prize, and appointment to Boston College's Founders Professorship.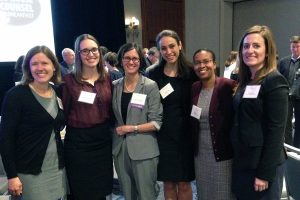 Bilder shares Massachusetts Lawyers Weekly honors with five alumnae. All of the women were selected for their "tremendous professional strides and great accomplishments in the legal field," according to the newspaper.
Professor Bilder's Madison's Hand, which offers a close reading of James Madison's notes on the 1787 Constitutional Convention, calls into question many assumptions about the objectivity of his notes, (see previous BC Law Magazine story), has been featured on the front page of the Washington Post. A Wall Street Journal review called the book "superb."
The BC Law Alumnae who joined Bilder at the awards ceremony October 27, are:
Julie Dahlstrom '08, a staff attorney at Casa Myrna Vazquez, is also a clinical instructor who founded the Boston University School of Law human trafficking clinic. She also advocated for the Massachusetts anti-trafficking law.
Kara M. Delfuto '03 is associate general counsel at Dana-Farber Cancer Institute who testified in support of a new state law that emphasized the need for women to have safe access to health care.
Mary T. Marshall '86, a partner in Boston's Nutter, McClennen & Fish, works with engineers and architects to develop innovative properties in Boston, among them a collaboration between a charter school and family shelter while she was on the board of trustees of Catholic Charities.
Lauren Stiller Rikleen '79 is president of the Rikleen Institute for Strategic Leadership in Wayland, Mass. She is author of three books who has dedicated her legal career to social justice issues and environmental regulation both in Boston and nationwide.
Barbara Trachtenberg '98 is a partner in Boston's DLA Piper's office where she heads the real estate group after being a part of the joint venture transaction for One World Trade Center.