Boston College Innocence Program (BCIP) client Ronnie Qualls was exonerated September 1 after Suffolk County District Attorney Rachel Rollins filed a nolle prosequi formally dismissing all charges pending against him in connection with a 1992 double homicide in Boston's Roxbury neighborhood. Qualls, who served 27 years in prison before his release last March, has always maintained his innocence. He is the 14th person in Massachusetts to be exonerated based on DNA evidence since 1989.
Qualls was serving two consecutive life-without-parole sentences when BCIP took up his case in 2017. Suffolk County Superior Court Judge Christine Roach vacated his convictions and ordered him released last spring on the joint motion of BCIP and the Suffolk County District Attorney's Office.
Qualls was convicted of shooting to death at close range two brothers who were sitting in the back seat of a car. He was exonerated largely by DNA evidence indicating that multiple small droplets of one of the victim's blood was on the original suspect's sweatshirt shortly after the shooting. The victim unequivocally named that same suspect as the shooter to three different police officers moments before he died. However, that suspect told police that Ronnie was the shooter and three eyewitnesses later identified Ronnie as the shooter.
In the past 16 months, BCIP has secured the release of two men and a woman wrongly convicted of murders they did not commit. Qualls is the first to be exonerated.
Just moments after his exoneration, Qualls joined a remote BC Innocence Clinic seminar class via Zoom and thanked the BC Law students past and present for helping to secure his exoneration. "You are all part of this," he said. He also had some advice for the second week of class: "When your client tells you he is innocent, believe him."
"We are thrilled for Ronnie and appreciative that the DA's office joined us in our quest for justice," Professor Charlotte Whitmore said at the time of Qualls's release. Whitmore, with Professor Sharon Beckman and law student Rachel Feit '20, was Qualls's counsel of record in the case.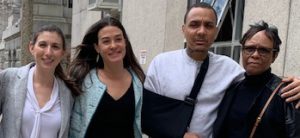 Feit, who sat at the counsel table with Qualls as court officers unshackled him in March, said, "I have been interested in the Innocence Program since I first learned about it five years ago in a college course. If you had told me then that one day—while still a student in law school—I would be part of team that helped to free an innocent man from prison after 27 years of incarceration, I would not have believed you."But here I am."
The path to Qualls's release was a complicated one. He was convicted of first-degree murder in the deaths of Roosevelt "Tony" Price and his brother, Ronald "Dallas" Price in 1993, but his convictions were reversed by the Supreme Judicial Court in 1997. He was convicted in a 1998 retrial and sentenced to two consecutive life-without-parole sentences, which the SJC affirmed in 2003. The trial court denied Qualls's 2004 pro se motion for post-conviction relief, and the United States District Court denied his federal habeas corpus petition in 2006.
The only disputed issue at trial was the identity of the lone gunman who shot and killed the Price brothers. Before he died, Tony Price told three Boston Police Officers that another man, Junior Williams, shot him. Police picked up Williams less than two hours later and seized the blood-stained sweatshirt he was wearing, but let Williams go after he allegedly claimed that Qualls committed the crimes. Williams pled guilty to lesser charges and did not testify at Qualls's trial. Police built a case against Qualls based on eyewitness identification testimony from three individuals, all of whom had criminal records and received favorable treatment from the prosecution on their own open criminal cases. The three witnesses each testified that the victims were shot at close range by a lone gunman who they each claimed was Qualls.
Serology testing done by a Boston Police Criminalist in 1992 showed the blood on Williams's sweatshirt to be Type B, the same blood type of the Price brothers. Qualls's trial attorney argued that that confirmed Tony's dying declaration that Williams was the one who shot him. But because Williams also had Type B blood, the police criminalist testified that the blood on Williams's sweatshirt could have been Williams's own blood, for example, if he had a paper cut and wiped it on his sweatshirt.
Three years ago, Qualls's mother, Yvette, reached out to the BCIP for help. BCIP students investigated and recommended that the program take on Qualls's quest for freedom. At BCIP's urging, the Suffolk County District Attorney's Office joined with BCIP in a Joint Motion for Post-Conviction Forensic Testing of the blood on Williams' sweatshirt, which Judge Roach granted in January 2019. The DNA testing results showed that, as trial counsel argued but could not prove at the time, the blood on Junior Williams's sweatshirt was that of the victim Tony Price, corroborating Tony's identification of Williams—not Qualls—as the man who shot him. There was no explanation or evidence at trial that could explain how the victim's blood could have gotten on Williams' sweatshirt other than his having been the lone gunman who shot the victims at close range.
The BCIP team's detailed factual and legal submission to the Suffolk District Attorney's Office's newly created Integrity Review Unit led to the unusual joint motion to vacate Qualls's convictions. It also led to the court's ruling that the new DNA evidence of Williams's "physical proximity to one of the shooting victims would probably have been a real factor in the jury's deliberations" requiring Qualls's convictions to be "vacated as a matter of law."
Amanda Savadian, who earned a master's degree from BC's Graduate School of Social Work last spring, did her clinical placement in the BCIP. She worked with Qualls and BC Law's Director of Interdisciplinary Programs Professor Claire Donohue to prepare a re-entry plan that also met with the court's approval. Donohue and her team of graduate social work students continue to provide Qualls and other BCIP clients with social service support as they transition to life outside prison.
Beckman describes BCIP's social work team as "critical to our mission because the state provides no immediate re-entry support or services to people released from wrongful incarceration," an injustice Beckman and BCIP law and social work students have also been working to address through legislative advocacy.
"It is completely sobering for me to know that for almost every moment I have been in this world, Ronnie has been in prison for a crime he did not commit," said Feit." I am so humbled to be part of such an incredible organization and network, and to have had the opportunity to work under the supervision of Professors Beckman and Whitmore, both incredible leaders and masters of their craft. I am thrilled for Ronnie and his family and friends. He is so deserving of the opportunity to life his life as a free man, and I can't wait to watch him do that."
Read other BCIP-related magazine stories here, here, here, and here.
Other coverage of the Qualls case:
The Boston Globe (March 11)
The Boston Globe (earlier story)
The Boston Globe (earlier story)
Here is the link to a video of Qualls's first steps of freedom on March 10, 2020. https://youtu.be/OgbLucb5sTw
See more about the BC Innocence Program in this video.
Pictured at top, from left, Charlotte Whitmore, Sharon Beckman, and Claire Donohue