Hats Off to Clinical Programs
I am writing to thank and congratulate you on the most recent edition of the magazine (Summer 2014). It was an inspiration to an alumnus like me who graduated four decades ago.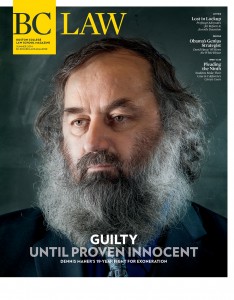 I was particularly impressed with the breadth and depth of the reporting and especially liked the articles on the Innocence Project ["'I've Already Forgiven You'"], the Ninth Circuit Appellate Project ["May It Please the Court"], and the Juvenile Rights Advocacy Project ["Cell Shocked"]. These clinical programs are vitally important for the law students, the professors who supervise and create them, and the clients whom they serve.
As a student, I spent a lot of my time doing moot court and clinical programs. I was proud of the work that others and I did at the Legal Assistance Bureau in Waltham and the Urban Legal Laboratory. I had the privilege of working with experienced trial lawyers from firms like Goodwin, Procter & Hoar on housing issues and then-emerging stars like Max Stern at the American Civil Liberties Union on prison conditions. All of the programs contributed to my understanding of the significant limitations of the appellate case method as a teaching tool.
One who has experienced trial work as a law student quickly understands that evidentiary rulings and strategic decisions form the bedrock of the development of an individual case, and, frequently, the outcome in the trial court. Unfortunately, reading appellate cases—or, more often, merely passages from them—does not give the reader the understanding or flavor of how the case got to the appellate court in the first place and why one party or the other prevailed or lost.
The Boston College Law Ninth Circuit Appellate Project is instrumental in bringing moot court appellate arguments to real life for both students and clients, as the report and colloquy contained in that article revealed. It is far too often the case that lawyers out of law school for ten years or more still have discomfort making any significant argument on their feet. These pivotal clinical experiences during law school—like public speaking and debate in high school and college—immeasurably improve an individual's capacity and ability to persuade orally whether one is talking to a judge, colleague, or child.
So, my hat is off to these programs that the Law School is running and to the ingenuity and creativity of professors like Kari Hong, Paul Tremblay, and Francine Sherman, who designed and are now supervising these terrific programs.
James C. Sturdevant '72
San Francisco, CA
Redesign Kudos
The magazine contains ten times as much information as it did before. You're doing a wonderful job, and it is much appreciated.
Andrew T. Colamaria '80
Wellesley Hills, MA
Looks good! Congratulations on the redesign.
Ian Marinoff '02
Auburndale, MA
Looks like a great new publication for BC Law.
David Donohue '71
Wellesley Hills, MA
---
We'd like to hear from you. Send your letters to BC Law Magazine, 885 Centre St., Newton, MA 02459-1163, or email to vicki.sanders@bc.edu. Please include your address, email, and phone number.