Last year the nation marked the sixtieth anniversary of the Brown v Board of Education ruling, in which the Supreme Court struck down the "separate but equal" doctrine. Many other civil rights victories followed the high court's decision, including the Voting Rights Act. And now a black man lives in the White House.
But recently there have been rumblings in the black community about what some view as setbacks to the advancements in civil rights: unarmed black men being shot by cops; the school-to-prison pipeline; attacks on voting rights; income and education disparities between whites and blacks. This all calls into question how far we have really gotten, said Susan Maze-Rothstein '85.
Maze-Rothstein, a Northeastern Law School professor, was moderator of a forum hosted by BC Law School and co-sponsored by the Black Law Students Association (BLSA), the Jesuit Institute at Boston College, and the Law School Office of the Dean this past spring to discuss the "equality recession." That's a term coined by two leaders of BLSA, Alvin Reynolds '15 and Taisha Sturdivant '16.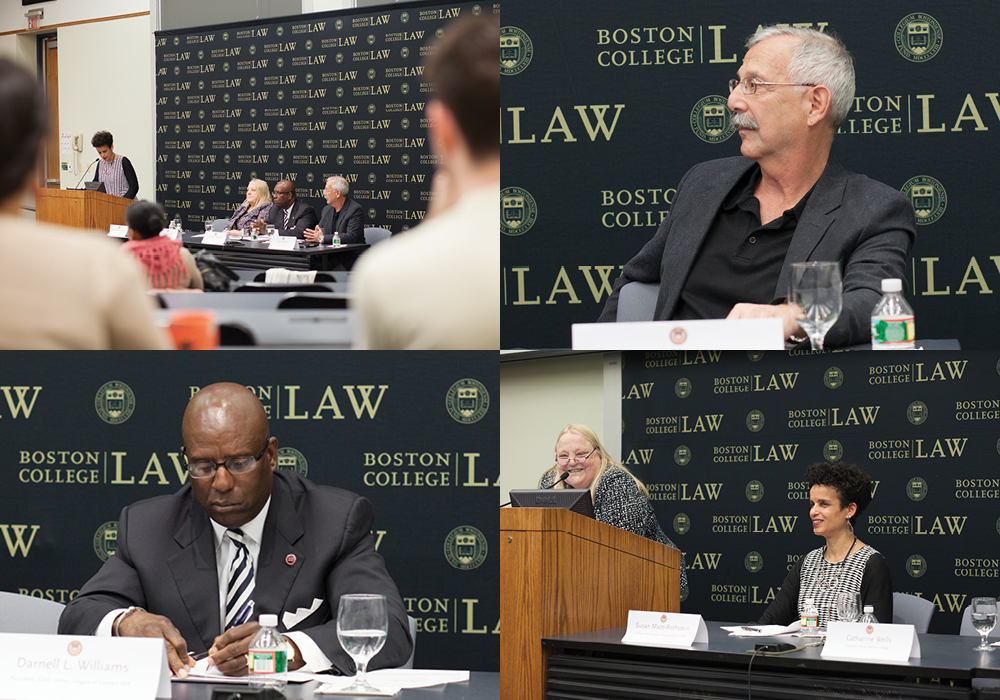 The panelists, experts in urban advocacy (Darnell L. Williams, CEO of the Urban League of Eastern Massachusetts), social policy and economics (Tom Shapiro, professor and director of the Institute on Assets and Social Policy at Brandeis University), and civil rights theory (BC Law professor Catharine Wells), explored some of the issues pertaining to the "equality recession."
The conversation ranged from income disparities and social justice to segregation and voting rights.
Shapiro, who has done extensive research on racial inequality and public policy, said his mantra is to let no fact go uninterpreted. He cited the fact that the typical white family in the US has about $111,000 in financial assets, compared to the average black family's $7,000 in assets. Shapiro dismissed some peoples' claims that this gap is due to a person's lack of education, lack of hard work, and marital status. The racial wealth gap won't be understood, he said, until society looks at the institutions and policies that lead to such high gains for one group in our society.
Wells agreed that a truthful coming to terms with racism is needed. A fundamental problem, she said, is that many whites don't understand racism. They believe that if they ignore the problem, then everything will be OK. This is wrong, she said, and it is whites' responsibility to educate themselves about racism.
Wells' own understanding on the matter began to emerge in adulthood after a conversation with an African American friend. She had grown up in a small New England town where only one black family lived.
She told her friend that she had not personally known any blacks until she went to college. The friend asked Wells why more people of color didn't live in her hometown. Wells was stumped. She thought it was probably the result either of "natural forces" or because it was such a sleepy little town with not much going on that blacks didn't want to live there.
Her friend challenged her assumptions and suggested Wells read Sundown Towns by James W. Loewen. She learned from the book that some New England communities once had ordinances prohibiting blacks from being in town after sundown. Also, as more freed slaves began moving north, developers put restrictive covenants in deeds. Some blacks who had lived in town for awhile saw their houses burned down. Others were arrested and lynched.
Understanding history is essential to rooting out lingering racism, Wells said. "It's hard to accept our responsibility if we are ignorant about why things are the way they are."
Panelist Williams pointed to recent attempts to suppress voter participation as history repeating itself. Williams, who served on the National Commission on Voting Rights, said he learned that it wasn't just a "black problem." Latinos, Asian Americans, and Native Americans are facing similar challenges in voting. He called the government-issued voter ID laws in some states the most "pernicious" voter suppression tactic.
Student Roxana Ortez asked the panelists how she and her peers could engage in conversations about race.
Wells suggested they organize book groups around this subject, much as students in the 1960s did on such topics as black power and the Vietnam War.
In summation, Shapiro recalled a friend once telling him, "Hegemony is hard work; undoing it is even harder." He added, "and that's the task ahead of us."
To view the Equality Recession panel discussion, go to www.bc.edu/equalityrecessionevent.