School's Visibility Heightened by Magazine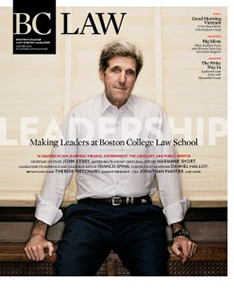 BC Law Magazine has made an amazing transformation this year. The increase in online presence, the boost in photography and graphics, the widening in the scope of content and coverage—all of these factors have elevated the prestige and readership of the magazine recently. I am seeing students share articles on social media, send links in email chains, and have had family and friends notice the magazine's articles and send them along too. These efforts have already greatly contributed to the Law School's visibility in the community and established a stronger place for BC Law in the dialogue about the law that is happening online. The change of the interface of the BC Law website has also been a catalyst for putting a spotlight on the magazine's strengths.
I just wanted to send a note of congratulations, let you know that students, faculty, and alumni are noticing and valuing the changes, and to thank you for your hard work.
LSA President Alaina (Lainey) Sullivan '15
West Roxbury, MA
Cultural Change Needed to Prevent Rape
I agree with Professor Cassidy in his article "Lessons on Preventing Rape" [Winter 2015] "that the best way to prevent sexual assault on campus is to teach our sons not to be rapists beforethey get there."
I believe the way to do that requires our recognition—as with the growing awareness of the unconscious racial bias in our society—of the unconscious sexual bias as well. The bias is "cultural"; it is consciously and unconsciously conveyed in every aspect of our society: families, communication, education, religion, art, media, etc. The message is that women are less equal than others and, therefore, may be dominated. This results in women in America becoming the victims of sexual violence, every two minutes of every day.
This message is being psychologically internalized, not only by our sons but also by everyone in the society: our fathers, brothers, uncles, and grandfathers, who make excuses for such masculine behavior, and our mothers, daughters, aunts, nieces, and grandmothers, who often feel guilty and to blame for being victimized, so do not report their assaults.
These biases are inherent in our prevailing cultural paradigm of patriarchy, hierarchy, dominance, and violence. And unless/until we choose to change our culture, rapes are likely to continue and, given the fearful environment, escalate.
Lawrence Johnson '75
St. Louis, MO
BC Law as Incubator
Kudos to the editors for the Winter 2015 issue of BC Law Magazine themed "Leadership." The cover photo of our guy Secretary of State John Kerry '75, portraying the brand of leadership BCLS is capable of producing, worked for me, as did the photos and blurbs of the fifteen other impressive BC Law leaders.
"The Little Incubator That Could," an article drawing from Dean Rougeau's idea of providing pro bono legal services to aspiring entrepreneurs of color in Roxbury, was great. It did not take long for me to connect the dots, consistent with the issue's theme and message, that the Law School itself is a social justice incubator for everyone who passes through.
I was especially moved by "A Spot of Brown in a Sea of White," the essay by IL Charlene Ochogo, a student from Kentucky via Kenya who first experienced being called a "nigger" while in college. She certainly picked the right Law School to mold her brand of law and social justice to redress these most unfortunate, recurrent issues. Her presence enriches the fuel of that incubator. Soon her brand of leadership will benefit us, the Bar, and all of society.
Charles E. Walker Jr. '78
Dorchester Center, MA