Two professors who recently joined the BC Law School faculty— Patricia McCoy and Natalya Shnitser—and the donors whose named chairs they fill were celebrated this past semester at events that focused on scholarship in business law.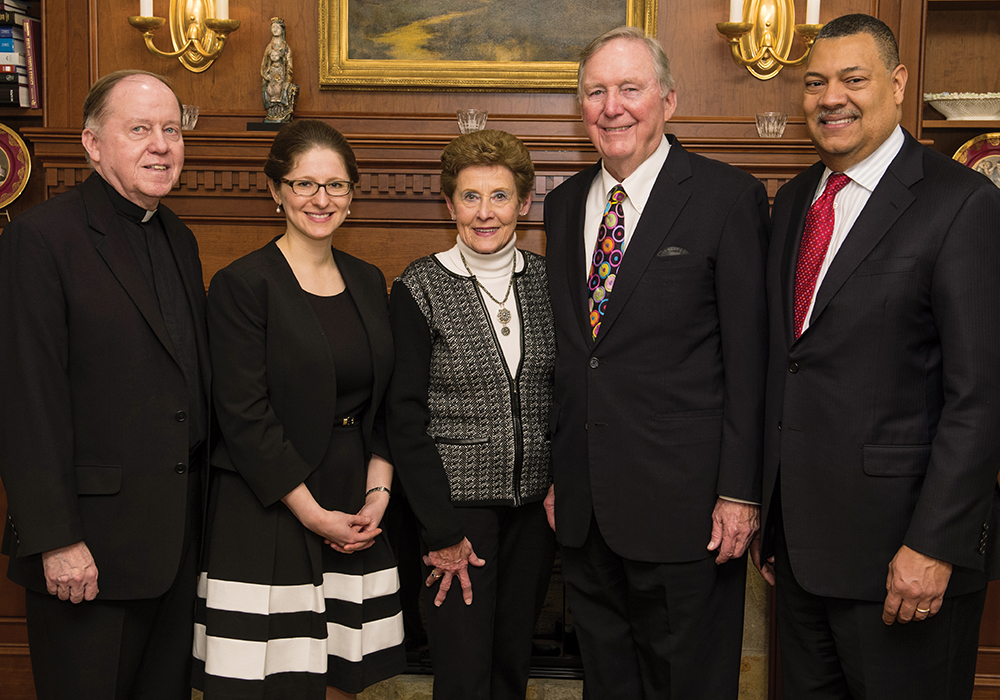 Professor Shnitser was feted on January 22 alongside David Donohue '71 and Pamela Donohue, whose generous gift established the David and Pamela Donohue Assistant Professorship to nurture and retain promising junior faculty. Shnitser, a graduate of Yale Law School who also holds degrees from Stanford University, teaches Corporations and Employee Benefits Law and is currently researching retirement security in the United States.
"Pure and simple, establishing an endowed professorship is a transformative moment for the Law School," Dean Vincent Rougeau said in his remarks. "I want to thank David and Pamela for making this possible."
The Donohues' gift reflects Dave Donohue's interests in business and entrepreneurship. He is the president of International Human Resources Development Corporation, a global management training company for the oil and gas industry, and owner of Arlington Storage Corporation, which operates underground gas storage facilities in New York state. Donohue has said that he realized early on that he would not practice law but would use what he learned in law school to make sound business decisions based on value judgments.
The celebration of the inaugural Donohue Professor included a panel discussion with BC Law senior business faculty Kent Greenfield, Renee Jones, Brian JM Quinn, and Alfred Yen.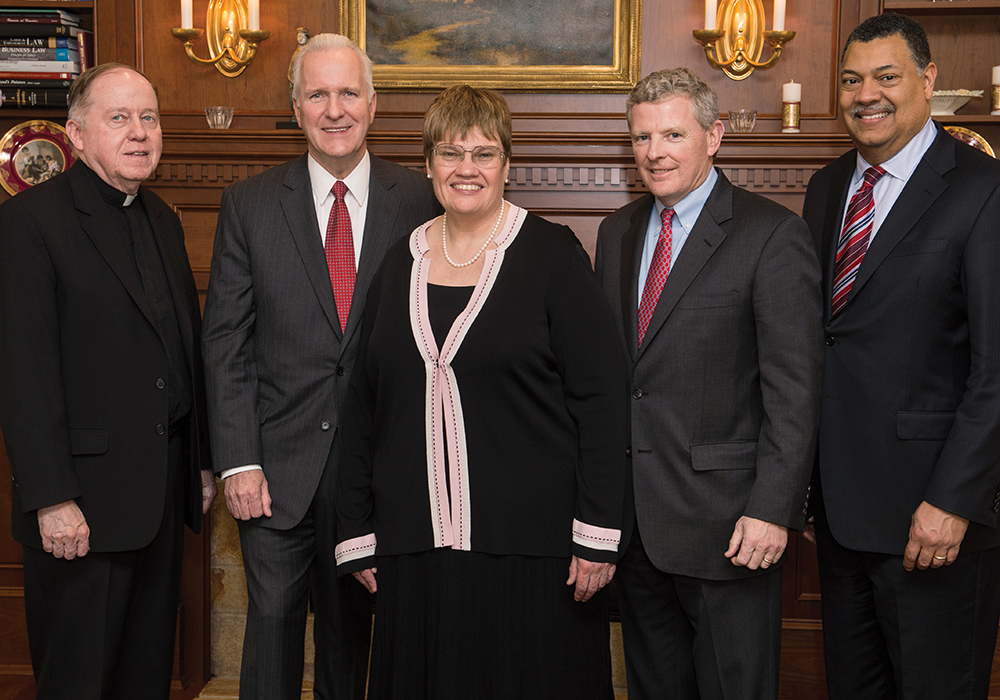 McCoy, a nationally prominent scholar in financial services regulation and the inaugural Liberty Mutual Insurance Professor of Law, was welcomed at a March 30 event that included Christopher C. Mansfield '75, who was instrumental in establishing the chair while he was senior vice president and general counsel at Liberty Mutual Group. Also representing Liberty Mutual were two senior vice presidents, chief legal officer James Kelleher and chief public affairs officer Paul Mattera.
"The professorship has not only added new academic strengths in property and casualty insurance law," BC Provost David Quigley said in his address, "but has also created exciting new synergy in an area of business law that speaks to the broader economy."
McCoy helped establish the Consumer Financial Protection Bureau after joining the US Department of the Treasury in 2010. A graduate of Oberlin College and UC Berkeley School of Law, she teaches Insurance Law, Banking Regulation, and Topics in Financial Services Regulation. McCoy was among the first scholars to raise alarms about subprime loans.
Appropriately, the topic of her lecture at the Liberty Mutual event was "Insurance and the Common Good."