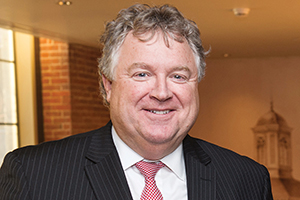 The November 2014 Reunion was a smashing success. Nearly 500 alumni and friends joined us to celebrate during the course of a memorable weekend. We enjoyed talks by beloved faculty and thought-provoking discussions about legal issues and current events with fellow alumni; walked down memory lane at the Friday night Bar Review; and gathered for one of the best attended Saturday evening dinners ever at the Ritz-Carlton. We also reminisced, reconnected, and shared stories about life since our law school days.
My Class of 1984 assembled and distributed a fantastic Reunion Book in which classmates described their lives, families, careers, and, of course, their days at BC Law. Classmates from across the country socialized with one another all weekend and well into the night on Saturday.
Other highlights included a special celebration of the Center for Experiential Learning, the Alumni Assembly with featured speaker US Attorney Carmen Ortiz, a Dean's Council reception for members of the Law School's leadership gift societies, and time to enjoy autumn in New England together at the Head of the Charles.
To mark this milestone, many alumni were inspired to make a personal gift as well as to encourage classmates to do the same. The results were impressive. Overall, the reunion classes raised more than $2.3 million. The Class of 1979 raised the most, with gifts and pledges totaling $1,094,295, while the Class of 1974 broke a record for 40th reunions, raising $471,183. The Class of 1964 achieved the highest participation with a rate of 42 percent.
Reunion 2015 planning is well under way. So far more than 300 alumni have joined the "Hope to Go" list. If you are in a class ending in 0 or 5, please email amanda.angel@bc.edu to add your name to the list today. If it is anything like my reunion weekend, you will enjoy a marvelous, fun-filled time that you will never forget.
Michael Fee '84
30th Reunion Committee
Dean's Advisory Board
---
1964
50th Reunion
Class Gift Total: $28,406
Class Participation: 42%
$10,000+
Herbert J. Schneider
$5,000+
Martin J. O'Donnell
$1,500+
Jerome M. Tuck
Additional Donors
Charles B. Abbott
Michael F. Bergan
Philip J. Callan
Richard M. Cotter
Robert J. Donahue
William L. Haas
Patricia K. Hagedorn
Norman I. Jacobs
Thomas P. Kennedy
Charles A. Lane
Robert P. Leslie
T. Kenwood Mullare
Francis M. O'Boy
George M. O'Connor
Donald Jude O'Meara
Arnold W. Proskin
Joseph J. Reardon
Nelson G. Ross
David J. Shapiro
Stephen W. Silverman
James R. Skahan
Felix E. Smith
Joseph H. Spain
Albert N. Stieglitz
Robert L. Surprenant
1969
45th Reunion
Class Gift Total: $26,125
Class Participation: 28%
$5,000+
Stephen L. Johnson
$2,500+
Paul E. Sullivan
$1,500+
Margaret S. Travers
Richard R. Zaragoza
Additional Donors
Richard A. Aborn
Roger C. Adams
Carl E. Axelrod
Michael J. Brawley
Thomas H. Brown
Thomas E. Connolly
James M. Cronin
Michael R. Deland
Peter C. Edison
John J. Egan
Leo F. Evans
Gary S. Fentin
Paul C. Fournier
Dana H. Gaebe
Robert J. Glennon
John E. Glovsky
John R. Hicinbothem
Gerald J. Hoenig
Daniel E. Kleinman
Raymond C. Lantz
Alan M. Lestz
John J. Lorden
Alan G. MacDonald
Lawrence E. Miller
Thomas R. Murtagh
William J. O'Neil
R. Joseph Parker
Lawrence W. Schonbrun
Paul M. Shanley
Richard M. Shaw
Morris S. Shubow
Mitchell J. Sikora
Leo W. Tracy
Peter J. Tyrrell
Barry L. Weisman
Ruby Roy Wharton
James P. Whitters
John V. Woodard
1974
40th Reunion
Class Gift Total: $471,183
Class Participation: 31%
$100,000+
Joan Lukey
$50,000+
John F. Boc
Richard P. Campbell
John D. Hanify
$10,000+
John F. Bronzo
Gary R. Greenberg
David Leslie
Walter B. Prince
$5,000+
J. Elizabeth Cremens
Arlene M. Violet
$2,500+
Douglas M. Myers
Lora C. Pepi
$1,500+
Joseph W. Downs
Paul A. Francis
Patricia C. Gunn
Diane M. Kottmyer
Paula Pugh Newett
Jeremy A. Stahlin
Additional Donors
Wendy Kaplan Armour
Howard B. Barnaby
Morrell I. Berkowitz
Thomas J. Berry
Mark B. Brenner
Stephen J. Buchbinder
Richard J. Chin
Susan E. Condon
Lynda Murphy Connolly
Loring A. Cook
Robert M. Cox
Lodowick F. Crofoot
Kenneth J. Davis
Karen Dean-Smith
Barbara A. Dortch-Okara
Diane Durgin
Edward A. Fitzgerald
James E. Flynn
Daniel A. Ford
Katherine M. Galvin
John Wright Gibbons
John T. Gilbert
Robert M. Graham
Ruth-Arlene W. Howe
Michael B. Isaacs
Alan J. Kaplan
E. Tupper Kinder
Paul A. Lacy
Gary H. Lefkowitz
Benjamin M. Levy
Alan D. Mandl
Regina Snow Mandl
Martin J. McMahon
Kevin J. Moynihan
Peter A. Mullin
Eliot Norman
Richard L. Olewnik
James M. Puopolo
David G. Ries
Theodore S. Sasso
Barbara Ellen Schlaff
Paul B. Smyth
Margaret A. Sofio
Gerard A. St. Amand
Margaret N. St. Clair
Christopher J. Sterritt
Joseph G. Stiles
John W. Townsend
Brendan J. Vanston
Frank J. Vavonese
Leonard S. Volin
Edward R. Wirtanen
Louis C. Zicht
1979
35th Reunion
Class Gift Total: $1,094,295
Class Participation: 22%
$1,000,000+
Anonymous
$25,000+
Jo Ellen Ojeda
Catherine Oliver Murphy
George J. Murphy
$10,000+
Lauren Stiller Rikleen
$2,500+
Katherine M. Hanna
Thomas D. Miller
$1,500+
Thomas F. Dailey
Anne Leary Hemelt
Additional Donors
Mark E. Aalyson
David Winthrop Bianchi
Jeffrey I. Bleiweis
Jerry Boone
Kathleen Colleary
Marguerite A. Conan
James R. Condo
Steven E. Cope
Carmen Cuevas-Scripture
Susan Giroux Dee
Judith G. Dein
Anne M. Desouza-Ward
Kevin W. Donnelly
Mark R. Draymore
William E. Dwyer
Donald E. Hacker
Thomas Henry Hannigan
John M. Horn
Kathleen A. Leary
Jeffrey T. Letzler
Dennis D. Leybold
Peter M. McElroy
Matthew L. McGrath
David D. Merrill
Timothy Pryor Mulhern
James G. Noucas
John Robert O'Brien
William H. Orrick
Thomas P. Ricciardelli
Lloyd C. Rosenberg
Howard S. Rosenblum
Marian T. Ryan
Bernadette L. Sabra
Richard M. Sandman
Cynthia L. Shupe
Marilyn D. Stempler
E. Gail Suchman
Denis J. Sullivan
Maureen A. Varley
Susan A. Weil
Fred D. Weinstein
Lynn G. Weissberg
Judy Willis
Benjamin S. Wolf
Norah M. Wylie
1984
30th Reunion
Class Gift Total: $360,565
Class Participation: 36%
$150,000+
Brian J. Knez
$50,000+
Michael K. Fee
$25,000+
Michael J. Wilson
$10,000+
Faye A. Florence
Debra Chervinsky Moll
Jonathan Lawrence Moll
M.J. Moltenbrey
Thomas A. Zaccaro
$5,000+
William P. Gelnaw
James M. Kennedy
Richard J. McCready
Rosemary McCready
$1,500+
Sylvia Chin Caplan
William R. Eddows
Wilbur P. Edwards
David Fleshler
Richard M. Graf
Leslie E. Harris
Susan A. Hays
Ellen Joy Kapinos
Barbara A. O'Donnell
Scott W. Olson
DeWayne A. Powell
Evelynne L. Swagerty
Alexander C. Tang
Additional Donors
Anne F. Ackenhusen
S. Kathryn Allen
Gail L. Anderson
Sheila Lewinger Arons
Dawn I. Austin
Elizabeth Barrett
Joel E. Benard-Cutler
John P. Benson
Benjamin Berry
Timothy B. Borchers
Stephen W. Brice
Lyman G. Bullard
Catherine K. Byrne
Joseph H. Caffrey
Bennett A. Caplan
Richard L. Carr
Paula M. Devereaux
Catherine M. Devine
Pasquale J. D'Orsi
Susan L.S. Ernst
John F. Evers
Beth Rushford Fernald
Mark D. Fernald
John D. Frumer
Mary E. Gilligan
Carole Cattaneo Gori
Linda M. Clifford Hadley
William P. Hadley
James S. Harrington
Brian T. Hatch
Stephen J. Hines
Ralph F. Holmes
Marcia E. Jackson
Christopher M. Jantzen
Kevin P. Kerr
Susan F. Koffman
Donna J. Law
Patrick McNamara
Thomas K. Morgan
Charlotte S. Murphy
Mark W. Murphy
Maureen Murphy
Betts Howes Murray
Alan S. Musgrave
Linda E. Neary
Eedy Nicholson
James B. Peloquin
Barbara Zicht Richmond
Angeles T. Rodriguez
Valerie A. Ross
Steven Samalot
Paula M. Sarro
Heidi A. Schiller
Daniel A. Seymour
Karen Shaffer-Levy
Gayle A. Smalley
Virginia Stanton Smith
Lynne Spigelmire-Viti
Charla Bizios Stevens
John E. Stoddard
K. Lilith Stone
Christopher R. Vaccaro
Helen C. Velie
Barbara von Euler
Mark F. Weaver
Valerie M. Welch
Lisa C. Wood
Karin J. Yen
1989
25th Reunion
Class Gift Total: $66,373
Class Participation: 28%
$10,000+
Kimberly L. Sachse
$5,000+
Anne Rickard Jackowitz
Denise Marie Parent
Kathleen Street
$2,500+
Kenneth G. Curran
Anne O'Connor McCrory
Kevin John Simard
Linda Sandstrom Simard
$1,500+
Peter A. Alpert
Deirdre A. Cunnane
Irene Raphael Good
Robert Emmett McLaughlin
Mary Rose Migliazza
Additional Donors
Mark Richard Allen
Maria R. Baguer
Robert Jon Blackwell
Mitchell Scott Bloom
Sharon Claire Boyle
Audrey Lewchik Bradley
Andrea Jane Brantner
Lois J. Bruinooge
Leonardo J. Caruso
Mark Mang Hung Cheung
Beverly Ann Chin
Barbara Ciolino
Joseph P. Cistulli
Magda DeMoya Coyle
Charlotte A. Crutchfield
Jeffrey A. DeMaso
Cecile Garcia Desmond
Christopher James Devlin
Humberto R. Dominguez
Mary Fahy
Norma S. Freitas
Lynda Beth Furash
David H. Ganz
Dyan L. Gershman
Robert Godfrey
Bess Beikoussis Gorman
Suko Gotoh
Carolyn V. Grady
Glenn Anthony Gulino
Judith Buckley Hayman
Edmund Patrick Hurley
John J. Isaza
Anjali Jesseramsing
Michael Gordon Jones
Darcy Kirk
Jane P. Kourtis
Mary Elizabeth Langer
Joseph Lucci
Virginia Chung Lucci
Deirdre Watson S. Martin
Howard Wilbur Martin
Robert John Masonis
Alicia M. Milligan
Richard Mirabito
Kevin James O'Connell
Carl Francis Patka
Michael R. Perry
Bruce William Raphael
Adam C. Robitaille
Daniel Jay Rose
Paul E. Salamanca
Julia Anne Sheridan
Mark Andrew Spitz
Charles William Stavros
John Francis Sylvia
Doris Tennant
Mark Joseph Warner
1994
20th Reunion
Class Gift Total: $111,473
Class Participation: 23%
$50,000+
Elaine Shimkin Ventola
John F. Ventola
$10,000+
Bridget M. Bettigole
Kyle Bettigole
Sandra Lee Missakian
$5,000+
Nerre Shuriah
$2,500+
Susan Hanmer Farina
$1,500+
Kathleen F. Burke
Eugenia M. Carris
Cynthia Hallock Deegan
David Hobum Hwang
Kathryn L. Leach
John B. Livingston
Melissa Polaner
Kathleen Alyce Waters
Additional Donors
Andrea Attisani
Christine Maglione Beniers
Sarah Shoaf Cabot
Edward J. Carbone
John D. Casais
Karen Clark
Brian J. Connor
William Dennis Cramer
Carolyn D'Agincourt
Kerry Dwyer
Stephen Dwyer
Martin Scott Ebel
Barbara J. Epstein
Stephen Evans
Wendy Falvey
Ann M. Farrell
Jonathan Lee Feinberg
Lorne M. Fienberg
Maria Carroll Furlong
Matthew Francis Furlong
Alice J. Gallin-Dwyer
Michelle Lyn Gouvion
Lise Hamilton Hall
Michael Heningburg
William S. Hewitt
Paul M. Joy
Rosa Kim
Brian J. King
Karen Ann Loin
Audrey C. Louison
Christopher Mace Lucas
Kelly Mulvoy Mangan
Stephanie H. Masiello
Laura Jean McCollum
Caitlin Mullin
Terrence J. Murray
Helen O'Rourke
Ann R. Parker
Yolanda Williams Rabun
Patrick Ratkowski
Diane Cetrulo Savage
Samantha L. Shepherd
John Sheridan
Anne Stuart
Joon Hyun Sung
Salim Tabit
Daniel G. Vatanaviggun
Kimberly A. White
1999
15th Reunion
Class Gift Total: $28,885
Class Participation: 15%
$10,000+
Gregory Francis Corbett
Elizabeth Grace Moulds
$2,500+
Jonathan Bryan Brooks
Sandy M. Tarrant
$1,500+
Stephen D. Riden
Claudia Ruth Tobler
Karen Elizabeth Wozniak
Additional Donors
Jessie Brescher
Jerome C. Buckley
Heather Boynton Cheney
Marybeth Walsh Chung
Kevin Culhane Conroy
Michaela S. Dohoney
Peter Andrew Dufour
Karen A. Fardig
Matthew James Feeley
Jackie Ann Gardina
Philip H. Graeter
Meghan Monahan Hart
Young Soo Jo
Michael A. Krasnow
Amy J. Krusius
Kristin Laura Lentz
Hilary Stamos Levin
Judith Marie Lyons
Tara Jo Myslinski
Patrick A. Nickler
Nancy Ellen Boudreau Oliver
David Osborne
Gregory M. O'Shaughnessy
Yvette Politis
Christina Schenk-Hargrove
Benjamin Walker Schuler
James Michael Tierney
Eric Pope Van Allen
Douglas Eugene Wance
Jessica Wolff
David Joseph Yanotchko
2004
10th Reunion
Class Gift Total: $24,564
Class Participation: 18%
$5,000+
Rita-Anne O'Neill
$2,500+
Jeffrey Robert Moran
$1,500+
Brian C. McPeake
Additional Donors
Meredith L. Ainbinder
Ed Amer
Thomas Ayres
Anne I. Bandes
David T. Beck
Nathalia A. Bernardo
Adam D. Bovilsky
Anna Nicole Browand
Nathaniel T. Browand
Rachel S. Brown
Rebecca L. Calvert
Elizabeth Costello Bae
John M. Creedon
Sarah J. Cutchins Beck
Ben N. Dunlap
Jeremy A. M. Evans
Brian C. Foley
Lawrence Gatei
Kathleen M. Gillespie
Jessica R. Graham
Joshua R. Hanye
Katherine M. Hartigan
Lisa K. Hurlbutt
Christopher L. Jones
Una Y. Kang
Kathryn C. Loring
Jeremy T. Marr
Jeremy C. McDiarmid
Katherine G. McKenney
Dana M. McSherry
Jane M. Mogavero
David E. O'Leary
Brendan D. O'Shea
Tan H. Pham
Tracy Piatkowski
Mary Catherine Pieroni
Sarah Pray Plunkett
Helle Sachse
Eliyahu S. Scheiman
Heather A. Sprague
Sheila Bautista Toothill
Elizabeth Buckey Vandesteeg
Geiza Vargas-Vargas
Thomas A. Voltero
Ashley H. Wisneski
Elissa G. Underwood
2009
5th Reunion
Class Gift Total: $105,260
Class Participation: 24%
$50,000+
Anonymous
$2,500+
Carol Vasconcellos
$1,000+
David M. Biele
John P. Bjork
Marissa Dungey
Austin R. Evers
Stas V. Gayshan
Kyle R. Junik
Kelly E. Reardon
Jonathan B. Roses
Lee I. Sherman
Michael A. Siedband
Additional Donors
Jonathan M. Agudelo
Mark J. Andersen
Emily C. Barbour
Tom Casazzone
David H. Chen
Myoung Soo Cho
Janet C. Choi
Adam T. Collicelli
Patrick J. Connolly
Jill R. Damon
Arianna Evers
Meg M. Feist
Tara M. Fisher
Jianming J. Hao
Matthew G. Hoisington
Jennifer C. Itzkoff
Lindsay T. Jansen
Michael N. Javid
Garrett T. Johnston
Nicole J. Karlebach
Mariana Korsunsky
Stacie A. Kosinski
Joshua Krefetz
John A. Kupiec
Steven D. Lickstein
Benjamin O. Looker
Adam J. McGovern
Timothy J. Mclaughlin
Seth A. Moskowitz
Matthew Murphy
Matthew Thomas Murphy
James Nagelberg
Bridget K. O'Connell
John E. Oh
Matthew H. Parker
Rebecca L. Pitman
Bene I. Richardson
Jed S. Rosenkrantz
Charlene C. Saji
Michael Y. Saji
Christine V. Sama
Jeanne D. Semivan
Seokyoung Shin
Daniel C. Silverman
Caitlin Vaughn
Michael Philip Visconti
Alexandra G. Watson
Beth Muir Watters
Matthew M. Yospin
---
*Includes a legacy gift designated to BC Law School