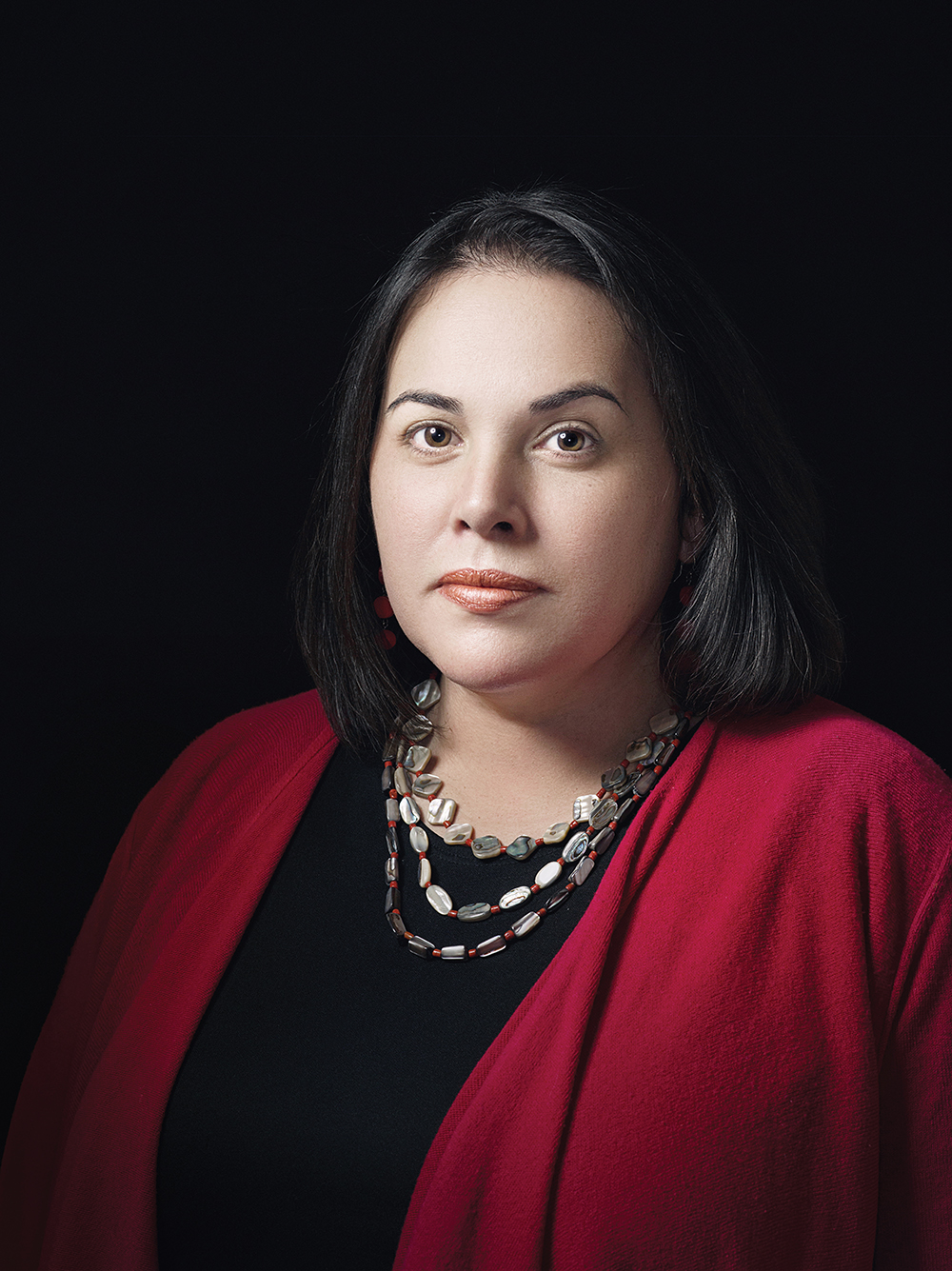 If you're hearing me speak, we've failed," says Merri Lopez Keifer '98. As chief legal counsel for the San Luis Rey Band of Mission Indians, Lopez-Keifer's main professional task—and personal mission as a member of the tribe—is to protect and preserve what are known as tribal cultural resources. In other words, land and objects held sacred by a tribe that holds no land, but has deep roots in what is today known as San Diego County.
It is an interesting paradox that Lopez-Keifer is quick to talk about her failures but is unwilling to speak of her successes. Failures come in the form of public outcries and litigation over the desecration of sacred sites, while success is measured by the ability of Lopez-Keifer and others in her tribe—in fact, in most tribes—to head off any kind of public awareness of land they hold sacred. "The tribes like to keep information about sacred places very quiet because if we share where they are, they will be desecrated," explains Lopez-Keifer. "People will go looking for artifacts. We call them 'pot hunters,' because they are looking for our arrowheads, our tools, our ancient pots."
Lopez-Keifer was drawn into service for the tribe when she graduated from law school. Her aunt suggested that she use her legal skills to aid in the inner-workings of the Tribal Council. "Of course, I said I will," she recalls. "And since that very first time, my Aunt Carmen, my mother's eldest sister, shared with me how I could help my ancestors, my tribal peers, and our future generations through my legal education. Well, I was hooked. My parents always taught me that if someone needs your help and you can help them, then you help them. It's as simple as that."
The San Luis Rey Band of Mission Indians is one of seven tribes of Native Americans known as Luiseño Indians, famed for their sophisticated social structures and governments as well as their baskets, which are notable for their ingenuity and beauty.
Through a confluence of injustices imposed by settlers and the California and United States governments over the past 300 years, Lopez-Keifer's tribe was left landless. "It's a very tragic history because the Californian Indians were hunted down by Californian settlers. Our tribe's coastal land was valuable for farming and ranching so we ended up with nothing. Not to mention the prize put on Indian heads," says Lopez-Keifer. Prior to European contact, her tribe numbered approximately 10,000; today there are just 600 members.
"Merri is very positive and consensus seeking but very firm about her mission and where she stands. She doesn't compromise but she always smiles." —Native American Heritage Commission General Counsel Terrie Robinson
These days, a new threat to the tribe's heritage is the explosion of land development in California. Though protections are in place at both the state and federal levels to safeguard tribal cultural resources, ensuring that the law is followed is a monumental task. "We have protected certain areas, where we are able to hold conservation easements to protect the land in perpetuity," explains Lopez-Keifer. But, more often, developers wishing to build a new road or project will unearth sacred objects. When they do, the tribes step in, but the legal protections are complex to enforce. "It's my job to make sure that the laws are followed and our ancestors and tribe's history are protected within those laws," she says.
Lopez-Keifer offers Tom-Kav, which translates as "the Gathering Place," as both a legal failure and positive learning experience. "Tom-Kav plays a vital part in the Luiseño Creation Story," she explains. "It teaches about death and explains how we became mortal beings. It was also a very large village where many of our ancestors lived and came together to celebrate. Unfortunately, it's located in an area known as a 'transportation corridor' for the County of San Diego."
Over the past few years, developers have been rumbling through the region to create a community college, more than a thousand homes, and a commercial center. When construction on a main road for the area began in 2011, a large burial site was discovered and Lopez-Keifer's tribe, along with the other Luiseño bands, worked together to try to halt the road's construction. "Even though we failed to stop the road, we developed stronger relationships [among the bands] and built more respectful relationships with many government agencies," she says. "The rest of the projects are on hold in the US Army Corps of Engineers permitting process. The corps has been in 'consultation' with us and the other Luiseño tribes since 2013. So, technically, we aren't done fighting yet. There's still hope that Tom-Kav may be treated with the dignity and respect it deserves. The corps is our last hope."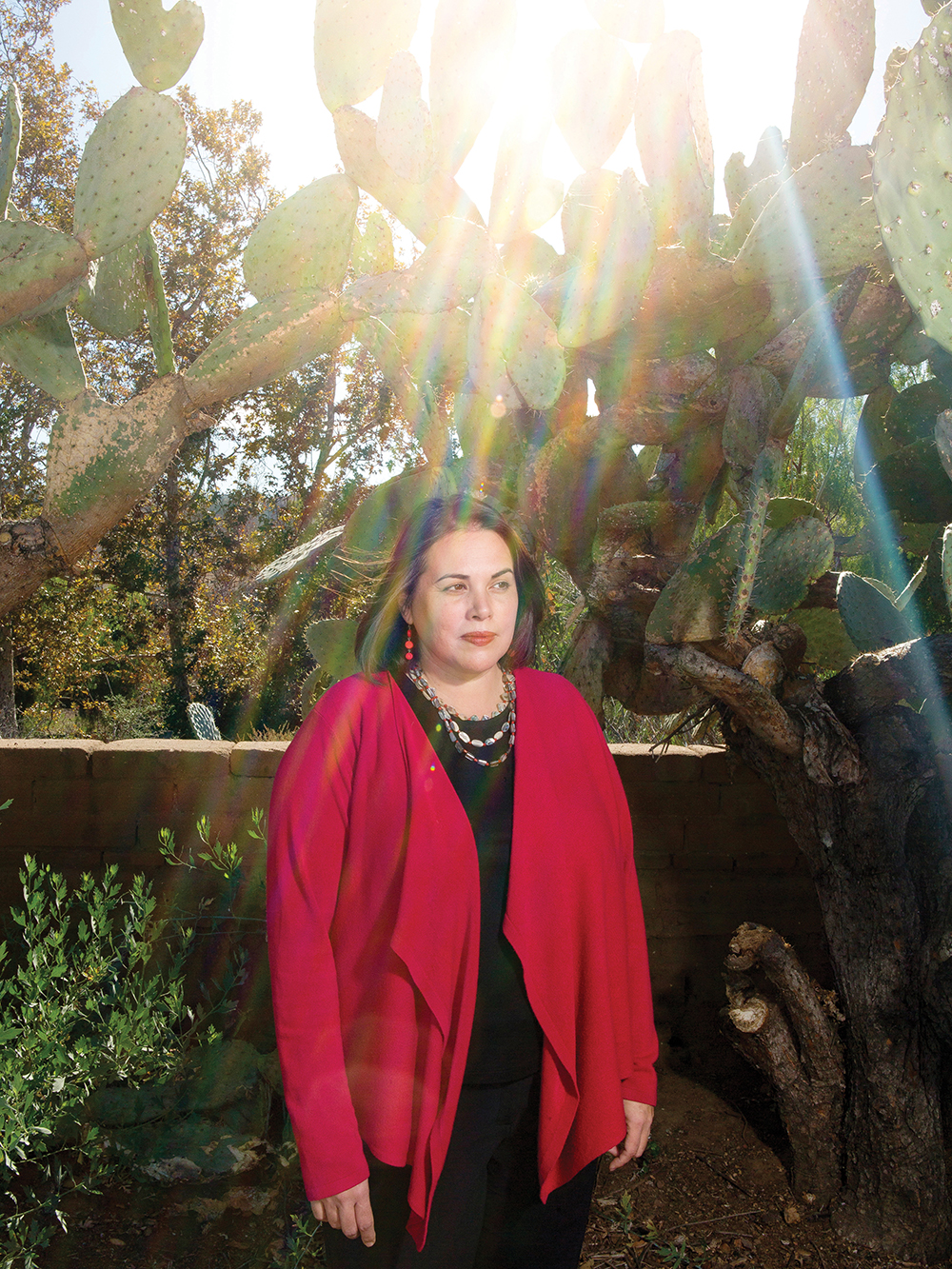 In general, a mix of what should and should not happen seems to prevail in these situations. In some cases, tribes are able to "repatriate," or return objects to the ground at the sacred sites, while in other instances, the objects are either warehoused by the government or illegally destroyed by developers and plunderers. "If our items are not repatriated, then they are curated by the government, put in a box and placed on a shelf to collect dust," she says. When the government does that, Lopez-Keifer fights to get the objects put in the ground as close to their origins as possible. "Curation goes against our spiritual beliefs, and it's my job to make sure they are not treated in such a manner."
Lopez-Keifer lives in Northern California with her husband and three young sons. Though she is about 500 miles from her tribe's center, she heads south at least a half dozen times a year to meet with the Tribal Council, the tribe's governing body, and to see her family. By family, she means pretty much everyone in the tribe. "Growing up, everything centered around the family," she recalls. "But we considered family our aunts, uncles, distant cousins. We usually gathered at the mission [Mission San Luis Rey]. Looking back, I realize now that those were tribal gatherings, but my parents always referred to them as 'family.'"
"We use the word 'cuz' in Native circles," says Lopez-Keifer's older sister, Carrie Lopez, who is a special advisor to the tribe. "It's short for cousin, but you're never really sure who is an actual blood cousin. It means these folks are not just random people, they're part of a tight-knit group."
The youngest of four girls, Lopez-Keifer grew up in a family where the focus was always on "something bigger," says Lopez. Though most of the tribe members are not college educated, the four sisters are all college graduates. Lopez-Keifer, of course, also attended law school. She chose BC because of its strong academic reputation and ranking, and because she wanted to live through the four seasons once in her life. Meanwhile, Carrie Lopez earned a master's in public administration nearby, from the Harvard Kennedy School. Their father, George, who is not Native American, ran a job training organization, and their mother, Linda, was a food services manager for the local school district. They are both retired now and living in the Fallbrook area, where Linda Lopez serves as a tribal elder. Though their parents were serious about raising their daughters with "a sense of purpose," says Lopez, they also had a playful side. For example, the four girls' names all rhyme: Terri, Carrie, Sherrie, and Merri.
Ultimately, the Lopez parents emphasized service to the tribe as paramount. For Lopez-Keifer, that meant going to work part-time for the tribe as legal counsel while also working full time as an assistant district attorney in San Francisco after graduating from BC Law. "With permission from the district attorney, I had two hats," she recalls. "I was prosecuting cases by day, and at night and on weekends, I was writing up waivers and fee agreements, reviewing documents, and offering advice and guidance for the tribe."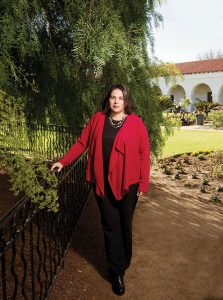 In 2004, six months after she gave birth to her first son, she gave up her position with the DA's office, leaving more time for her work on behalf of the tribe and, ultimately, to open a small part-time solo practice. As her involvement with the tribe's legal affairs grew, Lopez-Keifer developed a reputation as a go-to person for other tribes and government leaders. Last year, Governor Jerry Brown appointed her to the state's Native American Heritage Commission, a nine-member body charged with preserving and ensuring accessibility of sacred sites and burials, the disposition of Native American human remains and burial items, maintaining an inventory of Native American sacred sites located on public lands, and reviewing current administrative and statutory protections related to those sites.
"Merri brings a wealth of knowledge to the commission," says the commission's general counsel, Terrie Robinson. "It's not just the fact that she's a lawyer, though it's clear that when she questions people, the prosecutor comes out. She is also able to address agencies at a technical level that a lot of people don't have, in addition to the legal background. She is very positive and consensus seeking but very firm about her mission and where she stands. She doesn't compromise but she always smiles."
In 2014, there occurred a turning point for the state's Native American tribes when Assembly Bill 52 passed. The California Environmental Quality Act (CEQA) finally "got some teeth," according to Robinson. The bill requires that lead agencies must now evaluate, just as they do for other historical and archaeological resources under CEQA, a project's potential impact on a tribal cultural resource.
"Merri is a CEQA geek," say Robinson. "She lives this stuff because she does it on behalf of her tribe. Whenever I have technical questions about how to protect the sites on the ground in terms of monitors and grading, she just rolls that stuff off like it's second nature."
Lopez-Keifer's talent for explaining complex legal and historical issues is critical to explaining matters of import to her tribe. "You never work in isolation for the tribe," explains Carrie Lopez. "You must translate knowledge for many people to understand and make a collective decision. Ultimately, the Tribal Council makes the decision but they want to hear our advice."
And the tribe isn't the only family to whom Lopez-Keifer has to answer. She feels a tremendous responsibility to ensure that her three sons understand their Native American roots. She, among others, has advocated for changes to the California school curriculum regarding Native American history. She talks to her sons about the complicated relationship between Native Americans and the Catholic church, beginning with the Spanish domination and forced conversions of the 1700s. She and her husband, Mikel Keifer, who is not Native American, send their sons to a summer camp focused on American Indians, so they can learn the language and traditions of their ancestors. They head to Oceanside for their tribe's annual powwow and they sit in the drum circle.
"I tell my kids that this is a living culture," she says. "We're survivors of all of the different governments that have come to this land. If we dwell on the negativity, we'll never get out of it. I tell them, 'We are still here. We still have information to share. We owe our ancestors our respect.'"