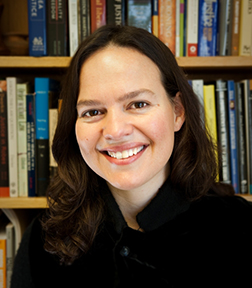 Boston College Law School professor Katharine Young was selected to present her paper "Rights and Queues" at the 2016 Harvard/Stanford/Yale Junior Faculty Forum, held at Yale University June 28-29.
The forum's selection process is highly competitive, and the objective is to "encourage the work of scholars recently appointed to a tenure-track position by providing experience in the pursuit of scholarship and the nature of the scholarly exchange," according to the forum's website posting.
Sixteen young scholars (with one-to-seven years in teaching) were chosen from among those submitting papers to present. One or more senior scholars were selected to comment on each paper.
Young called the forum "extremely well organized," and said that it "provided a model as to how serious and rigorous—and shared—intellectual commitment can improve legal scholarship and our understanding of law more generally."
Young's paper, "Rights and Queues: On Distributive Contests in the Modern State," suggests that a major shift is needed in our understanding of rights, and that the concept of "queues" helps us to make this shift. Young argues that both rights and queues work as discourses of justification and methods of allocation. Her paper examines how queues (or temporal or sequenced wait lists or priority lines) add legitimacy to law. Taking a theoretical approach to this question, Young draws on a number of comparative examples, including from South African, Canadian, and Australian public law.
The paper will be published later this year in the Columbia Journal of Transnational Law.
Young joined the faculty as Associate Professor in July 2013. Before coming to Boston College, she was an associate professor at the Australian National University, and has been a visiting assistant professor at Boston University and a Byse Teaching Fellow at Harvard Law School. Her fields of expertise are economic and social rights, comparative constitutional law, and international human rights law.
Young's book, Constituting Economic and Social Rights (OUP, 2012), was published in the Oxford Constitutional Theory series. Her co-edited book, The Public Law of Gender: from the Local to the Global, has just been published with Cambridge University Press. Other recent publications have appeared in the Harvard Human Rights Journal, the Harvard Law Review Forum, the International Journal of Constitutional Law, the Australian Year Book of International Law, and the Yale Journal of International Law.
Young completed doctoral and masters studies in law (the SJD and LLM) at Harvard Law School and legal studies at Melbourne University and at the University of Heidelberg. She served as clerk for the Hon. Michael Kirby AC CMG at the High Court of Australia. At Boston College, she teaches Contracts, Feminist Jurisprudence, and Human Rights and Global Poverty.