Elizabeth Olien '13, an associate at Manion Gaynor & Manning in Boston, was drawn to BC Law's new program for young graduates because it's a great way to stay connected. She is co-chair, with Jim D'Ambra '13 and Robert Rossi '16, of GOLD (short for "Graduates Of the Last Decade"), a class agent program launched last fall.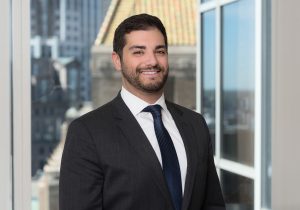 Each of the ten GOLD classes has at least two agents. They help plan and encourage attendance at networking events, update contact information to ensure classmates hear all the latest from their alma mater, and encourage classmates to make a gift to the school in an effort to increase GOLD giving participation.
Olien believes it is easier for alumni to give to a cause about which they feel passionate, and attending GOLD meetups is a great way to build camaraderie among alumni.
"The best way to network is to do it when you're not actually networking," she says. "These events are a chance to continue to foster existing friendships and to forge new ones."
The GOLD program has shown fantastic early results in financial support for BC Law, with contributions by GOLD alumni increasing significantly from 2016 to 2017. More than 500 GOLD alumni have made gifts.
Co-chair D'Ambra, an associate at Jones Day Boston, says giving back as a GOLD alum ensures that BC Law's reputation for academic excellence continues. "The BC Law community has been instrumental in advancing my career since my graduation," he notes. "Whether alumni, professors, or administrators, the BC Law family has supported me at every step."
"As our GOLD alumni enter the workforce and grow their careers, we want them to know that BC Law still has enormous value for them," says Christine Kelly '97, director of alumni relations and donor engagement. "No matter the stage of your career, the BC Law family can be a great resource."
---
If you are a graduate of the classes of 2008-2017, please consider serving as a GOLD class agent. Contact Ben Ligas, associate director of annual giving, at 617-552-4379 or benjamin.ligas@bc.edu for more information.