Boston College Law School Associate Deans Brian Quinn and Filippa Marullo Anzalone and the BC Law teaching lawyer-librarians (Karen Breda, Sherry Xin Chen, Laurel Davis, Mary Ann Neary, Anupama Pal, Joan Shear) presented an interactive program on designing legal research courses at the American Association of Law Libraries' conference, held recently in Austin, Texas. Central to the program's content was the need to focus on the ABA experiential education standards.
"Advance Toward Experiential: Create or Retool Your Advanced Legal Research Course to Meet the ABA Experiential Learning Standards" attracted over 100 participants who rotated among various discussion stations. Quinn and Anzalone addressed the elements of simulation courses and the issue of administrative support for experiential research courses. The librarians highlighted key issues in designing simulation-based legal research courses, including syllabus design, pre-class preparation, student self-assessment, and instructor feedback. Participant engagement was high, and many attendees remained engaged in discussion after the end of the formal program.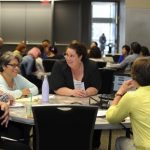 In addition, Shear presented patent searching tips at another AALL program dedicated to locating elusive patent information.
Boston College Law Library is recognized as one of the leading institutions in providing legal research instruction, with law librarians offering ten different topical and advanced legal research courses.
Photos courtesy of AALL