An innocent man has been freed from prison, and BC Law recent grad Rufus Urion '17 and the Law School's Innocence Program contributed to the effort to bring about his release.
Fred Clay served 38 years in prison for a 1981 murder in Roslindale that he did not commit. He was 16 years old at the time and was tried as an adult in the slaying of cab driver Jeffrey S. Boyajian. Clay, who has always maintained his innocence, was convicted on the basis of unreliable eyewitness identifications, including by a developmentally delayed individual whose family was offered housing assistance in exchange for his cooperation by the Boston Police. A second eyewitness only identified Clay with certainty after the police brought in a professional hypnotist to assist in their questioning of him.
Clay was represented in the motion to vacate his conviction by Committee for Public Counsel Services Innocence Program Director Lisa Kavanaugh and Attorney Jeffrey Harris of Good, Schneider, Cormier & Fried. Urion, along with Kate Ball '17 and Samantha Shusterman '13, assisted Kavanaugh on the case at different stages during their externships with the Boston College Innocence Program. Brooke Hartley '18, who took BC Law's Wrongful Convictions class and the Innocence Program clinic last year, also played in important role with her work on the case as part of her summer internship in the Suffolk County DAs office.
"The BC students who worked on Mr. Clay's case greatly expanded what I was able to achieve on Mr. Clay's behalf over the many years of investigation that led to this amazing result," Kavanaugh said. "The students' involvement in Mr. Clay's case also made a profound impression on Mr. Clay himself. He made a point of asking whether Rufus would be able to attend his release hearing, and the two had the opportunity to embrace and speak after the hearing."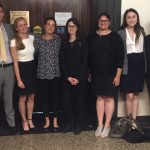 Urion first met with Mr. Clay in prison during his BCIP externship and went to court to greet him in his first moments of freedom. "Mr. Clay should never have been incarcerated in the first place, but it is a joy to see him free," Urion said. "The opportunity to contribute to the effort to secure his release through the BC Innocence Program has been the highlight of my law school experience."
Professor Sharon Beckman directs the BC Innocence Program and serves on the Supreme Judicial Court's Standing Committee on Eyewitness Identification. "The experience of studying the causes of wrongful conviction and then working with excellent lawyers and other professionals to remedy and prevent such injustices is transformative for law students," she said. "Helping students see that each of them can make a difference right now is the key to educating leaders of the future."
BC Law alumna Donna Jalbert Patalano '01, chief of professional integrity and ethics at the Suffolk County District Attorney's office, recommended the case to the Suffolk DA's Conviction Integrity Program. Yesterday, she assented to Clay's motion to vacate his conviction and successfully moved to nolle pros his case. "ADA Patalano's leadership within her office on this case is a great example for prosecutors in Massachusetts and around the country." Beckman said. "Prosecutors have more power than anyone to remedy and prevent wrongful convictions, as ADA Patalano showed in this case."
In the Boston College Innocence Program, students study erroneous convictions and work to remedy or prevent such injustices. The program offers one of the most diverse ranges of innocence experiential opportunities in the country, including an in-house Innocence Clinic and externships and collaborations with public, private, and nonprofit organizations representing innocent prisoners in post-conviction litigation and reforming public policy.
The clinic focuses on cases where DNA and forensic evidence is not enough to prove innocence, giving students the opportunity to engage in complex factual investigation as well as work with forensic experts. The BC Innocence clinic collaborates with the Committee for Public Counsel Services Innocence Program, and CPCS and BCIP act as co-counsel in all aspects of the investigation and litigation of the clinic's cases.
More: Boston Globe