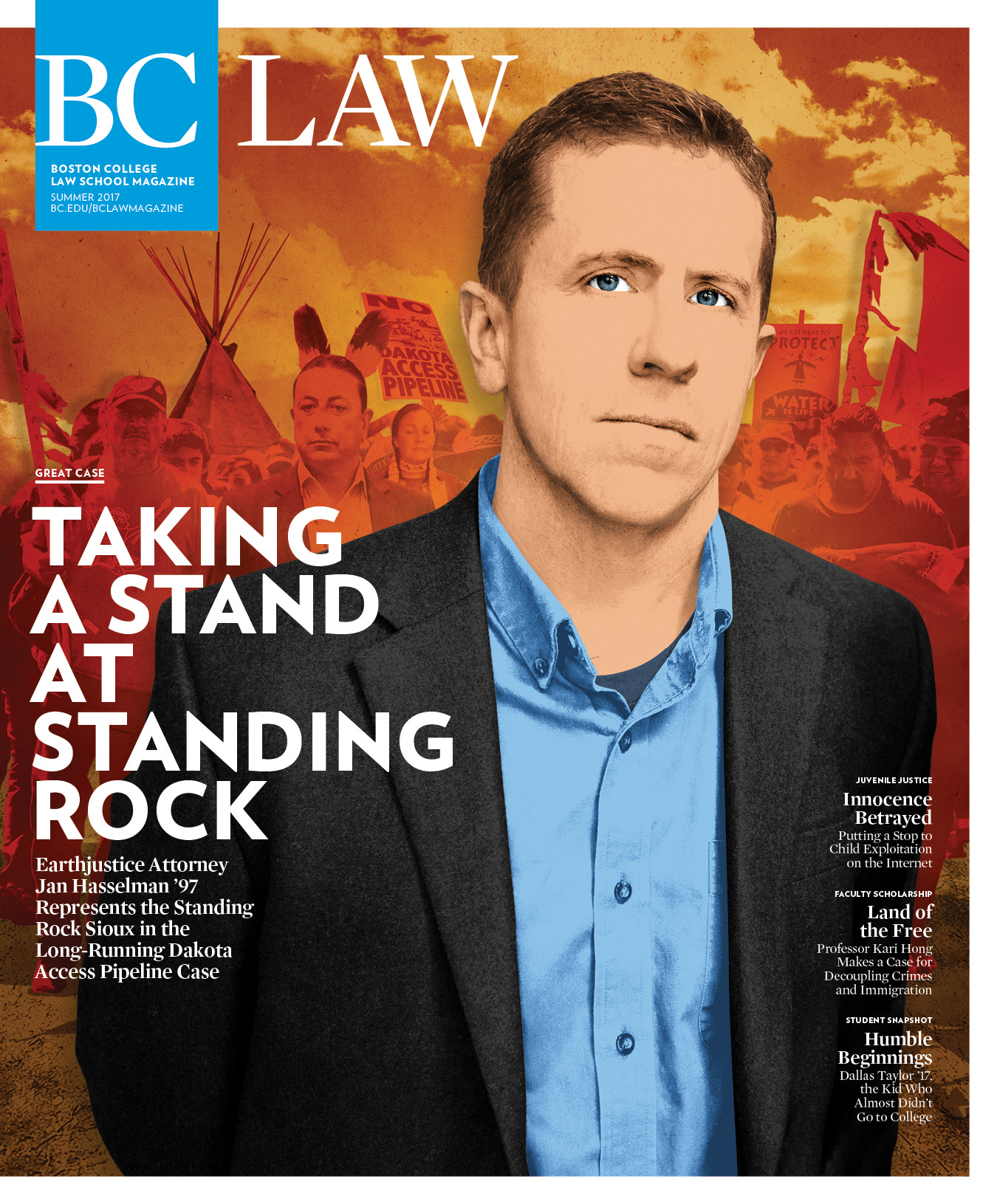 Sex Trafficking Bill Progresses
A recent lobbying effort by Google to undermine the passage of the Stop Enabling Sex Traffickers Act, a bipartisan proposal to remove protections for websites that promote the exploitation of children, was a setback, but one that hasn't halted the bill's progress. On January 10, the legislation was placed on the Senate calendar for consideration. The work of John Montgomery '75, who through lawsuits on behalf of child victims is credited with sparking the Senate investigation that led to the current proposal, was featured in an article in the Summer 2017 issue.
If the bill passes, and closes a loophole in the Communications Decency Act that has allowed websites to function with impunity, Montgomery's actions—along with those described in the story of fellow advocates Penny Venetis '89 and Debra Brown Steinberg '79—may soon pay off.
Sioux Fight on in Dakota Pipeline Case
Citing the recent Keystone oil spill in South Dakota, a federal court on December 4 imposed interim measures over the ongoing operation of the Dakota Access pipeline, according to Earthjustice, whose attorney Jan Hasselman '97 has represented the Standing Rock Sioux Tribe. Their story, "Awakening the Great Spirit," appeared in the Summer 2017 issue.
The court ordered the completion of oil response plans at Lake Oahe, an independent audit of DAPL's permit compliance, and the filing of regular reports on any incidents or repairs on the pipeline.
Correction
Michael Amoruso '97 practices in NY, CT, and is licensed in MA—it was wrongly stated that he practices in another state in the Summer 2017 issue. Indeed, he is a 2010-2017 New York Metro Super Lawyer and a 2011-2017 Top 25 Westchester Super Lawyer.
---
We'd like to hear from you. Send your letters to BC Law Magazine, 885 Centre St., Newton, MA 02459-1163, or email to vicki.sanders@bc.edu. Please include your address, email, and phone number.