Patrick E. Donovan '90 was sworn in May 8 as New Hampshire's new Supreme Court Justice. A long-time resident of the state, Donovan clerked for the same court early in his career and later worked as an Assistant Attorney General before setting up a private practice in Salem. He has been widely lauded for his humanity and commitment to public service.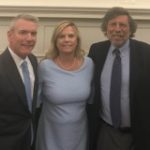 He is married to fellow BC Law graduate Monique Donovan '90, who attended the swearing-in ceremony with their four children. Professor Robert Bloom '71 was also present. "Both Patrick and Monique were among the best of BC Law graduates," Bloom said. "As lawyers in New Hampshire they are known for their intelligence, hard work, and great integrity. At BC Law they got a great education and found each other. We are so proud of them."
Read more about his nomination here and his swearing in here.