Nadine Strossen, a New York Law School professor who served as president of the American Civil Liberties Union from 1991-2008, is touring the country promoting her new book, HATE: Should We Oppose It With Free Speech Rather Than Censorship? Strossen stopped at Boston College Law School on April 26 to participate in a panel discussion with the same title, featuring Professors Michael Cassidy as moderator and Kent Greenfield. The panel, co-hosted by BC Law chapters of the Federalist Society and the American Constitution Society, particularly focused on free speech on college campuses.
Recounting her father's experience in the Holocaust, Strossen began her presentation by noting the recent rise of anti-Semitic speech and violence in Germany despite, what she classified as the strictest hate speech laws in the world.
Advocating for increased counter-speech, rather than suppression, Strossen next highlighted the ACLU's role protecting Neo-Nazi demonstrations in Skokie, Illinois, in 1977. "The bedrock principle of free speech jurisprudence is that we can't suppress speech, even when we deeply object to its viewpoint, idea, or content," Strossen said. "My biggest surprise researching the book is how much global support there is for the nuanced, American position and our concerns about how ineffective these laws have been, at best, and how counterproductive they are, at worst."
After conceding that broader hate speech regulations haven't proven effective, Professor Greenfield challenged Strossen's anti-regulatory view, particularly on college campuses. "I think the rules might be different at educational institutions," Greenfield said. "Counter-speech can be powerful, but it's also quite burdensome. The purpose of an educational institution is to educate and advance truth. A geography department is under no obligation to invite a Flat Earther to speak, and educational institutions shouldn't have to protect the opposite view of a fact."
Strossen and Greenfield did agree on the effectiveness of counter-speech, citing Charlottesville and Boston as examples of communities coming together behind educational, rather than punitive, aims. "It's not the burden of people who are disparaged by hate speech to engage in counter-speech," Strossen said. "The rest of us have a moral responsibility to raise our voices anytime someone is subject to hate." —Brendan McKinnon '19
Photo, from left, Nadine Strossen, Michael Cassidy, and Kent Greenfield
---
Students Learn from Practitioners at BBA Event
BC Law teamed up with the Boston Bar Association (BBA) April 9 to offer students the opportunity to connect with and leverage attorneys' experiences and practice-specific insights to discover what they want to do and how to transition into a rewarding legal career.
The program featured a brief panel, during which participants described their career paths and areas of specialty, followed by breakout group discussions with students. The BBA panelists were Sammy Nabulsi (City of Boston), Emma Wright (Ropes & Gray), Erin Rider (Goodwin Procter), Mark Woodroffe '14 (Cooley), Giselle Rivers '11 (Cooley), Jillian Chalmers (Cooley), Peter Obersheimer '10 (Dana-Farber Cancer Institute), Pamela Swanson (Sherin and Lodgen), and Richard Baldwin '07 (Foley Hoag). Their practice areas ranged from commercial and regulatory litigation to trusts and estates, municipal transactions, and mergers and acquisitions.
"The breakout sessions provided a unique opportunity for a targeted and intimate conversation regarding the nuances and day-to-day of each area of law, along with opportunities for personal interaction, questions, and advice," said 1L Panos Melisaris, who organized the event.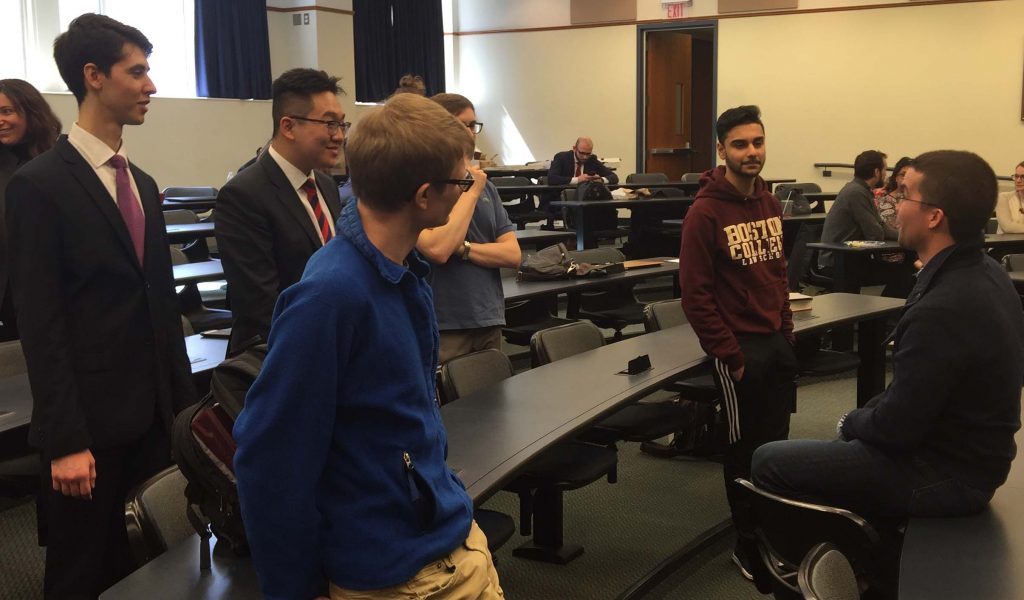 Photo: Panos Melisaris, far left, with students and panelist Mark Woodroffe, far right.
---
The Evolving World of Marijuana Law
The National Lawyers Guild at BC Law held an April 17 event on recent developments in marijuana law and on its future. Panelists were Alex Lamphier '17 of Vicente Sederberg, the country's premier marijuana law firm; Will Luzier, campaign director of the Yes on 4 Campaign; Joe Gilmore, co-founder and outreach director of the Massachusetts Recreational Consumer Council; and Marion McNabb, CEO of the Cannabis Community Care & Research Network (C3RN).
---
The Speed of Life at Netflix
Joel Goldberg '92, senior counsel of content acquisition at Netflix, was the guest speaker at the Business and Law Society's annual banquet April 17. He was the subject of a profile in the Winter 2016 issue of BC Law Magazine, in which he vividly describes the lightning-speed life of internet television, "where the priorities of six months ago feel so long ago because the business is evolving and we reorganize so quickly," he said.
Goldberg spent the first half-decade of his career between IP litigation and advertising before he became director of business and legal affairs at Universal Studios. He later worked at CBS Interactive and joined Netflix in 2013.
---
Etcetera
Other events on BC Law's jam-packed April calendar included:
"International Anti-Corruption: The Impact of Anti-corruption Laws in the International Legal Community" was the subject of an April 4 event sponsored by the International Law Society. Speakers were Adam Weinstein and Ernesto Alvarado, both of them attorneys at Hughes Hubbard & Reed, a New York City-based international law firm.
A discussion of government's role in health care between Josh Blackman of South Texas College of Law and BC Law Professor Mary Ann Chirba.
A look at the impact of immigration law on children with Marisa Howe of Kids in Need of Defense (KIND) and BC Law professor and immigration clinic director Mary Holper '03. Holper also participated on a panel April 19 responding to the recent Supreme Court decision Jennings v. Rodriguez and its impact on immigration and criminal law pertaining to mandatory detention. Other panelists were Adriana Lafaille of the ACLU and students Valentina De Fex '18 and Kelly Morgan '18.
The Internet Law Society invited Goodwin attorney Nick Losurdo and Rich May's David Glod to discuss the current and future landscape of cryptocurrency regulation, an arena in which states, the federal government, and international organizations are wrangling for control.
An annual talk honoring Robert Berry, BC Law's beloved former sports law professor, this year featured Timothy Cook '13 of Cooley. He defended the NCAA Executive Committee in a case brought by the estate of the late Penn State head coach Joe Paterno arising out of the Jerry Sandusky sex abuse scandal.