With Brexit now less than six months away, the fate of Europe's centralized patent court is still up in the air. Patent litigator Kevin Mooney who chairs the committee tasked with drafting the rules of procedure for the proposed Unified Patent Court (UPC), however, said he remains optimistic of the United Kingdom's participation in the 25-state forum that would resolve infringement disputes and revocation proceedings for European patents.
"You can call me an optimist. But I prefer to be called a pragmatist," Mooney, a partner at Simmons & Simmons in London, told an international gathering of academics and attorneys during the keynote address at the European IP Summit October 4 at Boston College Law School.
As of now, only Germany's ratification is required to bring the UPC agreement into force. The UK ratified the agreement in April, but uncertainty remains as to whether it will remain in the UPC post-Brexit—or even whether Germany will ratify the agreement before UK's exit from the European Union next March.
Mooney was joined on the dais by Hon. Arthur J. Gajarsa, former judge of the US Court of Appeals for the Federal Circuit and senior counsel at WilmerHale, who said legal experts are uncertain whether the UPC system can even exist absent the UK. "The Unified Patent Court is necessary for Europe, and I think leaving the UK out would be a major mistake," he said.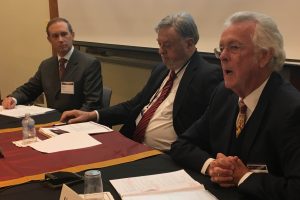 Their conversation was moderated by Professor David Olson, director of the Law School's Program on Innovation and Entrepreneurship (PIE), which co-sponsored the event with Ropes & Gray. The gathering included five panels and a workshop, all examining aspects of intellectual property in today's global economy.
Continuing their keynote discussion, Gajarsa and Mooney agreed that businesses would prefer to resolve patent disputes in the UPC, which takes a "rocket-docket approach" aimed at resolving infringements and validity cases within a year, rather than in a US district court—where the process typically is drawn out much longer.
"From a business standpoint, most businessmen would prefer to have a quick, final result rather than having it dragged out for three, or four, or five years," Gajarsa said. Furthermore, he argued, businesses seeking an injunction also would prefer to bring a lawsuit in the UPC, since US courts no longer grant an automatic injunction following the Supreme Court's eBay Inc. v. MercExchange decision in 2006.
Mooney said UPC would also render patent trolling unviable or even unprofitable because plaintiffs filing a claim with the UPC would need to present all of the relevant evidence, pleadings, and pay value-based fees in addition to taking the risk of paying the opponent's costs if the court rules in favor of the defendant. That would be in stark contrast to the American rule, whereby each party bears its own legal fees.
Among the other distinguished participants at the two-day EU IP Summit were British Consul General Harriet Cross; former ITC Commissioner F. Scott Kieff; European Patent Office attaché to the US Albert Keyack; and Dr. Ros Lynch, director of copyright and enforcement at the UK IP Office.
The panelists delved into a range of issues, among them best practices for General Data Protection Regulation (GDPR) compliance and for responding to cyber incidents; cross-border transactions and life sciences transactions; and the increasing intersection/conflict between competition law and IP rights in the EU.
The summit concluded with a European patent master class to educate US patent lawyers about EU patent law to avoid pitfalls that can weaken or invalidate US-originated European patent applications, and to plan global enforcement strategy.
Read another story on the summit in BC News.
Photo at top: Giuseppe Mazziotti, Dr. Ros Lynch, and Allie Renison discuss IP in Europe after Brexit.