As many as 80 million Americans have criminal records and one of them—Donnell Wright, who served time for drugs and weapons possession—told a group of Boston College Law School professors, students, and alumni, what ex-inmates really face when released.
"There are lot of individuals who could be rehabilitated, who could be productive members of our society again, but the corrections system won't let [them]," said Wright, whose comments kicked off a November 2 panel discussion on "Criminal Conviction: Disenfranchisement and Other Challenges to Democracy," at BC Law's Rappaport Center for Law and Public Policy. Wright, now a social worker and activist, spoke in detail about his inability to find work post-prison, despite an undergraduate degree and various licenses.
The panel, moderated by the Rappaport Center's faculty director, Daniel Kanstroom, also explored the impact of increased restrictions on the growing number of Americans with criminal records even while violent crime has declined in recent decades. The panelists drew connections between restrictions on inmates' voting rights and broader issues of immigration and gerrymandering.
"There is a deep relationship between the issue of immigration and loss of citizenship and depriving people of birthright citizenship," Kanstroom said. "It's about who is a full member of the polity."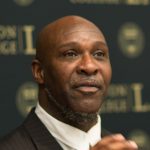 Those with criminal records may be the only class of individuals in which it is permissible to discriminate against, said Washington, DC-based attorney Margaret Colgate Love of the Collateral Consequences Resource Center, who specializes in corrections policy and rights restoration. "They are fair game for almost any sort of legal restriction or penalty or social discrimination," she said, adding that this can be considered a "proxy for race."
John Carella, staff attorney for the Southern Coalition for Social Justice, described how months after one of his clients, on probation for writing a bad check, voted, a warrant was issued for her arrest. In North Carolina, voting on probation or parole for felonies was itself a felony. Carella successfully helped his client and others like her, but all said they weren't sure they would vote again.
"That is the great tool of voter suppression: making people give up and making them feel they are not part of society," he said.
Indeed, Gabriel "Jack" Chin, a scholar of immigration law at the University of California Davis School of Law, said the concept of federalism has been "perverted" to allow states to gerrymander voting districts that have entrenched minority rule. Now "a minority of the voters elects a supermajority of the seats," he said, arguing that Congress should return to 19th century apportionment rules that created more contiguous districts.
"The bottom line is that there is a fear in this country that [ethnic minorities] are going to take over," Wright said. "How are people going to accomplish that? By voting."
Read more in Boston College's The Heights.
Photo, from left: John Carella, Margaret Colgate Love, Gabriel "Jack" Chin, Donnell Wright, and Daniel Kanstroom