The Boston College Law School Amicus Clinic played a key role in the preparation of an amicus brief that urged the Massachusetts Supreme Judicial Court (SJC) to restore the salary of a Newton district court judge who the court had summarily suspended without pay following her federal indictment for allegedly aiding an undocumented immigrant in the courtroom evade arrest by ICE last spring.
Upon reconsideration of its previous decision, the SJC, in a rare reversal, reinstated Judge Shelley Joseph's salary and benefits on August 13, including restoration of the payments withheld under the original order.
"In turbulent times," Chief Justice Ralph Gants wrote for three justices, "the risk of being stripped of a paycheck may have a chilling effect on a judge's willingness to challenge the conduct of a prosecutor and thereby diminish the overall independence of the judiciary, even if the judge were confident that he or she ultimately would prevail at trial if the prosecutor were to bring criminal charges against him or her."
Two additional justices concurred in the decision, emphasizing the risk to judicial independence posed by the particular facts in this case. Although the court found it unnecessary to reach constitutional issues raised by the case, it exercised its supervisory powers to reach the result urged by the amicus brief.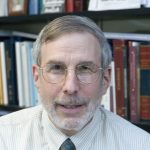 The brief was filed on behalf of the Massachusetts Bar Association, Women's Bar Association, and Massachusetts. Academy of Trial Attorneys. It was prepared in an expedited timeframe by BC Law professors Thomas Carey '65 (above) and Mark Brodin, and legal librarian Karen Breda, with the invaluable assistance of students Sean Attwood '20, Annika Conrad '20, Kevin Federation '20, and Katherine King '21.
This is the third time the BC Law clinic has submitted a brief to the court since the clinic was established in 2017, and the third time the court's decision has reached the result advocated in the clinic's brief.
The Amicus Brief Clinic is a "pop-up" or temporary clinic that runs for a very short period of time and for a specific purpose. Faculty identify an important legal issue being considered or soon to be considered by a court, then guide a small student team in the process of researching, writing, editing, and submitting an amicus brief to the court for its consideration.
Read the brief, the SJC's order, and a related article in The Heights.