A new initiative to introduce and integrate emerging scholars into the Boston College Law School community is being launched this fall with the arrival of two accomplished visiting junior scholars.
Hernandez Stroud (above) will be a Drinan Visiting Assistant Professor and William Sullivan will be a Drinan Research Fellow. The Drinan scholars will participate in faculty colloquia, workshops, and other community programs.
"I am sure we will all benefit from our exposure to these academics' enthusiasm and ideas," said Professor Renee Jones, associate dean for academic affairs. "As Father Robert Drinan, a former dean of BC Law, devoted his life to working to ensure that law students and academics developed to their full potential, we think it is fitting to associate his name with our Junior Scholars program. At the same time, our faculty gets the opportunity to mentor the next generation of legal academics."
Stroud, who recently completed a clerkship with Judge Rogeriee Thompson on the First Circuit Court of Appeals, will visit during the full 2019-20 academic year. Previously, he clerked for Judge Madeline Hughes Haikala in the Northern District of Alabama in 2016–17, and taught at Washington & Lee Law School as a visiting assistant professor in 2017-18.
While at BC Law, Stroud will be working on an article proposing new statutory remedies for racial inequality in education in the United States. He will teach Civil Rights Law in the fall of and Advanced Legal Writing in the spring .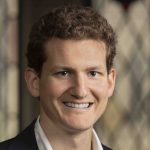 Sullivan will be the Drinan Research Fellow in the fall semester. He most recently was the Raoul Berger–Mark DeWolfe Howe Legal History Fellow at Harvard Law School. In 2017-18, he clerked for Judge José A. Cabranes on Second Circuit Court of Appeals. Sullivan is a PhD candidate in the departments of classics and history at the University of Chicago.
He will be reworking his PhD thesis on "The Emergence of the Roman-Canon Law of Positions" into a series of law review articles while at BC Law. Sullivan will also teach a seminar on Roman Law.