"You have a lot of challenges ahead of you. You will feel that the whole world is conspiring against your talent. Learn to draft clearly, care, and read for technique." These were the parting words of Bryan Garner, editor in chief of Black's Law Dictionary, who came to speak to law students on October 24 about "The Art of Legal Drafting."
Garner has been teaching against (what he calls) "generic lawyers" for years. He is a strong advocate for eliminating provisos, consistent organization in legal documents, and correct use of the word "shall." He made clear that the ability to write well is not just a problem for today's litigators, but for transactional lawyers as well. Although transactional lawyers are not being "graded" as frequently as litigators, who will lose cases if their writing is poor, there is still a significant need for good legal drafters, he said.
Garner contends that legal drafting is a unique expository prose for a number of reasons. First, it governs people's relationships in the future, unlike most legal documents which focus on past circumstances. Relatedly, these documents, such as contracts and statutes, should be written in the present tense. Finally, readers of these documents have extremely hostile eyes, and they are searching for any loophole to relieve them of liability.
So, what tips did Garner have for students hoping to improve their legal drafting skills? Don't be overly verbose, make use of descriptive headings, get rid of provisos, be clear and precise, and accept that "shall" should only be used to mean "has a duty to."
Although Garner acknowledged it would take time to break the habits of lawyers and the profession as a whole, he left BC Law students with a stimulating message: "If you care to be a really good legal drafter or writer, you have a big opportunity in front of you."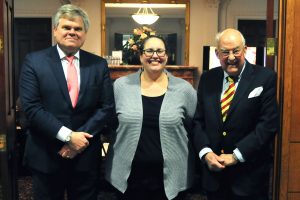 Following his speech to students, Garner presented at BC Law's Legal History Roundtable on the topic "Dictionaries and the Law." The event was held in the Daniel R. Coquillette Rare Book Room, containing a new exhibit by the same name designed by Laurel Davis, curator of special collections at the Law School. Garner loaned three books for the exhibit.
Among those in attendance were Coquillette, who is a longtime scholarly colleague of Garner, and roundtable conveners Founders Professor of Law Mary Bilder, and professors Frank Herrmann, SJ, and Daniel Farbman.