In September 2019 testimony before the House Financial Services Committee, Renee Jones, professor and associate dean for academic affairs at BC Law, focused on how the increasing number of large private companies can put investors, employees, consumers, and society at risk. Jones joins four other leading BC Law professors who have testified before the world's highest congressional committees in the past year.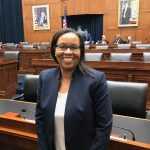 Jones, author of The Unicorn Governance Trap (University of Pennsylvania Law Review Online), appeared before the committee to provide commentary on legislation proposed to expand the availability of exemptions from the securities law's public disclosure requirements. Her testimony highlighted the economic and social risks posed by the rapidly increasing number of "unicorns," a term used to describe privately held companies with a market valuation of $1 billion or more. As Jones explained, recent legislative and regulatory reforms such as the 2012 JOBS Act have made it easier for large private companies to skirt the securities law's disclosure requirements, exposing investors to increased risk of losses—and sometimes outright fraud.
Jones pointed out that due in part to these changes in regulations, the length of time between founding a startup company and an initial public offering has expanded. At the same time, a new "founder-friendly" financing model has emerged, in which founders, not investors, control startup firms. This new financing model provides for far less transparency and management oversight. As a result, Jones said, unicorns "lack the kinds of mechanisms for management accountability that investors in public and private companies have come to expect."
The consequences of this lax oversight structure extend far beyond financial losses, and can include toxic workplace cultures and consumer fraud. "Examples of how badly things can go awry when investors fail to monitor unicorn operations can be seen in the histories of Uber, Theranos, and other unicorn firms," Jones said. "Customers of Uber, Theranos, and Lyft have suffered direct harm due to fraudulent marketing of Theranos' blood testing technologies and Uber and Lyft's lax approach to conducting background checks for drivers," she said.
Jones made several suggestions to improve the governance of unicorns and alleviate the unintended consequences of recent regulatory reforms, including studying the impact of dual class capitalization, which gives founder's shares super voting power (such as 10 votes per share), and reversing the JOBS Act amendments to Section 12(g), which raised the ownership threshold that compels mandatory financial disclosure from 500 shareholders to 2,000.
Jones, who also wrote about these issues in "It's Time Unicorns Grew Up" for BC Law Magazine, is a nationally known expert in corporations, securities regulation, and corporate governance. She joins her colleagues as one of five BC Law professors who have testified before legislative leaders during the past year.
Associate Professor and Faculty Director of BC Law's Program on Innovation and Entrepreneurship David Olson appeared in May before the Senate Judiciary Committee to present testimony regarding intellectual property and the pricing of prescription drugs. "It is thus critically important to find the right amount of patent protection (in terms of breadth and duration) that encourages adequate drug development but does not provide inefficiently long monopolies," he said. A frequent media commentator, Olson has published scholarly articles on patent law, copyright law, antitrust, music licensing, and First Amendment copyright issues. His writing has been cited in Supreme Court and many other legal opinions. In addition to this most recent testimony, he has appeared before Congress on matters of FDA regulation and antitrust.
Also in May, Professor Daniel Lyons testified before the House Committee on Energy and Commerce on the broadband availability gap, evaluating existing governmental efforts and proposing dynamic solutions to narrow the gap. Lyons, a leading expert in property, telecommunications and administrative law, has testified before the FCC and a number of other national and state legislatures. His 2019 scholarship includes "The Antideficiency Act Charade: A Low-Key Separation of Powers Drama" (Yale Journal on Regulation Notice & Comment) and "Narrowing the Digital Divide: A Better Broadband Universal Service Program" (UC Davis Law Review).
In April, Liberty Mutual Insurance Professor of Law Patricia McCoy shared her expertise on banking regulation with the Senate Committee on Banking, Housing and Urban Affairs. She explored the question of how banking agencies should regulate and supervise institutions. In June, the Consumer Financial Protection Bureau also asked McCoy to brief the agency at a symposium on how to define the statutory term "abusive acts or practices." McCoy is a nationally prominent scholar in financial services regulation and a former member of the US Department of the Treasury, where she helped form the Consumer Financial Protection Bureau, and, as the CFPB's first assistant director for mortgage markets, oversaw the bureau's mortgage policy initiatives. Her books include The Subprime Virus (Oxford University Press).
Widening the reach of the BC Law Faculty's expertise beyond the United States, last September Professor Ray Madoff testified before the Canadian Special Senate Committee on the Charitable Sector regarding the impact on the country of federal and provincial laws and policies governing charities, nonprofit organizations, and foundations. Madoff, co-founder and director of BC Law's Forum on Philanthropy and the Public Good, is a nationally known expert in philanthropy policy, taxes, property, and estate planning. She is the author of Immortality and the Law: The Rising Power of the American Dead (Yale University Press), and lead author on one of the top treatises on estate planning, Practical Guide to Estate Planning (Wolters Kluwer).
Renee Jones Testimony: September 11, 2019 (transcript here)