Zane Fernandez '21 has been named one of seven recipients of the 2020 Roscoe Trimmier Jr. Diversity Scholarship presented annually by Ropes & Gray. He is the third Boston College Law School student to be so honored in the past four years.
The scholarship is given in memory of Roscoe Trimmier Jr., an accomplished trial lawyer, the firm's first African-American partner, and a pioneering leader of Ropes & Gray's diversity and inclusion efforts. Second-year law students from around the country are selected for demonstrating excellence in their studies, business endeavors, pro bono legal service, and in taking visible civic leadership roles, including on diversity.
Fernandez will receive a $25,000 award to offset the expenses of his legal education. He and his fellow recipients—who come from Harvard, Northwestern, Benjamin N. Cardozo, Howard, and Georgetown law schools—will join the firm as summer associates in 2020, with two joining in New York, three in Boston, one in Chicago, and one in Washington, DC.
"I'm extremely honored and grateful for this scholarship and opportunity," Fernandez said. "Ropes continues to show its dedication and support to diverse law students and attorneys in various ways. I'm very excited to start my legal career with them and I will dedicate myself to keep advocating for the needs of marginalized communities."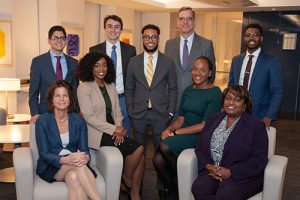 "The accomplishments of these exceptionally talented students speak volumes about their dedication to legal scholarship and their potential to excel in future professional endeavors, whether in business, civic, or government roles and as leaders in our communities," said Joan McPhee, a partner and co-chair of Ropes & Gray's diversity committee.
Fernandez received honors as a 1L Scholar at BC Law and also from the Leadership Council on Legal Diversity. While serving as a 1L summer associate at a national law firm, he researched strategies for preparing a business for a potential sale. As a legal intern for the Navajo Nation in Arizona, he drafted an executive order for the Navajo Nation president to sign a new employee wellness program into law. As a legal researcher at a prominent New York law firm, he managed a veteran's pro bono project focused on barriers to health care benefits.
Previous BC Law recipients are Benjamin Ruano '18 and Bria Coleman '20.