In an effort to increase global engagement, Boston College Law School has been partnering with Tashkent State University of Law (TSUL), the largest law school in Uzbekistan, since 2017 with help from the non-governmental organization, Regional Dialogue. The partnership began with the hope of stabilizing and strengthening the legal system in Uzbekistan as they shift away from totalitarianism to a system of democracy.
Professor Joan Blum, above, has played a vital role in the collaboration as she visits Uzbekistan with BC Law faculty periodically to train students and professors of Uzbekistan in the concepts of law and the significance of a well-structured legal system.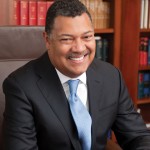 BC Law Dean Vincent D. Rougeau has also visited the country on various occasions and has met with the US Ambassador to Uzbekistan as well as high-ranking members of the government. He has written on the topic and notably negotiated and signed a Memorandum of Understanding with TSUL, the first of its kind between American and Uzbekistan law schools.
To read more in The Heights, click here.