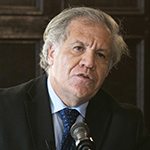 Luis Almagro: The Organization of American States secretary general was one of two speakers at Clough Center for the Study of Constitutional Democracy events last fall. Almagro warned that free governance "needs protecting from the powerful forces that would destroy it." Mary Ellen O'Connell anchored a panel about themes in her new book, The Art of Law in the International Community.
---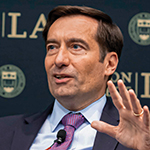 John C. Demers: The Assistant Attorney General for National Security, speaking at a PIE event, labeled China the number one, nation-state intellectual property threat. He leads the AG's China Initiative, which counters crimes like economic espionage and trade-secret theft. He called the country's goals—the development of high-speed rail, artificial intelligence, commercial airlines—"a guide to what they steal."
---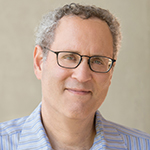 Michael J. Gerhardt: The constitutional scholar who has twice appeared before Congress as an expert on impeachment (Clinton in 1998, Trump in 2019), spoke at BC Law shortly before his December congressional appearance, and is scheduled to return to campus later this semester. He believes there are strong grounds for impeachment, including misconduct concerning the next election, and obstruction.
---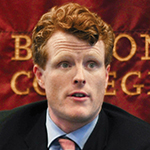 Joseph Kennedy III: The Democratic Congressman from Massachusetts visited BC Law twice last semester, the first time to speak on criminal justice reform, reducing recidivism, and streamlining the delivery of resources to the formerly incarcerated. The second time, he discussed his work on the Congressional Trans Equality Task Force, the Gay and Trans Panic Defense Prohibition Act, and similar initiatives.
---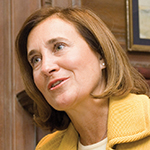 Deborah Goldberg '83: In her October keynote at the Ninth Annual Conference on Employee Benefits and Social Insurance, the Massachusetts State Treasurer said she is focused on economic security and stability for everyone in Massachusetts. Priorities include improving public employees' retirement security system, investing more in companies owned by women and minorities, and improving financial literacy.
Photographs: Luis Almagro—Reba Saldanha; John C. Demers—Rose Lincoln; Joseph Kennedy III—Evelyn Jackson '22