Since 2000, fifty-six fraternity pledges at American colleges and universities have died performing hazing rituals, often the victims of alcohol-fueled initiation rites, according to Miami lawyer David Bianchi '79. In the current academic year alone, there have been five such deaths.
Photograph above: David Bianchi '79 and colleague Michael Levine's victory announced in New York's Times Square.
Bianchi, a partner with Stewart Tilghman Fox Bianchi & Cain, has investigated dozens of hazing complaints, winning multi-million dollar judgments for a number of families left to make sense of the ongoing nightmare. With the November 2017 death of Florida State University pledge Andrew Coffey, he went a step further: Bianchi helped to write Florida's "Andrew's Law," notable for promising immunity to the person who calls first responders if a pledge suffers life-threatening injuries.
"Our family would rather be passing out hugs and shaking hands for someone doing what is right, than watching them go to jail for standing by and doing nothing." —Sandy Coffey, speaking of a law named for her son who died in a hazing incident.
Bianchi is not stopping there; he has made it his life's work to halt the gruesome trend. Most recently, he spent a month last fall traveling the state, speaking to thousands of fraternity and sorority members about the dangers of hazing, its legal consequences, and Andrew's Law. "It's gotten worse over time, not better," says Bianchi. "It's simply the result of having young people go away from home, and live in a house unsupervised, where alcohol is put into the mix."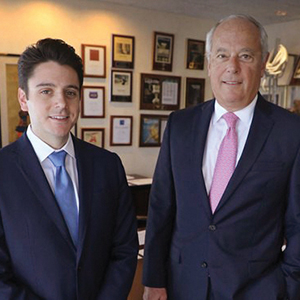 Experts call Andrew's Law one of the "most cutting-edge" responses in the country. When Florida enacted the law in June, it drew national headlines for its immunity provision. To ensure immunity, a person—who can include the perpetrator—must stay at the scene until help arrives. Meantime, Andrew's Law poses criminal penalties for those who had a role in planning hazing activities, even if they weren't at the scene of a tragedy.
Coffey drank an entire bottle of Wild Turkey bourbon, but was left to die on a couch because fraternity members "were all afraid to call for help because they thought they would get in trouble for hazing," Bianchi says. "So no one called, even though there were about a hundred people in the house." He believes Coffey could have survived had paramedics reached him in time and transported him to the hospital. His blood alcohol level was 0.447, about six times the legal limit to drive.
Bianchi settled the civil case with all fifteen defendants, while criminal charges are pending against some members of Pi Kappa Phi. (The Florida State chapter was subsequently disbanded). Other defendants pleaded guilty and have completed their prison sentences.
Coffey's mother, Sandy Coffey, is hopeful that other states will follow suit with laws like Andrew's. "One phone call could spare another family the grief we now endure every day," she says. "Our family would rather be passing out hugs and shaking hands for someone doing what is right, than watching them go to jail for standing by and doing nothing."
Andrew's Law was not Bianchi's first legislative success. He represented another victim and was a driving force behind an earlier Florida law—the Chad Meredith Act, after a University of Miami pledge who drowned—which in 2005 made hazing a first-degree misdemeanor or a third-degree felony if the activity in question resulted in injury or death. At the time, it was one of the toughest laws in the nation. Forty-five states have hazing laws, but not all of them charge offenders with felonies.
In the Meredith case, a jury awarded the parents $14 million (after Bianchi sued the fraternity's president and vice president), then the largest fraternity hazing verdict on record.
Bianchi has several times been named Miami lawyer of the year for representing people who were injured as a result of defective products—he obtained the first defective airbag verdict, in the United States, against Mercedes-Benz—and for his accomplishments in personal injury litigation. But it is for his battle against hazing that he is known far and wide; he frequently receives calls from families during the fall Greek pledge season. "Fraternity leadership continues to do this because they've gotten away with it for so long, and they think they can continue to get away with it," says Bianchi, who was not a member of a fraternity as an undergraduate at Tufts University. "They feel they have some sort of duty or obligation to perpetuate the traditions."
Bianchi's mission remains daunting. Hazing, which is defined as any act that intentionally causes embarrassment, harassment, or ridicule—while also risking emotional or physical harm—dates back to the late 1800s. Since 1953, except for 1958, when there was no reported hazing death, the United States has tallied at least one death every year, according to the Hazing Deaths Database.