Editor's Note: Due to the novel coronavirus outbreak, Boston College has sent students home for the semester. Classes are being conducted remotely as is most school business. BC Law Magazine will continue to publish online, bringing you news and updates about the impact of the shutdown. We are deploying our writers and tapping our vast community to provide deeper perspectives and insights into the legal, economic, and political ramifications of the pandemic. We are also publishing occasional stories, like this one, that step away from the disease to remind you of the more normal aspects of daily life within our community, past and present.
---
In his 2012 novel, Defending Jacob, William Landay '90 sensitively portrayed a father's anguish when his son is accused of killing a classmate, a pain that is particularly acute because the father is a lawyer in the system investigating his son. This month, after years of waiting, the Newton-based author will finally see his bestseller dramatized on screen, when the first of eight, hour-long episodes of Defending Jacob debuts April 24 on Apple TV.
"It's actually very exciting," said Landay, reached by phone. Although various film options had been considered over the last few years, none had panned out. The limited-run Apple TV series "wasn't a possibility I'd have thought of, until it came up."
It turned out to be beneficial. "The difference is that adapting a book to a film is mainly about deciding what parts will be cut to make the material fit into the format. With eight hours of screen time to work with, you can actually expand on the book," he explained.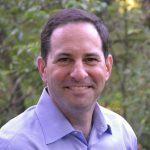 To do that, showrunner Mark Bomback—essentially, the TV show's main screenwriter—elaborated on parts of the book that had been peripheral or condensed for pacing. This allowed Bomback to "explore whole parts of the story and secondary characters," said the author. However, Landay, who had been consulted on the show, had no part in that rewriting.
While this can be a challenge for some authors, Landay (whose novels include Mission Flats and The Strangler) said he had no trouble letting go.
"To me this was always a new artwork and a new medium," he said. "If you love books and you love movies, you know that you consume them differently. When you come to a book, you actively lift that text off the page, and you perform the book for yourself. When you're watching TV or a movie, you're taking in the characters passively. They're much more thought-out for you."
Even the casting of Chris Evans and Michelle Dockery as the beleaguered parents necessitated a departure from his book. "They're younger than they are in the novel," he said of the actors. "They're in a different time of life than they were in the book."
For Landay, who is on the third draft of an ambitious new novel, these changes were fine. As he wrestles with his current project, which centers on a woman's unsolved disappearance, he was happy to let the actors and crew interpret Defending Jacob for a new medium.
"The reason you bring in these wonderfully talented people is to let them do their thing," he said. "Somebody else was writing characters based on my characters. I wanted them to riff on these characters and try new things."
Updates: In the Boston Globe, read the review of the film and a feature on Massachusetts' native Chris Evans's portrayal.
Photo: Chris Evans plays the father in William Landay's thriller. Image: Courtesy of Apple