Editor's Note: In this BC Law Magazine "Vision Project" series, we are engaged in a lengthy discussion with Boston College Law School faculty about where the Covid-19 pandemic and its attendant medical, economic, racial, and political consequences may lead us. As New York Times op-ed columnist Timothy Egan so eloquently put it recently, "Every crisis opens a course to the unknown. In an eye-blink, the impossible becomes possible. History in a sprint can mean a dark, lasting turn for the worse, or a new day of enlightened public policy." There are warnings and worries in these professors' views, but there are also farsighted ideas and strategies for crafting a better future, a more just society, and a world in which each and every human being is equal under the law.
---
PROFESSOR KATHARINE YOUNG
Nobel Laureate Amartya Sen called Constituting Economic and Social Rights (Oxford, 2012), Professor Young's first book, "a brilliant discussion of great importance to policy-making." In addition to four books, Young has published research in the relatively new field of economic and social rights in scholarly journals like Boston University Law Review, Yale Journal of International Law, International Journal of Constitutional Law, and Harvard Human Rights Journal.
---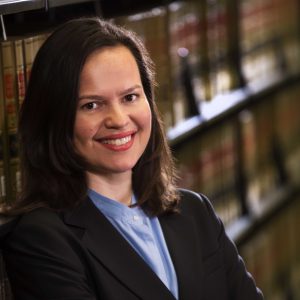 Do you see a correlation between countries that have done best in fighting the virus and shielding citizens from the economic fallout and those whose laws grant social and economic rights, including the right to health care, a living wage, and other necessities of life? There are certainly many such laws around the world. More than two-thirds of the world's constitutions include the rights to have access to health care and social security, for example, and there are many legislative examples as well as heavily ratified human rights treaties. Of course, no one thinks that written laws alone can be protective. My work has focused on what constellation of private and public actions can work to actualize these rights. So to answer your question requires an analysis of social movements, legal culture, and the courts, as well as the legacies and institutions of welfare provision and market regulation. When laws and other institutions work towards securing basic economic and social rights, such as health care protections and social security, they can certainly help protect societies in the face of health and economic crises like the Covid-19 pandemic. Such laws can help set out the parameters of the response but also trigger a proper attitude to planning for such events.
In fighting the virus, we have seen a range of responses in countries with economic and social rights guarantees. Italy, for example, has strong health care guarantees, and yet the country was caught early in the virus spread, when less was known about its infectiousness and disease trajectory. Sweden's approach has been curiously light on social distancing, and here the universal access commitments within the health care system were perhaps one reason that epidemiologists felt they had the leeway not to order a shutdown. Now the virus is spreading further in the global South, with worrying signs. Clearly, a functioning health care system, with proper investment and PPE, has been important for limiting spread and lowering the death rate. Such systems are supported by legal, institutional, and cultural support for the right to health.
As to the economic fallout, there's a big story yet to be written. The massive rate of joblessness, for example, poses questions about the prudence of the link between having a job and having health insurance—a link that exists in the United States but not in other industrialized democracies. To further complicate the picture in the US, the right to health care is deeply controversial—both legally and politically, as the fight over the future of the Affordable Care Act demonstrates. Economic and social rights provide a language to challenge this paradigm and move this aspect of the US closer to other states whose systems are premised on protecting their citizens from risk, and on guaranteeing human dignity.
A social/economic right that's accorded to citizens of some countries is the right to safe and decent housing. What has the pandemic shown us about the housing situations of less-affluent Americans? In 2009, the UN Special Rapporteur on the right to adequate housing visited the US and reported on alarming conditions, including significant cuts in federal funding for low-income housing, the persistent impact of discrimination in housing, substandard conditions such as overcrowding and health risks, and severe consequences of the foreclosure crisis, including evictions and homelessness. So the pandemic has lifted the curtain on what was already a worrying problem. We could say the financial crisis of 2007-8 also lifted that curtain, but the pandemic has also revealed that this is not a discrete problem for a subset of America's population but rather one that impacts everyone. To take a rudimentary example, cramped housing conditions have fueled community spread of the coronavirus, and at least in New York City, many workers deemed essential have tended to live in substandard housing, exposing them and their families to health risks at a time when the rest of us need them most of all. We don't often think of "rights" as needing a justification in terms of beneficial consequences for all; and yet the pandemic has shown that a right to safe and decent housing would benefit all Americans.
In the last few months, we've seen demonstrations by US workers—frontline workers and people working in factories and warehouses—demanding safer working conditions. Are safe working conditions a social or economic right? The right to occupational safety is longstanding. The right to just and favorable conditions of work predates the 1948 Universal Declaration of Human Rights but is certainly contained in it. The normative demands that correspond with human rights sometimes preexist, and sometimes transcend, the legal setting. But the right to occupational safety also has long parallels in both the common law—that is, longstanding tort law—and in legislation—early statutes that responded to the challenges of industrialization, such as factories exposing workers to fire hazards. These rights are still recognized as fundamental human rights—necessary for human dignity, freedom, and equality—even if they seem to be shaped by the institutions of the modern economy.
Compare the workers' demonstrations to those being put on in protest of stay-at-home orders. We might say those protesting the stay-at-home orders are defending the right to free movement. But under constitutional and human rights law, limitations on rights are permissible when necessary for public health and proportionate to the aim served. The deeper problem is a lack of trust—that when people are informed of the dangers of Covid-19, they think the information is made up. This problem of trust is a global one.
Both frontline worker protests and anti-shutdown protests are taking place inside and outside the United States. Protest is, of course, an essential means of mobilization and communication in a democracy, and we've seen creative protests that are also socially distant. The message of the frontline workers' protest is that being "essential" should not mean being "sacrificial"—and that their health must be secured.
For those skeptical of lockdowns, it's harder to say whether their complaints are legitimate. It's plausible that some lockdowns aren't being fashioned properly. In India, for instance, people across the country were given four hours' notice to stay inside their homes for 21 days, creating terrible problems for migrant workers and others. There are certainly legitimate grievances about the proportionality of some lockdown measures. Yet elsewhere, anti-lockdown protests have coincided with other unrest, often mobilized by populist politics. We can observe protesters in the US, as well as Germany and Brazil, waving messages of anti-Semitism, which can't conceivably be linked to an argument that lockdowns are unnecessary or disproportionate.
As a late addition (after the recording of this interview), massive protests at the killing of George Floyd have begun, across US cities and indeed in solidarity in many other cities of the world. These protests add a third category to your question, which may turn out to be the most significant. At great risk to their personal safety, and risk of the spread of Covid-19, protesters are expressing legitimate anger and grief at racist police practices and the criminal justice system. These protests are mostly peaceful, and protestors are communicating with face masks and other precautions. They are raising the long-overdue and critical need to address racial violence and discrimination, which has been mounting for decades, but the urgency of the cause is made all the greater by the pandemic.
Will the risks being run by workers in manufacturing, health care, and other fields, plus increased attention to the difficulty of their work, increase public support for expanded workers' rights in the United States, including stronger collective bargaining rights and the de facto (as opposed to de jure) right to a safe workplace? The havoc wrought by Covid-19 is enormous and unprecedented. I see itas a switch point or a crossroads—much like other great calamities, such as the Great Depression and World War II.Both of these events helped crystalize an expanded articulation of human rights. Freedom from want and fear was central to the vision behind the first international enumeration of human rights, including economic and social rights,in the Universal Declaration of Human Rights.
Although I see Covid-19 as a switch point, I have a hard time predicting where we will end up. Could Covid be exploited for anti-rights moves? Certainly. In the US, a lot depends on the election, and the realignment of party positions before and after it. But certainly conditions are ripe to see a massive renewal of public support for the rights to housing, health care, and social security, including a living wage and perhaps a universal basic income or other institutional form of social protection against economic risk.
Perhaps the challenges of this moment will also give a boost to the decarceration movement, given the rapid spread of the virus in prisons and immigration detention. After this experience, I'd imagine that the US would need a larger justification for locking people up and exposing them to these risks, particularly given its notable outlier status on this issue, and particularly given the disparate harm that falls on people of color. This is also a focal point for the protests that we are now seeing.
I could also mention other economic and social rights. During the pandemic, we have seen great problems in food insecurity amongst Americans, with shortages of foods, long lines at food banks, the hunger of school children and families, at the same time as images of farmers dumping milk and euthanizing pigs and chickens. This might force us to rethink our systems of food supply. Although rights to food, as well as to water, sanitation and a healthy environment, are not as prevalent in constitutions and legislation as other economic and social rights, there are certainly growing and networked mobilizations behind them, and even supportive caselaw, which have been premised on the argument that they are essential for human life and dignity.
What is the most painful lesson you see coming out of the pandemic? The most hopeful? The most painful lesson has been the lack of preparedness and responsiveness of the world's richest democracy in confronting the coronavirus, despite enormous and available fiscal resources, scientific expertise, and public commitment.
The most hopeful is that there may be a moment of social learning taking place, with the realization that none of our rights can be guaranteed when the rights of the least vulnerable are not secured, whether in the United States or elsewhere. This is a prosaic lesson offered to any student of comparative constitutional democracy and international human rights law, but it offers a source of hope that a larger audience has been forced to notice.
How would life look different if American law had stronger and more explicit protections for social and economic rights? Once again, written laws can't protect us by themselves. We also need a deep-seated cultural commitment to economic and social rights. If we had a more explicit, deep-seated commitment and the cultural and institutional changes that have to accompany legal changes, things would be very different indeed. Amartya Sen, who you have quoted, noted in the foreword to my latest book, The Future of Economic and Social Rights (Cambridge University Press, 2019), that economic and social rights are not so dissimilar to claims of liberty. It often goes unstated that so-called "negative" rights, so venerable in the US tradition, also require state support for their fulfillment. With due protections for economic and social rights, and to the demands of moral equality and racial justice so desperately being expressed at this very moment, life in America might look like a life of greater freedom and dignity.
Read all faculty Vision Project interviews here.