'DEFENDING JACOB' MAKES IT TO SCREEN
BC Law Magazine has been following the saga of William Landay '90 and his 2012 bestselling novel, Defending Jacob, as it has made its way slowly to the screen. It finally got there April 24 as an eight-episode Apple TV series starring Chris Evans and Michelle Dockery. Although various film options had been considered over the years, none had panned out. A limited-run series "wasn't a possibility I'd have thought of, until it came up," an excited Landay said when the project was announced.
---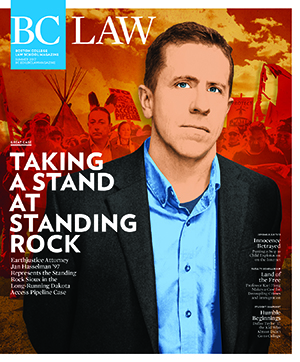 A SIOUX WIN IN PIPELINE CASE
Returning to the news is Standing Rock Sioux Tribe v US Army Corps of Engineers and Dakota Access, LLC, a bellwether environmental case being stewarded by Jan Hasselman '97, a staff attorney for Earthjustice ("Taking a Stand at Standing Rock," BC Law Magazine, Summer 2017).
In March, the United States District Court for the District of Columbia found significant unresolved concerns about the potential impacts of oil spills from the pipeline and the likelihood that one could take place, requiring the Corps to complete a full environmental impact statement (EIS).
In July, Judge James Boasberg ordered that the pipeline cease pumping crude by August 5 pending the EIS, a process that takes two years and carries an exacting standard of review. The case coalesces around an easement the Corps acquired from the federal government to pump 600,000 barrels a day beneath Lake Oahe. The reservoir sits one mile upstream from the Tribe's reservation and is part of a river system that serves 17 million people.
The shutdown order, sought by the plaintiffs since 2014, was immediately appealed. Whether or not it stands, the final status of the permit won't be decided until the next presidential administration, when environmental review is complete.