In the dizzying pivot from real-world to virtual operations imposed by the Covid-19 pandemic on every office at Boston College Law School, one constant remains: what Director of Recruitment and Employer Outreach Douglas Saphire called the "strength, generosity, and caring of the BC Law alumni community." This time of uncertainty has given alumni new impetus to channel gifts of their time, expertise, practical help, and philanthropic support. Here are areas where alumni are having an impact.
ADMISSIONS: Six accomplished alumni weighed questions like "What's it like working in the legal profession in an economic downturn?" and "How has student debt shaped your career?" during a May 6 webinar for admitted students called "Your Future in Practice."
Spanning multiple generations and areas of legal experience, from Ellen Huvelle '75 (pictured above), senior judge at the United States District Court (Washington, DC), to Joel Goldberg '92, former senior counsel at Netflix, the panelists spoke candidly about their own law school experiences and career paths.
From quarantine in her Upper West Side apartment in Manhattan, Yolanda Lyle '01, a vice president at pharmaceutical giant Pfizer, shared her wariness as a law school applicant of the "cut-throat culture" at law school, and her relief at finding a "warm, collegial, nurturing environment" at BC Law. Deluged by poorly written Covid-19-related executive orders, Hank Rouda '86, general counsel at Giorgio Armani Corporation, advised half-jokingly: "Go work for the governors and please learn how to write!"
The session attracted 125 participants and boosted registration for further webinar panels, a boon to BC Law's Admissions Office during the critical period when applicants are making their final decisions.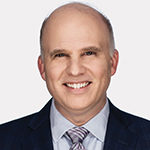 CAREER SERVICES: As president of the Board of the BC Law Alumni Association in the year of the pandemic, Steve Riden's long-standing commitment to keeping BC Law students employed means frequently brainstorming strategies with the Career Services Office (CSO). He helps connect students with law firms, honoring the commitment of his own firm, Beck Reed Riden LLP, to a summer associate from BC Law when many firms are cutting their summer programs. He also guides individual students as they weigh their options. The times may have changed, but Riden's mission remains the same: to help students develop "a long term perspective and think of strategies they can use to get themselves into a job they want," said Riden '99.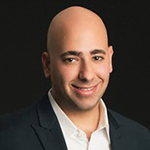 On another CSO front, with in-person campus visits on hold, the Virtual Advisor series of online panel discussions has replaced the Visiting Advisor program that brings alumni to the Law School for informal talks about different career paths. Evan Friedler '16 and Robert Langevin '15 from the office of general counsel at the international online home goods retailer Wayfair, were panelists at a recent online session, and followed up the group discussion with individual mentoring sessions with 1L and 2L students, over Zoom.
"The job market and prospects have changed so quickly," said Friedler. Because fewer jobs are readily available, he advises students to front-load their résumés with specific, concrete examples of work done, to help them stand out from their peers.
"BC Law has been a tremendous resource for Wayfair," said Friedler, noting that his boss, Enrique Colbert '00 is also a BC Law graduate. "Every time we have an opening on our team, we go back to BC Law to make sure that they're aware; we want to make sure we get the best candidates possible," he said. He hopes the example of this mutually beneficial partnership will "encourage more alumni to do the same, especially now."
PHILANTHROPY: "It's really hard to be a good leader in times like this," said Danielle Salvucci Black '96, a member of the Dean's Advisory Board (DAB) and long-term benefactor of BC Law. So when she and her husband Brian made a recent additional gift to the Law School Fund, they saw it as a public affirmation of support for "the great things Dean Rougeau has been doing during his tenure," said Black, who co-owns her family commercial construction and real estate business. She is keen that the school's strategic planning not be derailed by a temporary shortfall in funds: "We understand that in the short term, the needs are more acute," she said.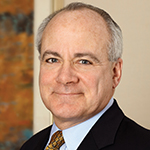 Fellow DAB member Michael J. Puzo '77, a partner at Hemenway & Barnes LLP, is similarly impressed by the school's "thoughtful and kind" response to the pandemic, including the switch to teaching remotely and offering extra financial support. "The dean made a compelling case to invite people who were able to respond philanthropically to meet an unexpected and significant need for financial support," said Puzo. "He doesn't ask for what he doesn't need, it's pretty clear there was a need, and you've got to do your part."