"The first thing I lost in law school is the reason I came," Jonathan Rapping (above) said at a BC Law event October 7, reflecting on his experiences as a Jewish law student and later as a public defender and law professor at Atlanta's John Marshall Law School. He is also founder and president of Gideon's Promise, a non-profit organization building a movement of public defenders to provide equal justice for marginalized communities.
Rapping was joined in the virtual discussion by his longtime friend and colleague, David Singleton, executive director of the Ohio Justice and Policy Center in Cincinnati and a fellow former public defender. Their topic? The status of Jewish-Black relations, civil rights, and criminal justice reform.
Both acknowledged the difficulty of conversations that source from their identities as Jewish and Black men. Rapping pointed to their relationship as an example of how two communities who often misunderstand each other can listen to one another, engage in discussions around their current tensions, and then address issues of civil rights. Singleton touched on the history of Jewish-Black relations, particularly the two communities' shared experiences of oppression, and their subsequent fight for racial justice in the 1960's Civil Rights era.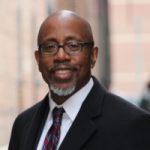 "All of us need to be aware of the bias that we walk around with," Singleton followed up, emphasizing the particular duty of lawyers to understand their role in the fight against racial justice and all forms of oppression. Rapping agreed with his colleague: "As lawyers we have the privilege of having a degree and knowledge, but we are still telling the stories of other people and we have to learn how to respect their stories."
Turning to the criminal legal system, Singleton and Rapping emphatically explained that the injustice of the system is based upon a pattern of systemic racism designed to harm Black and Brown communities. They challenged the notion of "progressive prosecutors," offering an alternative focus on emphatic public defenders as means to challenge the racial inequities in the broken system.
Rapping returned to encouraging all law students to remain humble, utilize a human-centric approach to their practice of law, and listen to their most natural notions of justice. For his part, Singleton said: "What would you do for your own child? Do that."
Even incremental change is important, Rapping noted, ending on a hopeful note. "You are raising expectations of what justice means for marginalized people," he said. "That is change, even though you might not realize it."
The event was moderated by the Law School's David and Pamela Donohue Assistant Professor of Business Law Atinuke Adediran. JLSA, BLSA, and the Criminal Law Society were sponsors.