VERDICT STANDS IN SONY V. COX
There are new developments in the copyright showdown case between the music industry's Big Three record labels and Cox Communications. An Oppenheim & Zebrak team that included Jeff Gould '06 won the case for the plaintiffs in 2019 ("The Land of Music and Piracy," BC Law Magazine Summer 2020).
This past January, the Virginia federal jury's $1 billion copyright infringement award against Cox was allowed to stand by a federal judge, who refused to recalculate the sum owed to Universal Music Group, Sony Music Entertainment, and Warner Group. US Disrtrict Judge Liam O'Grady's ruling protected the $99,000 for each of the 10,017 works infringed by the internet company, according to a story by Law360.
The legal news service reported that an earlier ruling had largely upheld the massive fine but left open the possibility that some songs had been counted twice. But Judge O'Grady found otherwise, saying that Cox had failed to present that evidence to the jury.
As Gould said of the verdict back in June 2020, "The case sends a very strong message to [internet service providers] and other technology companies that they can't build a business that just tramples on and disrespects the rights of content brand owners."
---
LOUISE CLARK AND HER 'KIDS'
Brian R. Cook '85 writes to alert fellow alumni that he arranged to have a portrait of Louise Clark hung in the Boston College Law School Library this year.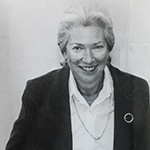 Clark, who retired in 1995 after twenty-six years at BC Law, began as a secretary in what was then called the Placement Office, became administrative assistant to Dean Richard G. Huber in 1972, and assumed leadership of the admissions, financial aid, and registration functions in 1974.
Huber called her "a major influence on the quality of the Law School by being so effectively involved in the student selection process." Many of those who made it into law school during her time became known as "Louise's Kids."
Cook named just a few of his own classmates and other colleagues who were among that vast crowd: Michael Capuano '77, John F. Kerry '79, Hon. David Donnelly '81, Arthur Bernard '83, Francesco Mercuri '83, Hon. Wilbur Edwards Jr. '84, Augusto Grace '84, Hon. Leslie Harris '84, Evelynne Swaggerty '84, Scott Brown '85, and Francis Doran '85.
---
We'd like to hear from you. Send your letters to BC Law Magazine, 885 Centre St., Newton, MA 02459-1163, or email to vicki.sanders@bc.edu. Please include your address, email, and phone number.