Now nearing its third decade, BC Law's tradition of providing Survival Kits to 1Ls at exam time is still going strong. This year, thanks to one of the largest entering classes in the Law School's history—353 to be exact—the 2L and 3L UCC Digest students who prepare the kits had their work cut out for them.
Professor Ingrid Hillinger, who dreamed up the idea, said it began ages ago with brown paper bags stuffed with home-baked cookies and cocoa packets. Now the giveaway is a tote bag filled with swag and sweets, everything from highlighters, notepads, and chargers to cellphone stands, fidget spinners, mind puzzles, lip balm, and M&Ms.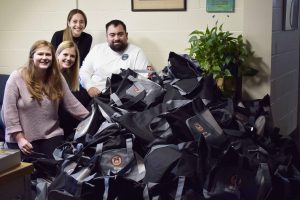 It took the UC Digest students roughly two months, start to finish, to solicit donations and gather the goods, and two days to package them up. Thirty-one donors, most of them law firms, contributed.
It's a generous exercise for everyone involved. As one former Digester put it, it feels good to take care of the next generation.
Photos: At top, first-years Paola Bayron and Erica Taft show off their Survival Kits. Inset: from left, UCC Digesters who helped make the kits, Christine Kalpin, Reagan McGinnis, Becca Elsner, and Armen Grigorian