The son of the first Black police officer in Springfield, Massachusetts, Wayne Budd MCAS'63, P'90, H'10, has broken multiple barriers of his own. As an undergraduate at Boston College, he was one of only a handful of Black students on campus; after earning his law degree at Wayne State University, he returned to Boston and founded the city's first interracial law firm, Budd & Reilly; and when he was appointed the US Attorney for Massachusetts in 1989, he was the first African American to hold the post in New England. Now a highly respected attorney and community leader, Budd has served as a role model and guide to generations of Boston lawyers and businesspeople.
Recently, those who count Budd as their mentor and friend have launched an initiative to honor his impact with a Boston College Law School scholarship that will extend his influence to future generations of underrepresented law students. Led by Steven Wright JD'81 and Ralph Martin, a small group of Budd protégés has begun raising funds from other community members, all motivated by their deep admiration and appreciation for their mentor.
Wright and Martin, both successful lawyers, met Budd early in their careers at a time when there were few, if any, role models for aspiring African American lawyers.
"I walked into my corporate law class [at BC law] and saw this dynamic Black attorney, and he was my professor," recalls Wright. "He was inspirational from the very first moment, and I thought, 'I want to be like him.' "
The story was much the same for Martin, who met Budd in 1975 and was immediately drawn to his kind, encouraging demeanor. "I was thinking about going to law school and I asked if we could talk," recalls Martin. "And that was the beginning."
Budd originally planned to go into business, studying economics at BC and taking a job at Ford Motor Company in Detroit. While there, he studied law at night school at Wayne State, but it wasn't until his second year—when he met an established African American attorney—that he considered leaving the corporate world to practice law. Not long after he opened his Boston law firm, he was elected president of the Massachusetts Bar Association—the youngest in the association's history and the first African American to head a state bar association anywhere in the US.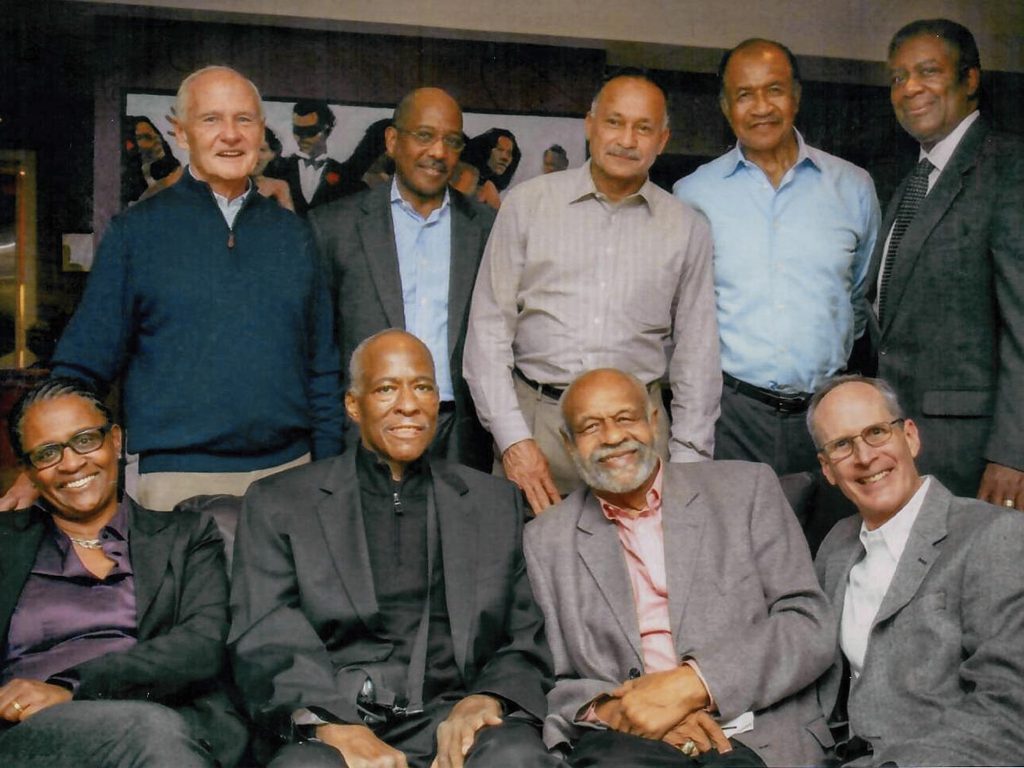 After serving three years as the US Attorney, Budd was named Associate Attorney General of the United States—the third-ranking official in the US Department of Justice. He returned to private practice at the Boston-based firm Goodwin Procter in 1993 and went on to leadership roles at John Hancock Financial Services and Bell Atlantic Corporation. He is now a senior counsel in Goodwin Proctor's litigation department.
Throughout his career, Budd has stayed close to Boston College, serving for fifteen years as an adjunct professor at BC Law, joining the University Board of Trustees, and, when his middle daughter enrolled as an undergrad, becoming a proud BC parent.
Special H6, Edited
"We consider ourselves a BC family; the University has been a very important part of my life," Budd says. "Many of the opportunities I've enjoyed had BC fingerprints on them, and it is important to me that we give back."
That is why, despite his trademark humility, he gave his blessing when Martin and Wright shared their plan to establish a scholarship in his name that supports students from underrepresented groups, including African American and first-generation law students.
"The legal community has come a long way since I started my career, and even so, people of color are greatly underrepresented," says Budd. "If this scholarship can, even in a small way, help level that playing field and help someone attain a BC Law education, then I feel very good about that."
"He's helped craft the trajectory of everyone at the table…This is our way to give back to Wayne and to celebrate all that he has done for us and for Boston."

Steven Wright JD'81, Wayne Budd '63 Scholarship Fund founder
That generosity of spirit was what compelled Martin to act on Budd's behalf. After Martin finished law school at Northeastern University, he was invited to join Budd's firm; the two worked together several more times, most notably when Martin was the Suffolk County District Attorney and Budd was the US Attorney for Massachusetts. Though Budd made a special effort to advocate for Black attorneys, Martin says his circle of protégés includes men and women from all professions, ethnicities, and walks of life. "He's always been an inclusive leader, bringing people into the conversation, challenging people's assumptions but always, always appreciating their humanity," says Martin, now general counsel at Northeastern University.
Wright agrees. "He's helped craft the trajectory of everyone at the table," says Wright, who also worked at Budd & Reilly before going on to government positions, and then a twenty-year career at Holland & Knight. He is currently senior vice president and general counsel at the Federal Reserve Bank of Boston. "He attracted us by virtue of his uncommon leadership, his uncommon gracefulness, and his uncommon generosity," Wright adds.
These are the values that Wright and Martin want to pass on through the Wayne Budd '63 Scholarship at BC Law. Together with their co-founders, the pair hope to inspire other BC alumni, Boston-area lawyers, business leaders, and others who count Budd as a mentor, role model, connector—and to some, a hero—to contribute to the fund so that it can benefit as many law students as possible.
For his part, Budd says he is gratified to see the community coming together in this way: "This is particularly important to me as I wind down my own career, to see people coming behind and carrying the torch."
---
Share in the Wayne Budd Initiative: Wayne Budd has touched countless lives—and now is the time to pay it forward. Visit bc.edu/buddlaw to make a gift to the Wayne Budd '63 Scholarship Fund and keep his legacy alive for future generations.
Initiative Founders: Steven Wright JD'81, Ralph C. Martin II and Deborah A. Scott, Craig Browne, Jonathan Chiel, Stephen Hall, Brent and Minnie Henry, Sandra Jesse JD'81, Roderick Ireland, Stephanie Lovell, Karen Morton-Grooms, Walter JD'74 and Dorothy Prince, Thomas JD'70 and Ruth Reilly, Dean Richlin, Flash and Bennie Wiley P'06.