There is a place for everyone interested in practicing intellectual property law as evidenced by the diverse practice areas of attorneys present at BC Law's Intellectual Property and Technology Forum's (IPTF) first annual Fall Networking event held in-person last November.
The gathering was the largest networking event of the semester at the Law School and drew in more than 100 law students interested in exploring careers in intellectual property.
The evening opened with a dinner and panel session featuring eight lawyers who shared their experiences practicing IP law in areas such as administrative law, entertainment law, and health law.
Moderated by Professor David Olson, faculty director of BC Law's Program on Innovation and Entrepreneurship (PIE), the panel discussed the role of technology in their practices and offered advice to students interested in both traditional and nontraditional IP fields ranging from patent prosecution to copyright and trademark. Panelists emphasized that students do not need a science background to practice IP law successfully.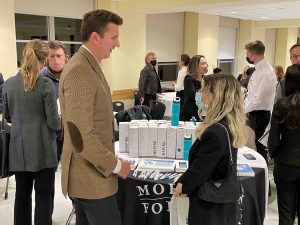 In the networking session that followed, students had the opportunity to begin developing professional connections needed when seeking summer and post-grad employment positions. Nearly 30 attorneys representing more than a dozen mid- to large-size firms.
"For the Law School, the event further cements ties with the most significant employers of BC Law students," IPTF treasurer Kennedy Ukelegharanya said. "[This event] shows them that BC Law is engaged and committed to getting its students employed at their firms."
The Intellectual Property & Technology Forum is divided into two branches: the Club and the Journal. The Club hosts events at BC Law, connects IPTF members with IPTF alumni, and prepares members to work in the areas of intellectual property and technology law. The Journal is a legal publication dedicated to providing readers with rigorous, innovative scholarship, timely reporting, and ongoing discussion from the legal community concerning technology law and intellectual property.