Mathew Rosengart '87, the preeminent Los Angeles litigator, came to Boston College Law School on February 22 to deliver the Dean's Distinguished Lecture to a packed house. A former federal prosecutor who has been with the global law firm Greenberg Traurig for 11 years, Rosengart has received many accolades—including, most recently, the National Law Journal's 2021 Sports, Gaming & Entertainment Law Trailblazer Award—and has been called by the press a "go-to litigator for Hollywood's elite and Corporate America," "a legal warrior," and a "legal powerhouse." His long-time client Sean Penn recently told the New York Times that Rosengart was a "tough as nails streetfighter with a big brain and bigger principles."
But it wasn't the glamour he wanted to talk about.
"Every single one of you in this room, as lawyers and soon-to-be lawyers, can make a positive difference in society and in somebody's life," Rosengart began, outlining the themes in terms of both his practice and "how I've tried to live my life" as "striving for excellence, always, whether achieving it or not; attention to detail; mastering facts; and, perhaps above all else, passion for what you do." That passion, he said, "is what gets you through," no matter what type of law you choose to practice.
Rosengart has represented major celebrities ranging from Julia Louis-Dreyfus to Steven Spielberg, and won several major cases, including a defamation suit for Penn, a $15 million defense of the investment bank Credit Suisse, and one of the largest False Claims Act cases in the country, settling a $1.5 billion demand against his client Verizon for a small fraction of that amount.
His most recent high-profile case is what made him a household name, though, when he represented Britney Spears as she sought to end the conservatorship that allowed her father and his lawyers to control her work and her life for the past 13 years. Rosengart's representation of Spears brought to light potential abuse in guardianships and conservatorships, and both the California legislature and United States Congress are now beginning to look into the issue.
"Success certainly doesn't mean fame and it doesn't mean money. It means helping people."

Mathew Rosengart '87
That's the kind of outcome Rosengart relishes. "Lawyers have the power to change people's lives," he said, "and that's something I humbly had the honor of experiencing in connection with the Britney Spears case." He admitted the attention around the case was a bit daunting at first, recounting the day the head of Greenberg Traurig told him, "The case you are about to embark on is the biggest case in the country. No pressure."
He said he stayed grounded by focusing on the law, the courtroom, his client, and hard work. And that kind of determination—along with, he admitted, a little "luck and fate"—is a strategy that has served him well since his days at Boston College Law School. In one sense, he said, he could never have imagined then the direction his career has taken; but in other ways, "It made sense, because every step I took without having a [particular] goal in mind was a step toward trying to become the best litigator I could be and trying to be in a position to help whomever came along that I was in a position to help."
He told the students—at least one of whom was wearing a "Free Britney" T-shirt—that when they get a lucky break they must recognize it because it could ultimately lead to big things. "There's no direct roadmap," he said—no one class or job or connection that might help today's aspiring lawyers become tomorrow's star litigators. "There are certain things you can do to put yourself in a position to succeed and help," Rosengart said. "But I'd also encourage you not to over plan. Be in the moment and focus on law. And when the breaks come, seize them."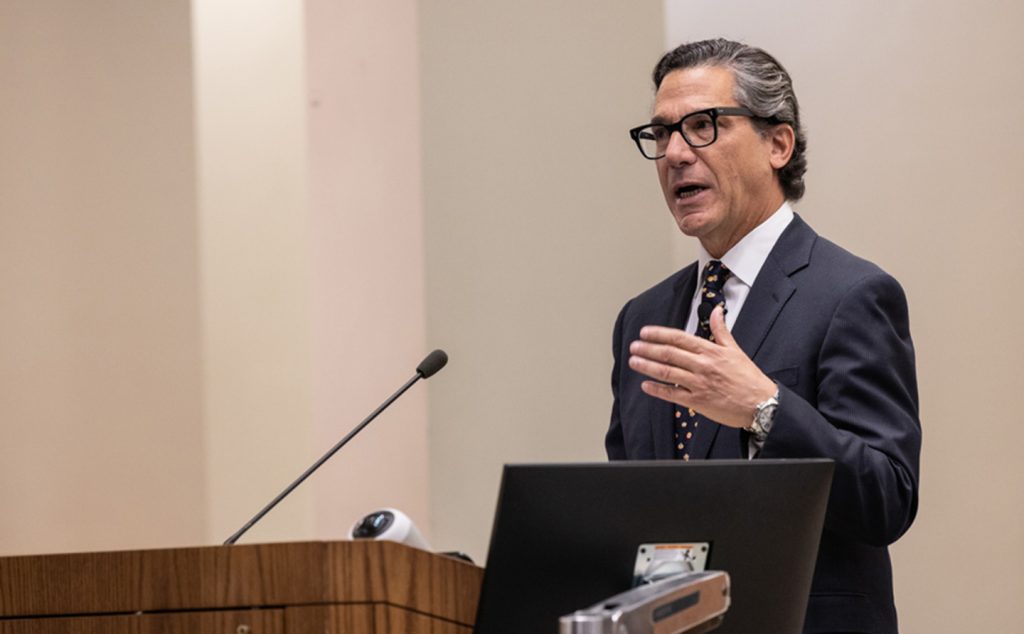 His first break, he said, came when, as a student, he was "hustling for federal clerkships" but instead was encouraged by a career services counselor to take a position with a Justice on the New Hampshire Supreme Court named David Souter. Though in his "youthful arrogance" he was hoping for something more exciting than a year in the tiny Granite State, he met with Souter and immediately knew he was "in the presence of someone great." Souter, who would shortly thereafter sit on the US Supreme Court, threw Rosengart off-balance by asking which Supreme Court case of the past 50 years he would reverse and why. "I stumbled through my answer," Rosengart remembered. "And I had the audacity to flip it on him and ask which case he would reverse and why." Souter later admitted the "presence," or gumption, of the question impressed him, and the two began a relationship that would last well beyond the clerkship to become a lifelong friendship.
Rosengart went on to become an assistant US attorney and a trial attorney for the Justice Department before entering private practice, where he handles not only media and entertainment cases but also commercial litigation and white-collar defense. Always operating ethically—"wearing the white hat"—even if it means going against what's expected of you, has been a guiding principle for him, as has developing what often become deep and lasting relationships with his clients.
Toward the end of his talk, Rosengart discussed the Spears case, recalling the surreal moments of finding himself being discussed on CNN or in an Instagram post he wasn't expecting, but he also outlined his strategy of "aggressively and expeditiously" removing Spears's father as the conservator of the estate before moving to end the conservatorship itself. "Removing him removed an impediment," he said. It worked, of course, leading to a Spears post about the "amazing attorney" who changed her life.
To Rosengart, that's what it's all about—not the accolades, but making a positive change. "Success certainly doesn't mean fame and it doesn't mean money," he said. "It means helping people." Leading good lives and finding meaningful work in service to others is the highest calling BC Law students can aspire to, he concluded. "As soon-to-be lawyers, you can make a positive difference in society and in somebody's life."